Northwest Michigan fruit update – May 23, 2017
Growers are considering their options for apple thinning and pest and disease management for the coming week.
Weather report
Spring cannot seem to make up its mind this year. We have toggled between warm, hot, cool and downright cold temperatures this spring. In addition to the varying temperatures, the wind seems to be omnipresent, which has posed problems for keeping tissue covered this May and has made the temperatures feel cooler than the actual air temperature.
Last Tuesday and Wednesday, May 16-17, hit daytime highs in the 80s, but by Friday, May 19, we topped out at 55 degrees Fahrenheit. The weekend ended up being warmer than predicted, and the Northwest Michigan Horticulture Research Center Enviroweather station recorded 70 F on Sunday, May 21. Along with the variable weather, the forecasts for rain have also been unpredictable, and coupled with the wind, these conditions have been challenging for making spray decisions.
Our growing degree-day (GDD) accumulations for 2017 are typical of our averages, and thus far we have accumulated 470 GDD base 42 and 212 GDD base 50. Overall, the region has received very little rain accumulations. The Northwest Michigan Horticulture Research Center received less than 0.25 inch of rain during May and just under 2 inches of rain during April. Growers have been working hard to turn on the irrigation because soils are currently extremely dry in the orchard.
GDD accumulations as of May 22, 2017 at the Northwest Michigan Horticulture Research Center

Year

2017

2016

2015

2014

2013

2012

27-year average

GDD42

470

435

460

316

468

770

481.2

GDD50

212

190

222

127

263

409

230.7
2017 growth stages as of May 22, 2017
Bartlett Pear – 7 millimeter fruit
Potomac Pear – Late petal fall
McIntosh – Full bloom
Gala – Early petal fall
Red Delicious – Early petal fall
HoneyCrisp – Early petal fall
Montmorency – Late petal fall
Balaton – Late petal fall
Hedelfingen – 8 millimeter fruit
Gold – In the shuck
Napoleon – 8 millimeter fruit
Riesling – Bud burst
Crop report
Most wine grape sites in northwest Michigan are at bud burst through early shoot growth. Climbing cutworm feeding activity should be done for the year. For the next couple of weeks, powdery mildew will be the main concern in vinifera grapes if rainy weather predominates. Powdery mildew will release spores if we get rainfalls of 0.1 inch or more with a minimum temperature of 50 F.
This is also the time phomopsis begins to release spores. This disease has not been much of an issue in vinifera production in northern Michigan, even though a number of varieties are susceptible. We have seen it most in hybrids and native varieties like Concord and Niagara.
Saskatoon bloom and fruit set proceeded rapidly over the past week. Adult apple curculios and saskatoon sawflies continue to be active in the Traverse City, Michigan, area. The season for egglaying by these insects should be under way, so protect fruit at sites that have had problems with these pests. This is also an important time of the season to protect plants from Entomosporium leafspot and saskatoon-juniper rust.
We have only seen a few strawberry sites. Where there was no frost protection, plants suffered quite a bit from the recent freezes.
Most tart and sweet cherries are at petal fall in the region, but orchards in the Northport, Michigan, area were just hitting full bloom on May 22, which is seven days behind the research center. Pollination may be a concern if the cold temperatures continue for orchards that will be in bloom for the next few days.
The hot weather last week resulted in a very short bloom time for most tart cherries. The weather was warm enough for bees to fly, and we caught and observed considerable bee activity last Wednesday and Thursday. However, the short bloom time may have limited the amount of time to pollinate the many blossoms.
The cool weather and wind that came Friday, May 19, brought much of the bee activity to a halt. Growers are reporting discolored petals on tart cherries, and some growers have alluded to the petals having a pinkish hue. These color variations may be due to the frost/freeze events earlier in May or the hot weather we had last week. Growers have also mentioned tart cherries have some short stems out there this year.
Apple growers are still assessing damage, particularly as we are approaching the thinning window. As Michigan State University Extension educator Phil Schwallier mentioned at the thinning workshop last Friday, May 19, the "nibble thinning" approach will be the best tool for us, even if our temperatures remain on the cool side. Apples are most susceptible to thinning at the 10-millimeter stage, and if we are cool when that time comes, thinning becomes increasingly difficult. Therefore, plan to start your thinning program at bloom, which is likely past in most cases, or the next optimal time to thin: petal fall.
We are at the petal fall timing at the research center, and even if this thinning window only takes off a portion of the crop, it will help growers achieve their optimal apple yields with less hand-thinning late in the season. We really like to have temperatures above 65 F for thinning materials to work optimally, and the forecast is predicting daytime highs in low 60s to low 70s in the coming days—if the forecasts are correct, we could have an optimal window for thinning.
The carbohydrate model on the MSU Enviroweather website is predicting mild stress this week and is suggesting growers use a standard rate of thinners (see figures below).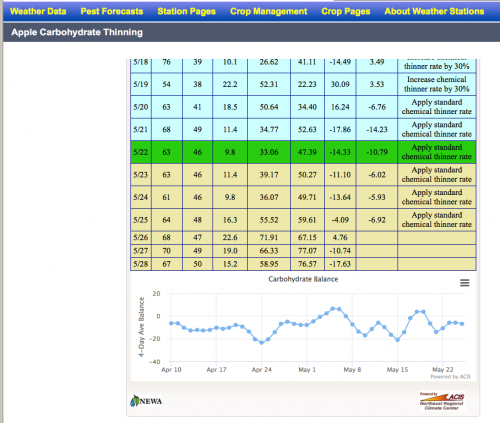 Pest report
Since last week's report, spotty wetting events with variable amounts of accumulation, drying times and considerable temperature differences throughout the region have resulted in a mixed bag of possible apple scab and cherry leaf spot disease infection periods. In the last week, the Benzie-Manistee, Michigan, area has received the most rainfall compared with more northerly counties, and this increased moisture provided more chances for disease progress.
Beginning May 18, all Enviroweather stations in the northwest region reported wetting events; however, because temperatures were relatively cool, disease infection periods only occurred in areas with long periods of wet weather (i.e., Bear Lake, Benzonia, Eastport, Elk Rapids). In Eastport and Elk Rapids, temperatures were too cool to result in a cherry leaf spot infection, but warm enough to trigger a possible apple scab infection. Many growers applied fungicides in advance of predicted rains that were predicted for Tuesday and Wednesday, May 22-23. The forecast for the remainder of the week currently looks relatively dry, which is good news in terms of diseases.
Most orchards are more than halfway through primary apple scab, but preventative scab fungicides are still important as spores are still discharging in the region and at the research center's monitoring site (Table 1). Some areas set biofix as early as April 10 and according to the scab development model, more than 95 percent of spores have reached maturity. Areas with a later biofix (around April 17) are currently at 85 percent or more spore maturity.
Table 1. Apple spore discharge, 2017

Date

Total # Spores

Avg. # Spores

4/15/17

6

3

4/16/17

2

1

4/20/17

10

5

4/27/17

1

0.5

4/28/17

4

2

4/30/17

12

6

5/1/17

12

6

5/2/17

7

3.5

5/13/17

30

15

5/19/17

0

0

5/21/17

8

4

5/22/17

0

0
Growers targeted fire blight last week with antibiotics and plant growth regulator (PGR) sprays, but recent cool weather has taken the risk of infection down dramatically for the early part of this week. A warm-up is predicted over the weekend, so growers have been planning spray strategies if orchards will have viable bloom open and susceptible to fire blight.
Warmer conditions will be more favorable for a positive response of PGR applications. As a reminder, the optimal timing for the first application of Apogee is king bloom petal fall followed by two additional applications spaced two weeks apart. If an orchard becomes infected with fire blight, contact the research center at 231-946-1510 so we can send the sample in for resistance screening.
Planning cherry leaf spot management has been frustrating this spring with the constantly changing predictions for rain, cool temperatures and minimal rainfall in most areas. The timing for in-season chlorothalonil use will end soon (at shuck-split).
Although it has not been commonly used in recent years, there is a Section 24(c) label for post-shuck split applications of Bravo Weather Stik; this label expires Dec. 31, 2017. Please see the article "Where can growers find the special 24(c) label for using Bravo Weather Stik past shucksplit?" for instructions on how to receive the required training and retrieve the 24(c) label.
Leaf spot lesions likely from early May infections are visible. Although the forecast currently looks dry, growers with infections already started will need to be diligent with their next leaf spot sprays.
A few days of warmer weather triggered insect activity last week and then recent cooler weather has slowed their activity down again. In the research center trapline, green fruitworm activity jumped up to an average of 14 moths per trap, and American plum borer numbers are on the rise (Table 2).
No codling moths were found this week, but they could fly in warmer weather toward the end of the week. Codling moth adults typically fly on calm evenings when temperatures are in the 60s. Similarly, plum curculio like warmer conditions, and their activity tends to be associated with periods of higher relative humidity and following rain on warm evenings. Be ready to protect developing fruits coming out of the shuck from plum curculio oviposition.
Spotted tentiform leafminer numbers were down this week and one male San Jose scale was found (Table 2).
Table 2. Northwest Michigan Horticulture Research Center insect trapline data, 2017

Cherry pests

April 25

May 2

May 9

May 16

May 23

Green fruitworm

14

1

6

2

14

American plum borer

Data not collected

Data not collected

Data not collected

2

5

Apple pests

April 25

May 2

May 9

May 16

May 23

Oriental fruit moth

0

0

0

0

0

Spotted tentiform leafminer

Data not collected

Data not collected

Data not collected

52

18

Codling moth

Data not collected

Data not collected

Data not collected

Data not collected

0

San Jose scale

Data not collected

Data not collected

Data not collected

Data not collected

1
Growers concerned with San Jose scale in sweet cherries and apples have made or are planning petal fall applications of the product Movento, which takes time to establish in the tree before crawlers emerge and begin feeding. As mentioned in previous reports, crawler activity typically occurs two weeks after peak male flight and contact insecticides can be used to target crawlers when they are active.
Please refer to the article, "Widespread detections of San Jose scale in northwest Michigan tree fruit" for additional management information.
The first small green fruitworm and obliquebanded leaf roller larvae were observed in terminals last week. The insecticide Belt has been an excellent option for early-season caterpillar management. As a reminder, the Environmental Protection Agency (EPA) has cancelled the labels for products containing the active ingredient flubendiamide, which includes the products Belt and Tourismo. However, distributors and retailers are permitted to provide remaining inventories of these products to growers and growers can use products containing flubendiamide through Dec. 31, 2019. Target smaller obliquebanded leaf roller larvae, as they are much easier to kill than larger caterpillars.
We have received reports that black stem borer began emerging in the region last week. Adult black stem borers are attracted to trees that are injured or stressed due to winter injury, drought or other reasons that would cause the tree to produce the compound ethylene. In Michigan, we have most commonly found these boring insects attacking stressed apple trees in high-density orchards often adjacent to woodlots. Healthy trees and older trees are less susceptible to this pest because the trees produce resin that wards off boring insects.
The best management option for this pest is to determine and eliminate the cause of the trees' stress. Otherwise, recent research conducted by MSU entomologist Larry Gut's lab has provided variable results for using insecticides timed to target the emerging adult beetles.
Please refer to the articles, "Black stem borer: An opportunistic pest of young fruit trees under stress" for more information on the biology of this pest, and "Black stem borer management in spring" for management information.