4-H Tales for Tails: Growing literacy in Gladwin County
The 4-H Tales for Tails SPIN club helps youth improves their reading skills while benefiting local shelter animals.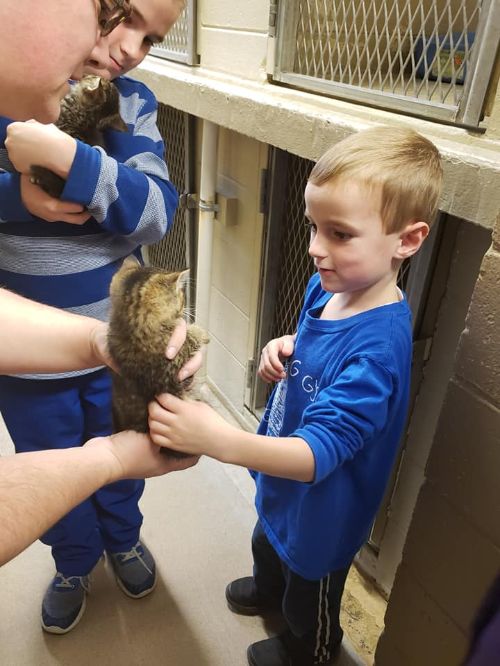 Twice a month, nine young people file into the Gladwin County Animal Shelter and cozy up with some furry friends and a nice book. The adorable scene is more than just a fun afternoon; the experience serves to increase the confidence and reading skills of young readers while providing valuable socialization for the animals in search of new homes. The program, named Tales for Tails, is just one of the new 4-H SPIN (special interest) clubs being offered by Michigan State University Extension's 4-H Youth Development program.
"I started the program really on a whim," said Melissa Preston, Gladwin County 4-H program coordinator for MSU Extension. "I wanted to grow our 4-H program to offer more non-traditional programs and saw a video of a classroom reading to unwanted and unadoptable animals. I remembered my own personal struggles to build confidence in reading and then learned that only 50 percent of our local youth were scoring at or above where they need to be in third grade reading. That's when I reached out to the local animal shelter to see how we could get started."
Though still in its pilot year, Tales for Tails has so far been a hit within 4-H and the community. The club meets at the shelter twice a month and runs for a period of 12 weeks. In addition to the Gladwin County Animal Shelter, another key partner of the program is the Gladwin Friends of the Library Committee, which donates the books the youth read each month. As the books are read aloud to the different shelter animals, the young people gain exposure in reading in front of their peers. This improves their confidence and helps them to become more successful in their literacy skills over time.
"The program provides a safe space for youth to build their reading confidence and skills," explained Preston. "They're reading with an unbiased partner who won't judge them for how fast or slow they read or if words are not right."
Janice Crowley, a 4-H parent of a Tales for Tails reader, has been impressed with the program so far and how it has helped her son Evan.
"It's something Evan really looks forward to and it has really helped boost his confidence and skills in reading."
Kerry Lockwood, a local teacher and 4-H parent herself, is also singing the praises of Tales for Tails.
"The program has been a wonderful addition to our 4-H community. Although my children are not struggling readers, they have benefited from the program. They have gained confidence while reading out loud in front of other kids and the animals. The dogs also have a calming effect on the kids. I feel that after a long week of school, this program helps to reduce the stress and anxiety that our society puts on them today."
"I love reading to the dogs and kitties," said Madyson Lockwood, Kerry Lockwood's daughter. "They are cute and good listeners!"
Tales for Tails has benefits for the animals, as well. Working with the kids helps the animals become more acquainted with varying people, improving their social skills and their adaptability. Some of the kids even bring treats for their companions, providing another reinforcing behavior that improves the relationships between the shelter pets and humans. Social media coverage of this program has also helped to make people in the community more aware of the number of animals in the shelter in need of forever homes. As a result, the Gladwin County Animal Shelter has seen a steady stream of adoptions throughout the winter season, a time which normally sees a decline.
"We absolutely love the Tales for Tails program," said Krystal Moore, Gladwin County animal control officer. "We believe that both the kids and the animals are benefiting from the experience. The kids are always excited to be here and a lot of the animals watch the kids as they are being read to!"
If things continue to be as successful as they have thus far, Preston plans to run Tales for Tails for the full school year next year. She hopes to get local elementary schools more involved to identify kids who might be struggling with reading and could benefit from this extra out-of-school support. In addition, the program will remain open to any readers who just want to practice their literacy skills and hang out with cute animals.
Preston also hopes to introduce 4-H teen leaders to the program next year, as a means of offering young readers some one-on-one assistance.
"Often it's not the inability to read but the lack of confidence because they don't know it all perfectly. An older teen could serve as a mentor with the ability to work one-on-one with sounding out words and praising them for a job well done."
To learn more about Tales for Tails, visit the Gladwin County 4-H Facebook page. To refer a child who would benefit from or enjoy the Tales for Tails program, contact Melissa Preston at prest142@msu.edu.