Now is the time to learn your plants and explore opportunities for citizen science on your lake
Resources and volunteer training programs are available to help you identify and manage aquatic plants. You can also learn to monitor lake health for the long-term benefit of your lake.
With another successful summer on Michigan waters in the history books, don't be so quick to take the next few months off while you are waiting for warm weather to arrive. Now is the time to do your homework about the plants in your lake, and figure out whether there is reason to be concerned about them or not.
Invasive species are considered major biological pollutants of a lake ecosystem. The Michigan Boater's Guide, published by Michigan State University Extension, is a great resource to help you learn about 11 of the aquatic invasive plant species that either currently pose a threat to the ecosystem or have the potential to cause significant damage to a lake ecosystem if they become established.
For more information about this guide, be sure to read the article, "Michigan Boater's Guide provides on-board help with invasive aquatic plant identification." This resource (E3189) is available from the MSU Extension Bookstore. For additional tips on successfully identifying aquatic plants, read "Know your lake plants- get out on your lake and sample!"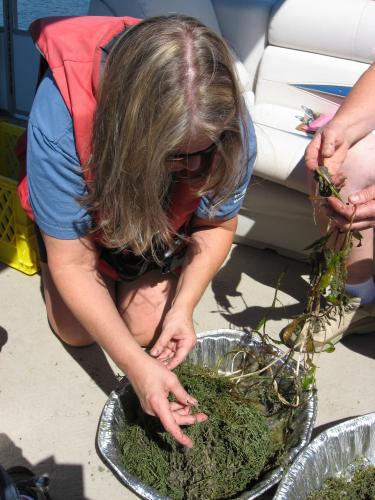 If you want to go one step beyond book learning, consider building your knowledge about the health of your lake by getting involved in the Michigan Clean Water Corps (MiCorps), a network of volunteer monitoring programs available in Michigan. MiCorps was created to assist the Michigan Department of Environmental Quality in collecting and sharing water quality data needed to manage and protect Michigan's vast water resources.
One core program of MiCorps is the Cooperative Lakes Monitoring Program (CLMP), the second oldest volunteer lakes monitoring program in the county. It has served as an important component of Michigan's inland lake monitoring program. The program is designed to train citizen volunteers how to monitor a particular set of water quality indicators of their lake with the goal of documenting changes in lake quality over time. The Michigan Lake and Stream Association helps administer the CLMP jointly with the MDEQ, and specifically handles the administration of the CLMP.
The goals of the CLMP are:
Capture baseline data and document water quality trends over time in individual lakes
Educate Michigan citizens interested in getting involved in collecting water quality data, lake ecology, and lake best management practices
Create a set of citizens who can help practice environmentally sound lake management practices at the local level and build public support for lake management practices
Continue to help the Michigan Department of Environmental Quality (MDEQ) increase baseline data for lakes across the state
Now is the time to consider enrolling as an individual or lake association and becoming a volunteer monitor for the 2014 season of the CLMP. You might consider enrolling in the aquatic plant identification and mapping or exotic plant watch programs. Other data collection programs include Secchi disk transparency, total phosphorus, chlorophyll a, and dissolved oxygen and temperature.