Only 1 in 6 eligible children utilize the Summer Food Service Program
Children need healthy food all year long – Support summer meals in your community.
With the end of the school year, millions of low-income children lose access to school lunch and/or breakfast. The Summer Food Service Program (SFSP) is designed to promote food security by providing healthy meals to children and teens in low-income areas when school is not in session. Summer is an especially critical season for these children, as research has illustrated a growing risk for both hunger and obesity during these months.
The number of children who utilize summer meals has typically been significantly lower compared to participation within school breakfast and lunch programs. According to the Food Research and Action Center (FRAC), only 15 percent of kids who eat free or reduced-price school meals also receive meals during the summer months. Despite this underutilization, the summer of 2014 saw the largest increase in children eating summer meals since 1993. Hunger Doesn't Take a Vacation 2014, the annual summer nutrition status report by FRAC released earlier this month noted this positive growth in participation. The seven percent increase in participation is likely attributed to efforts by the U.S. Department of Agriculture (USDA) to expand Summer Nutrition Program outreach, improve policies and bolster national, state, and local partnerships. Authors of the report note that while this positive trend is an achievement, the SFSP continues to serve too few eligible children.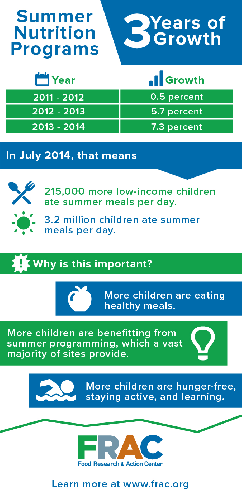 How can communities work to reach more eligible children? The USDA Summer Meals Toolkit provides resources and best practices for individuals and organizations interested in serving as "summer meal champions in their community." Examples of resources within the toolkit include sample social media messages, sample letters to key stakeholders and strategies for reaching underserved areas.
The SFSP is federally-funded, state-administered program. Visit the Michigan Department of Education to learn more about summer meals in Michigan. The interactive map of site locations throughout the state is especially worth noting and updated yearly.
To learn more about the USDA Summer Food Service Program, visit these Michigan State University Extension articles: