Panda success may show up in major US/China sustainability science summit
MSU professor's research collaborations that helped move pandas from endangered status has applications for major US-China summit.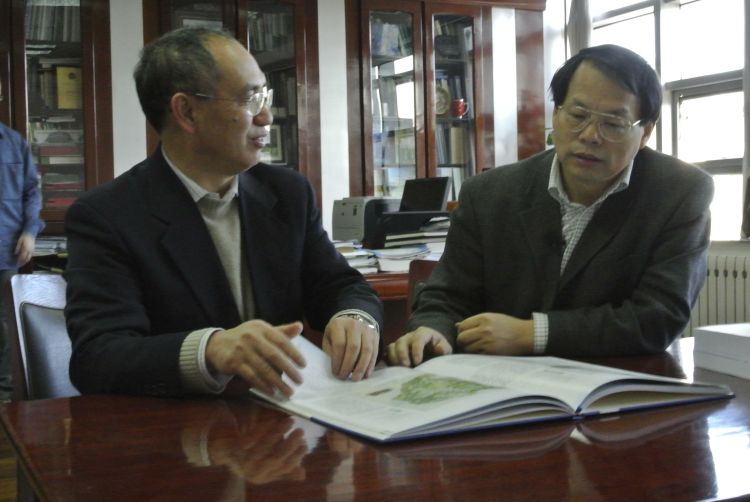 The principles and partnerships that have helped save giant pandas are undercurrents in current day sustainability efforts.
While the United States and China have made headlines for conflict and frayed collaboration, leading sustainability scientists are this week joining forces to seek solutions to shared crises. The National Academies of Sciences, Engineering, and Medicine, in collaboration with the Chinese Academy of Sciences, will convene a workshop, China-U.S. Scientific Engagement on Sustainability: Sustainability and Biodiversity, on July 27-29.

The workshop, open to the public via Zoom or in person with free registration, is intended to promote scientific coordination, cooperation, and collaboration between China and the United States on sustainability and biodiversity issues. As the first in a series of three workshops focused on sustainability, participants will examine the state of biodiversity and sustainability research and practices and identify priority areas for scientific collaboration on specific sustainability challenges.
The workshop brings together participants from academia, governments, and nongovernmental organizations involved in sustainability and biodiversity issues in China, the United States, and globally.
Michigan State University sustainability scholar Jianguo "Jack" Liu, Rachel Carson Chair in Sustainability, will moderate the first panel, "Strategies for Post-2020 Global Biodiversity Framework," on Wednesday.
"The United States and China are key players for global sustainability, and it is crucial that science presents effective paths amidst global climate change, biodiversity, urbanization and human health," said Liu, who is on the National Academies' planning committee. "Both countries have a long and effective history of working together to find enduring solutions, and these workshops will bring some of the best minds from both sides of the world together."
For almost three decades, Liu's work has developed ways for scientists and stakeholders to chart solid pathways for humans and nature to coexist in some of the world's most challenging events, such as climate change, water and food insecurity, global trade and loss of biodiversity. His early work with collaborators and Chinese colleagues led to the transformation of China's wildlife reserves that protect giant pandas and elevated the beloved animals' conservation status from endangered to threatened.
The work also was the beginning of the frameworks of telecoupling and metacoupling - new avenues of research that enable natural and social scientists across various disciplines to understand and generate information for managing how humans and nature sustainably coexist locally and globally. These frameworks are changing the way scientists approach sustainability problems that require ways to identify unintended consequences nearby and far away, and shift strategies accordingly.
Marcia McNutt, President of the National Academy of Sciences, will kick off the workshop. Wednesday's workshop will include panelist Zhiyun Ouyang from the Chinese Academy of Sciences, a close collaborator with Liu who co-authored the transformational Science paper "Ecological degradation in protected areas: The Case of Wolong Nature Reserve for Giant Pandas" in 2001. This paper introduced the importance of studying a problem in its entirety - the habitat's many aspects, as well as how the humans who live in the nature reserve are faring and reacting to conservation policies. It ignited change in the iconic nature reserve, as well as new ways to explore sustainability.
On Wednesday, Liu's three other collaborators will also speak. Peter Raven, president emeritus of Missouri Botanical Garden, and Stuart Pimm, professor at Duke University, have collaborated with Liu for two decades. Their first paper "Protecting China's Biodiversity" was published in Science in 2003. Sandra Diaz, professor at National University of Córdoba, Argentina, Liu, and others published "Set ambitious goals for biodiversity and sustainability" in Science in 2020.
On Thursday, Julie Winkler, MSU geography professor and climate expert, will speak at the panel "Biodiversity and Climate Change". Winkler, Liu, and others have collaborated on projects regarding impacts of climate changes on nature reserves and giant pandas. For instance, in 2012 they published their first paper together in Nature Climate Change – "Climate change impacts on understory bamboo species and giant pandas in China's Qinling Mountains".
U.S. Committee chair and Yale Professor Karen Seto will moderate the panel on "Biodiversity and Climate Change". Seto was also a co-author with Liu on the 2015 Science paper "Systems integration for global sustainability" which underscored the importance of holistic interdisciplinary approaches to ensure that both people and nature to thrive.
The workshop will also discuss opportunities for advancing policy actions to secure biodiversity conservation in China, the United States and other countries. Discussions will include issues relevant to the United Nations Sustainable Development Goals, too. Additional information including a full list of panels, panelists, moderators, specific times, and Zoom links can be found on the event website.