Plan your cultural festival road trip throughout Michigan in 2018
Attend a cultural festival and share the experience with a child. Let them be curious, ask questions, enjoy delicious cultural food, learn about new customs and appreciate traditional dress and dance.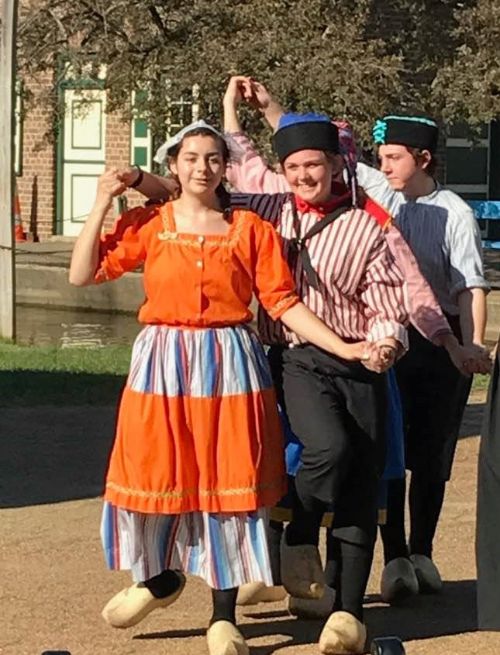 Michigan 4-H would like to invite you to discover Michigan's cultural festivals in 2018. Mark your calendars for some fabulous events and share the experience with a child.
You do not have to travel around the world to experience diverse cultures, they are right in our backyard. A fantastic first destination on your Michigan cultural road trip could be the Holland Tulip Time Festival, May 5-13, 2018. The festival features traditional Dutch dancing, parades, Tulip Time Run, an Artisan Market, quilt show, Dutch organ music, Dutch food, Floral arranging class and many other activities and shows. This year, the Beach Boys will be performing live on May 11. Remember to purchase your own pair of clogs to practice your Dutch dancing throughout the year.
Next up on our cultural road trip is the Alma Highland Festival and Games, May 26-27, 2018, on the campus of Alma College in Alma, Michigan. Experience live Scottish dancing, bagpipes, kilts and camaraderie. The festival combines great competition with Scottish hospitality. Add a pair of Scottish socks to your wardrobe.
Let's go from Scotland to Germany next and celebrate the Bavarian Festival in Frankenmuth, Michigan, June 7-10, 2018. This festival will be celebrating 60 years with live music, dancing, fireworks, parades, princess coronation, food and drinks. Bring home your own lederhosen or dirndl as a memento of the event.
During July 13-15, 2018, visit Sault Ste. Marie, Michigan, for the Sault Tribe Pow Wow and Summer Gathering on the Sault Ste. Marie Tribe of Chippewa Indians Pow Wow Grounds. You will see exciting dance and drum competitions, handmade crafts, authentic food and more during this historic, social and cultural event. A dream catcher may be your token of choice after this cultural experience.
There are many Polish festivals around the state to attend. The American Polish Festival and Craft Show during July 2018 in Sterling Heights, Michigan, will feature a diverse mix of local music, polkas, folk dancers, arts and crafts along with Polish/American cuisine. The Posen Potato Festival during September 2018 in Posen, Michigan, offers a look at the potato and why it is important to the Polish culture. Enjoy some polka music performances.
As we travel from northern to southeastern Michigan, check out the Wright Museum African World Festival during August 2018, an annual celebration of the African diversity, shared heritage and cultures in Detroit, Michigan. The festival features spoken word performances, live traditional and folk music, dance troupes, arts and crafts and a plethora of food options.
The Detroit Caribbean Cultural Festival during August 2018 celebrates the rich traditions of the various nations in the sunny, tropical region. The festival features a wide range of music and dance performances, local and international artists, Zumba and Salsa workshops and a variety of authentic food and beverages.
Michigan's Upper Peninsula offers a Parade of Nations event organized by Michigan Tech University on Sept. 15, 2018. The Parade of Nations strives to promote worldwide culture and national awareness in Michigan's Upper Peninsula through a community-wide annual event that includes a parade and a multicultural festival. Dee Stadium, a historic waterfront venue, transforms into a global marketplace featuring dozens of food and craft booths and performers from around the world.
Traveling back down state to Southfield International Festival during November 2018, celebrate a wide range of cultures including Spanish, Africa, Korean, Mexican, Greek, Polish, Middle Eastern and Indian. Guests can enjoy cultural exhibits, children's activities and an international bazaar, which highlights imports goods, crafts, jewelry and an assortment of international food options.
After your cultural experience, take time to reflect with your child on their understanding. Encourage them to talk about activities they enjoyed or felt uncomfortable. If you are not sure how to start the conversation, use these Pre and Post Festival Questions. This is a great opportunity to compare your families cultural traditions with that of the culture festival you experienced. Michigan 4-H hopes all youth throughout the state continue to be curious about other cultures and to learn the ways of other nations.
4-H grows culturally curious youth. If you would like to learn more, visit the Global and Cultural Education page or contact D'Ann Rohrer, state coordinator and Michigan State University Extension Leadership and Civic Engagement team member, at drohrer@anr.msu.edu.
To learn about the positive impact of Michigan 4-H youth leadership, citizenship and service and global and cultural education programs, read our 2016 Impact Report: "Developing Civically Engaged Leaders." Additional impact reports, highlighting even more ways Michigan State University Extension and Michigan 4-H have positively impacted individuals and communities in 2016, can be downloaded from the MSU Extension website.