Planning your lakefront dream home?
Minimizing vegetation disturbance on your shoreline property saves time and money both now and in the future. It's also a smart way to protect your lake's water quality.
Development along lakeshores involves the removal of vegetation to allow for the construction of buildings, roads and parking areas. The addition of soil and fill allows for construction in high water table areas or simply increases the area on which to build. As a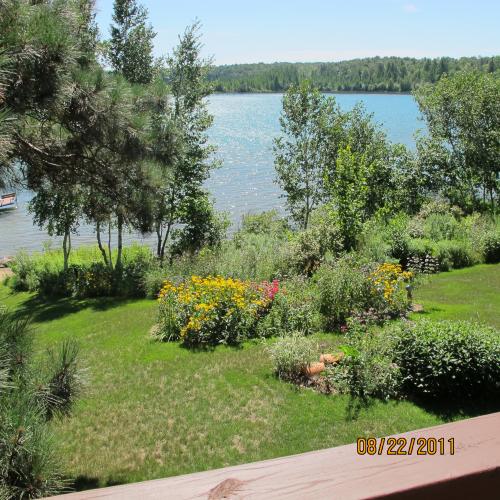 result, shoreline development is often accompanied by the removal of plants, shrubs and trees to create lawns, foot paths, storage areas and views of the lake. Areas of wetland and lake bed are also lost to these construction activities, although the loss of wetlands slowed with the passage of state wetland protection laws in 1979.
With the removal of vegetation, shorelines become more vulnerable to erosion by lake forces such as wind, waves and ice. Working with the existing native vegetation to create views and access saves time and money now by reducing costly excavation and grading. It saves time and money later on costly armoring and maintenance of eroding shorelines.
A thoughtful, smart, minimal disturbance approach to shoreline development provides a filtered view to the lake, maintains privacy, reduces noise, minimizes impervious surfaces, slows pollutant runoff and keeps important shoreline habitats in place. Trees along the lake intercept and slow the movement of rain water, provide shade for cooler water temperatures and downed limbs and branches (coarse woody structure) for fish. The roots of native shoreline trees, shrubs and plants create a network that knits soils together and keeps them from eroding.
There are many state regulations that guide the development of shoreline properties and minimal disturbance of native vegetation is encouraged. There are also local regulations that guide the development of shoreline properties. A series of two Michigan State University Extension articles emphasize that checking local zoning regulations is the first step for shoreline property owners considering major building or landscaping projects.
Photo: Shoreline landscape design that provides beauty while maintaining protective shoreline vegetation.