Plastic pollution in the Great Lakes is the focus of an upcoming forum and lecture
Exhibit at the Cranbrook Institute of Science helps individuals understand the global and local nature of plastic pollution and also offers solutions.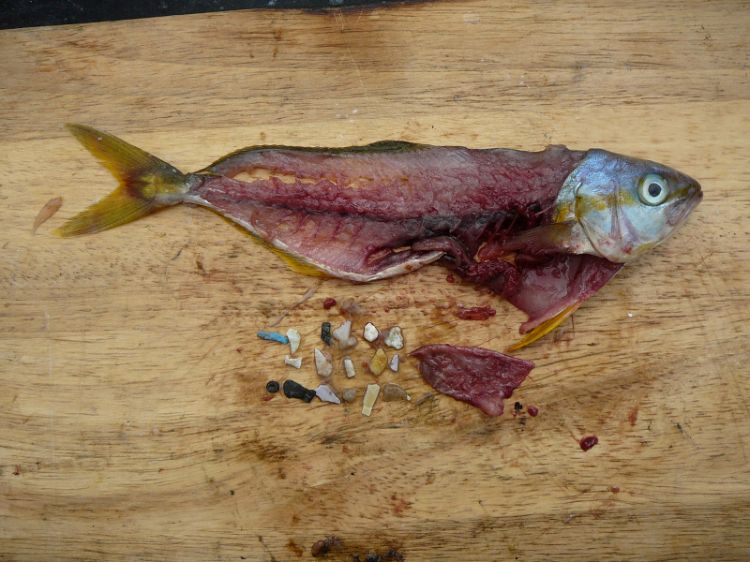 According to Barnes et. al, the accumulation of plastic debris in nature is "one of the most ubiquitous and long-lasting recent changes to the surface of our planet. Over the past half century, global plastic production has increased rapidly. Scientists now coin the term "plastisphere" referring to the accumulation of plastics on the Earth's surface. The world produces about 300 million tons of plastic each year according to Reed, 2015. The amount of plastic is projected to continue to rise due to increase in global demand. With Increased use and production, plastics are increasingly ending up in the environment. Scientists have expressed concern for the long-lasting impacts of plastic pollution, "Many plastics degrade slowly in the environment and may have long-term adverse ecological and economic impacts, including the dispersal of persistent organic pollutants" (Dreidger, 2015). Several processes affect plastic debris movement. Litter is blown by the wind and enters waterways. Once in the water, they travel through the water column where they are suspended. Some plastic sinks and becomes part of the sediment at the bottom of the water and some is ingested by organisms.
In Michigan, there is a growing concern about microplastics or marine debris in the Great Lakes. Microplastics are plastic particles which are less than 5 mm in diameter. They can originate from products which contain microbeads that are used in face scrubs and a variety of other personal care products such as toothpastes, shampoos, body wash, and cosmetics. They are not removed by wastewater treatment plant filtration so they end up in large bodies of water like the Great Lakes after wastewater is discharged back to the environment. Beach litter also contributes to the problem.
Aquatic-based microplastics can be found floating on water, mixed into the water column, embedded in bottom sediments, mixed into beach sands, and have consumed by a wide variety of organisms. The exact effects of microplastics are still being investigated and assessed, specifically their effects on the aquatic food chain and how this can contaminate wildlife and human health, and potential impacts on recreational fishing.
Illinois and Indiana have already banned plastic microbeads in consumer products and similar legislation is being considered in several other states such as New York, Ohio, and California. Recently, a bill to ban microbeads in personal care products was been introduced to the Government Operations Committee in the Michigan State Senate. No action has been taken on the bill yet—meaning the Government Operations Committee Chair has not decided to "move" the bill, or have it taken up in committee and to the stage where the bill is first aired for public comment. If there's a hearing on the bill, and it passes the committee, then it moves on the Senate.
The bill would amend the Natural Resources and Environmental Protection Act to create a new part under the Act, Part 162, to prohibit the sale or promotion of plastic microbeads in personal care products, beginning in January 2019. The bill defines plastic microbeads as "an intentionally added plastic particle, 5 millimeters or less in every dimension." A "personal care product" is defined as an article intended to be rubbed, poured, sprinkled, or sprayed on, introduced into, or otherwise applied to the human body or any part thereof for cleansing, beautifying, promoting, promoting attractiveness, or altering appearance." Personal care products do not include prescription drugs, nor any product containing less than 1 part per million of microbeads would be excluded from this prohibition. Under the bill, a person could be penalized up to 2,500 dollars a day for each personal care product sold containing microbeads.
Cranbrook Institute of Science in Bloomfield Hills is currently hosting a unique exhibition which combines both art and science called "Plastic Water: from the Great Lakes to the Oceans." It was created by the 5 Gyres Institute and is a collection of artifacts from around the world that helps visitors see the damaging effects of plastic pollution in the oceans and the Great Lakes. Items exhibited include a raft designed to cross the ocean which is crafted out of plastic bottles and a 500-pound mass of tangled fishing nets and lines, to name a few. This exhibit runs through March 15, 2015.
On Friday, March 6, 2015, the Institute of Science is hosting a forum and lecture which explores the local connection to the global problem of plastic pollution in our waterways. Participants will learn how to buy products that are safe for the the environment and people as well as protect and restore local rivers. Program highlights include:
6 p.m.: Exhibit viewing and displays.
7 p.m.: Panel presentation features local clean-up programs Alliance for the Great Lakes, Clinton River Watershed Council, Friends of the Detroit River, and Friends of the Rouge.
8 p.m.: Featured lecturer, Fisheries and Wildlife page.