Port Austin explores placemaking
Creating and employing a live, work, and play strategy to retain population in Michigan's thumb!
Recently, I ventured through Port Austin, Michigan to witness some of the changes taking place in their downtown by community members seeing the value of creating places where people want to live, work, and play.
Port Austin is located at the tip of Michigan's thumb, as is the northern most town of Huron county. I first became familiar with Port Austin and a few of the visionary residents after conducting a Trail Town assessment of their water and bike trails with various local and state-wide organizations.
The community there has been significantly active both before the assessment and increasingly so after in developing their downtown in sync with Placemaking strategies – a statewide effort Michigan State University Extension, Michigan Municipal League, the Land Policy Institute, and MiPlace Initiative have been largely active in.
Chris Boyle, active community leader and owner of Port Austin Kayak – a local outdoor sports company specializing in bike/kayak/paddle board rental with a mission to raise awareness of the beauty of Michigan's thumb and opportunities for outdoor recreation there, recently shared a vision of this quiet coastal town that many Michigan communities can relate to.
"The community decided to take on placemaking strategies because we did not want to be just a tourist town. We want to be a community in which our children will one day want to come home to live."
A team of community members with this shared vision set out to implement affordable projects that weren't destined to consume a large amount of time. According to Chris, they identified four areas to concentrate their efforts on:
1.Unique artistic bike racks that, according to Chris, would help move their community to becoming more bike friendly – a Trail Towns strategy specifically suggested to Port Austin.
2. Wayfinding – so that visitors to the community can find their way around Port Austin.
3. Movable chairs in the park for residents and visitors to gather around together.
4. Artistic crosswalks that would provide character to the already charming downtown – a strategy not often seen which helps serve as something special people can remember Port Austin by.
Chris and the team of committed members were able to raise twice the funds they set out to and did so in just two weeks by soliciting the community and local businesses for support.
Port Austin will be seeing more changes as well as the years go by. Another area this proactive community is exploring is pop-up retail in their community parks. While ground has not been broken yet on the project, designs and announcements have been made publicly as seen in the photo.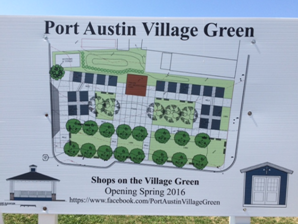 Port Austin is moving forward with developing additional ideas over the winter and hopes to attract more community members to get involved.
Michigan State University Extension offers a variety of programs to provide expertise, education and development of communities throughout the state of Michigan. When Extension professionals cross specializations and listen to input from citizens of Michigan, relevant and life changing programs will be delivered.