Preparing youth for meaningful conversations with experts
Six tips for empowering youth.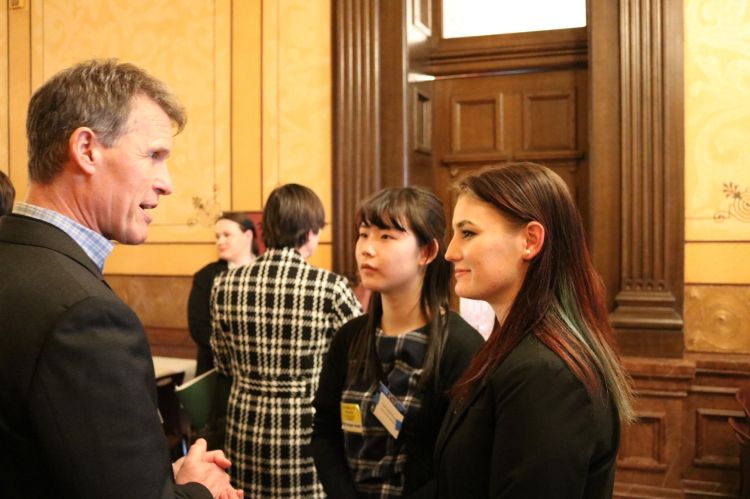 Youth learn best when they are engaged participants in the learning process. Michigan 4-H Youth Development provides opportunities for youth to partner with adults to make decisions, plan programs, and infuse youth voice and perspectives into policy-making. Through these experiences, youth are often presented with opportunities to meet with experts in relevant content areas. These conversations are the most engaging and productive when youth are prepared for the discussion. Follow these tips developed by Michigan State University Extension when preparing youth to meet with experts.
Provide appropriate background information so youth understand who they are meeting with and the relationship between the expert and their group's project or goals. Don't assume that youth understand the relationship between a person's title and the discussion at hand.
Engage youth in research. Find out what's publicly available about the person they are meeting with or their role. Youth can research the organizational mission or structure or can learn about the expert's focus areas or priorities. A simple detail can also include the expert's pronouns and pronunciation of the expert's name.
Ask youth to brainstorm questions in advance. Even when youth are planning to attend a presentation, there is often time for questions at the end of the presentation. Thinking of questions in advance may help youth feel more prepared. Youth can write down their ideas and bring their notes with them to the meeting.
Prepare sample questions to review and consider. Remember that while the content of the discussion is important, every meeting with a professional is also an opportunity to gain insight into their career and career path. Youth who are still exploring career options may benefit from questions like:
What's your favorite part of your job?
What does a typical day look like for you?
What did you do before this job?
What type of education and training is needed for this role?
What's the most challenging part of your job?
Set a tone for youth voice at the meeting. Adults not versed in meeting with youth as partners may feel more comfortable addressing the adult in the room rather than the youth directly. Combat this by assigning a youth or two to introduce the group and to thank the speaker on behalf of the group.
Follow-up with a thank you note. Assign a youth to take the lead. These can be handwritten and mailed or sent via e-mail.
According to the Journal of Youth Development, intentional, structured models for decision-making shared between youth and experts can be beneficial to both the youth participants and the adult experts. With a little bit of advance preparation, adults can help both youth and adults get the most out of these conversations. For more information regarding youth-adult partnerships or preparing youth for leadership roles, contact the MSU Extension leadership, civic, and cultural engagement work team at 4H.LCCE.team@msu.edu.