Preserving inland lake shorelines on the Keweenaw Peninsula
Upper Peninsula group looks for problems and opportunities during on-lake natural shoreline workshop.
Training one's eye to recognize the beneficial characteristics of an unaltered shoreline was the purpose of the Natural Shoreline Workshop hosted by the Gratiot Lake Conservancy (GLC) near Mohawk, Mich. on August 26, 2013. Participants toured Gratiot Lake by pontoon boat, while learning about the protection that natural beaches and vegetation can provide to lake water quality, fish and wildlife habitat.
Like many U.P. lakes, Gratiot is coming under increasing development pressure. According to the GLC website, one mission of the organization "is to conserve and protect Gratiot Lake and the land within the Gratiot Lake watershed." The GLC owns a 307-acre nature preserve that includes nearly two miles of Gratiot Lake shoreline. This undeveloped shoreline served as the primer for workshop participants. Next they were asked to observe the relatively few developed properties on Gratiot Lake and identify what was missing in terms of protective natural features such as trees, shrubs and natural beaches.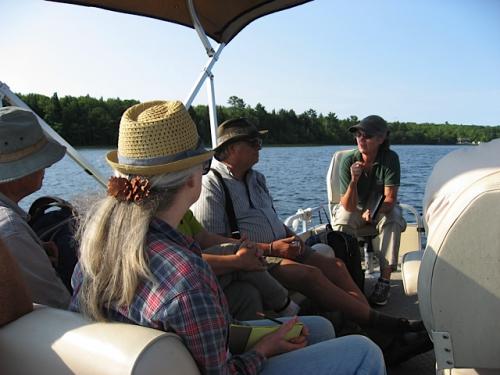 Photo: Program participants explore Gratiot Lake with MSU Extension Educator, Jane Herbert.
The group also learned about the movement of sediments on the bottom of the lake, creating longshore drift or beach drift. Sediments are transported around the lake by waves and longshore currents. These currents are dependent on prevailing winds and therefore carry suspended sediment in one direction for most of the year. Strong storms may temporarily change the direction of longshore drift, but over the course of a year most lakes experience a net transport of suspended sediment which contributes to natural beach building. Construction of solid docks and piers can interrupt sediment movement and starve "down lake" properties of the sands and gravels necessary to build and maintain natural beaches that protect shorelines against wave action.
Lake shape also plays a role in sediment transport and habitat creation. The group observed that the bays on Gratiot Lake were shallower and supported emergent aquatic vegetation such as hard-stem bulrush (Schoenoplectus acutus). The root systems of these plants form a dense matrix that serves to stabilize lake bottom sediments and improve water clarity. The erect stems provide surfaces for feeding, resting and for emergence of aquatic insects like dragonflies. Clear water assists in the success of sight-feeding fish and other aquatic organisms.
It was an enjoyable morning of sharing and learning on Gratiot Lake. If your lake organization would like to organize an on-lake session to explore shoreline problems and opportunities, please contact Jane Herbert, Senior Water Resource Educator for Michigan State University Extension at jherbert@anr.msu.edu.