Production of cut flowers and vegetables in high-tunnels
Why produce flowers and vegetables in a high-tunnel rather than in an open field is certainly a legitimate question.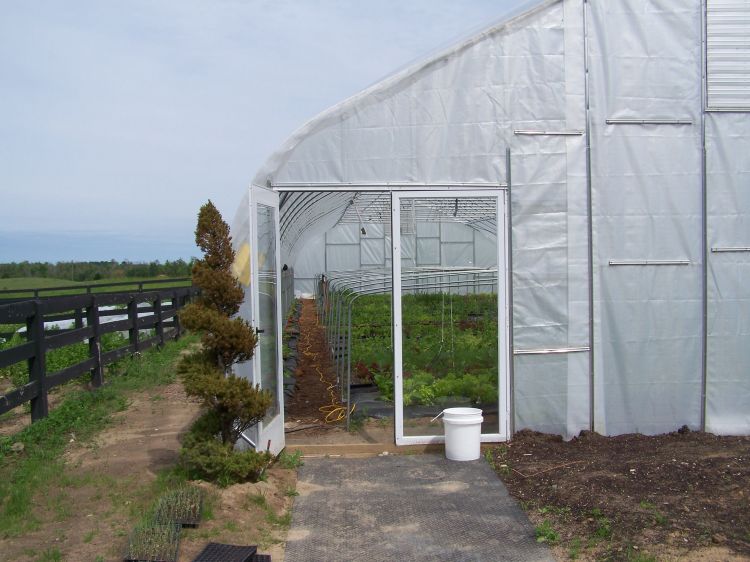 Why produce flowers and vegetables in a high-tunnel rather than in an open field is certainly a legitimate question. After all, high tunnels are not cheap. So why do it? Granted, high-tunnel production of any crop is not for everyone - and it's not for every crop. Generally, the most economical crops are high-value crops, flowers and many vegetables also fit into this category. Vegetables like pumpkins, sweet corn, watermelon and others would not be economical. So, just what are the advantages?
Season extension: This is one of the biggest factors in a northern climate situation. For warm season crops like tomatoes and cucumbers, the additional heat allows for earlier spring planting and extends the harvest period in the fall. Then, cool season crops such as spinach, lettuce and others can be planted, and with further protection, be harvested through much of the winter. This also has the advantage of a more continuous income flow throughout the year.
Local off-season supply and higher return: This goes along with season extension. By having a local supply of a traditionally shipped-in, off-season product, producers can demand a higher price from those individuals and establishments emphasizing "local".
Reduced disease: By keeping rain and dew off plants, greatly reduces the incidence of fruit and foliar diseases.
Higher quality: Tunnels tend to increase size and attractiveness. This is seen best in flowers where stems are longer, flowers larger and colors appear brighter. Fruit bearing cops will also have larger fruit with fewer blemishes.
Greater yield: This is a combination of higher quality, less disease, larger size and greater numbers. Many flowers will have close to 100 percent marketable stems since they grow larger and have less petal damage.
Reduced fertilizer inputs: Fertilizer rates can be reduced by nearly 50 percent of the field rate. Field rates in tunnels produce excessive growth and make production and harvest activities difficult and may even reduce yields in crops like tomatoes.
Greater precision: Making exact changes in a small area is easier than across a larger field. This could be in the area of soil pH, macro and micronutrients, light, wind, weeds, etc.
This is not to say high-tunnels solve all problems, that everyone should get a tunnel and grow everything under tunnels. Tunnels are a higher level of management and commitment that needs to be considered before making that leap. Irrigation and crop rotation can become significant issues and some production practices will need to be changed compared to field practices. Pollination for some crops is also a concern since honey bees do not like to fly in the tunnels. Tunnels can also increase some problems such as mites and thrips. High-tunnel production will be a topic at the third annual MSU Ag Innovation. Research and Extension personnel will be available to discuss high tunnel technology during the morning session and an afternoon session will specifically discuss flower and vegetable production
MSU Agriculture Innovation Day: Focus on Fruit and Vegetable Technologies, 8:30 a.m.-5 p.m. June 28 at the MSU Southwest Research and Extension Center in Benton Harbor, Michigan, offers a variety of fruit, vegetable and grape growing technologies, including the latest information on pollinators and equipment. The event has been approved for Restricted Use Pesticide Credits (6 credits) and Certified Crop Advisor CEUs in Integrated Pest Management, Crop Management, Soil and Water Management and Sustainability. For detailed session descriptions, visit http://www.canr.msu.edu/msu_agriculture_innovation_day/ or contact Ron Bates at batesr@msu.edu.