Proper fertilization: Take key step with square footage calculator
Online calculator conveniently determines the exact area of lawn or garden, saving you money and protecting the environment from over-fertilization.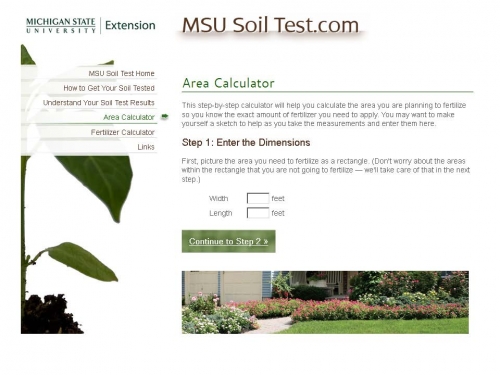 Need to fertilize your lawn or garden areas but have no clue what the square footage is? If you don't have this information, you may have a hard time determining the amount of fertilizer to purchase. If the idea of remembering calculation formulas for the various shapes in your garden terrifies you, there is an online tool that is now available which will make your gardening chores much easier.
Of course, the first step to environmentally-responsible fertilizing is to conduct a soil test to determine what your fertilizer needs are. This is based on the nutrients already available in your soil and the specific nutrient requirements for the plant(s) you are trying to grow. Doing so enables you to select the proper fertilizer and apply the right amount. An easy way to test your soil is to purchase a Home Lawn and Garden Soil Test Mailer from the MSUE Bookstore or an MSUE County office.
The MSU Soil Test website offers a free step-by-step area calculator to help you calculate the area you are planning to fertilize, making it easy to apply the exact amount of fertilizer you need. This will prevent you from buying too much fertilizer that you may be forced to store for when and if you plan to fertilize in the near future.
There are two main steps to follow when using this calculator. First, you are asked to picture the area to be fertilized as a rectangle. Don't worry about the areas within the rectangle that you are not going to fertilize because this will be calculated in the next step. Making a simple sketch may help you keep track of all the areas that you will need to account for. Second, you will subtract off the areas, one by one, that you will not fertilize within the rectangular area. For each area that needs to be subtracted, you will enter a name, for your reference only and to keep track of the exact area that you are subtracting, select the appropriate shape from the drop-down menu, and enter the dimensions. You can include as many shapes as necessary. The area calculator will then conveniently calculate the square-footage for you!
Be sure to visit the MSU Soil Test website for a number of additional tip sheets and tools that can help you with your lawn and garden needs.