Public markets differ from farmers markets
While farmers markets and public markets both exist to connect food producers with food consumers, there are some important distinctions.
The new Downtown Market in Grand Rapids, Mich. opened for business on September 2, 2013. It joins the ranks of other public markets across the country in cities such as Detroit, Boston, New York and Milwaukee.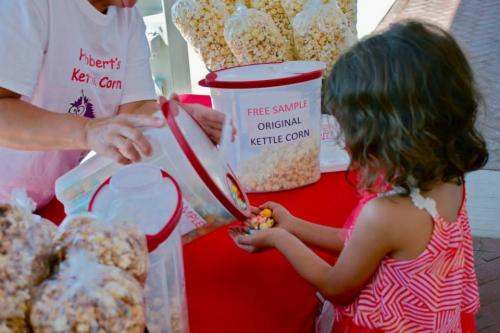 So, is a public market and a farmers market the same thing? Let's explore the differences and similarities. It is important to know that markets each set their own operating policies and that this comparison doesn't apply to all markets.
In villages, towns and cities across America, the number of farmers markets are increasing dramatically. U.S. Department of Agriculture Secretary Tom Vilsack recently announced that 8,144 farmers markets are listed in the USDA's National Farmers Market Directory. This is up from approximately 5,000 in 2008. In Michigan, the Michigan Farmers Market Association states that farmers markets have increased from around 90 in 2001 to more than 300 today.
Michigan State University Extension works to support the development and sustainability of farmers markets because they shorten the supply chain and increase access to fresh, local food. Most farmers market transactions occur directly between the person who grew the food and the person consuming the food. This affords the opportunity for a relationship to be built and for buyers to inquire as to the farmer's growing practices, freshness of product and other details not available at the supermarket.
Since farmers markets set their own policies, each may enact policies about what foods are allowed or restricted. Some markets may only allow local food produced within a specific distance from the site. Others might allow food from outside the region in order to expand access to non-local products, bananas, for example. Some markets allow only products grown directly by the farmer. Similarly, policies about the sales of prepared food, such as baked goods and cottage food items are determined by individual markets. Policies also address the sale of non-food items. Some allow the sale of crafts or hand-made clothing; others forbid this practice.
Depending upon the climate, farmers markets may only operate seasonally. Most often the market is held outdoors, under tents or a pavilion. A market site may sit empty during non-market days or be used for other purposes such as parkland or parking lots.
Generally speaking, public markets are located in permanent structures and are open year-round. They may also offer seasonal outside stalls. Keith Schneider, writing for The New York Times, earlier described the Grand Rapids Downtown Market as "…..a destination that is expected to attract 500,000 visitors a year. The three-story brick and glass building, under construction in a neighborhood of vacant turn-of-the-20th century warehouses, is intended by its developers to be a state-of-the art center of commerce for the culinary arts and fresh local foods."
Public markets host a wide variety of vendors that sell fresh produce, bakery items from in-market bakeries, meats from in-market butcher shops, seafood, cheeses, chocolates and sweets, beer and wine, coffees, teas and spices. Visitors to public markets can often choose from many freshly made prepared foods, too. Vendors in public markets might procure their products from outside of the local area, even from around the globe. However, the Grand Rapids Downtown Market plans to emphasize local foods and selected its vendors accordingly. Many public markets also offer a variety of vendors selling non-food products.
Community kitchens, demonstrations, classes, public events and celebrations are some of the other amenities frequently provided by public markets.
While farmers markets and public markets share some of the same goals and functions, it should be clear after this examination that each type of market offers unique amenities and services that clearly differentiate them from each other. Regardless, both are ideal places to find local food and celebrate the conviviality of shopping for food.