Put Michigan-made foods on your holiday gift-giving list
Tips for selecting gift baskets containing Michigan-grown and manufactured food and drink items that support Michigan farmers, artisans and businesses while delighting the gift-recipient.
As fall leaves fill the streets, holiday catalogs fill mailboxes. Colorful, glossy catalogs from Texas, Florida and the New England states display food and drink items that come packaged in gift boxes, baskets or as a "food item-of-the-month" subscription. These offerings are voluminous; they most frequently include oranges and grapefruit from Texas and Florida and regional meats and cheeses. Gourmet candy, baked goods, nuts, sauces and regional confections such as pecan praline bars are marketed to gift givers, either separately or in gift baskets. Companies across the country are vying your holiday business by showcasing their special treats and hoping you will buy and gift them to those on your shopping list.
According to IBISWorld, $228 billion went to holiday spending in 2010. Nearly 60 percent of holiday spending was for food, gifts and parties related to the winter holiday season. And food, drinks and candy make up 36 percent of the winter holiday total. That is a lot of fruits, candies, cookies, sauces and other holiday goodies.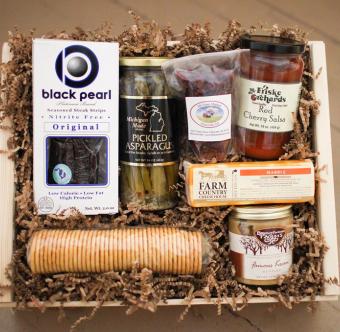 Photo credit: MiFarmMarket.com
Michigan State University Extension promotes buying local, regional or Michigan –grown products. It is beneficial in multiple ways for you to purchase Michigan-made products as holiday gifts. Michigan farmers, artisans and small scale processors benefit due to increased demand for their products. The Michigan companies, who procure food items, pack and ship gifts, also benefit from your purchase. The dollars you spend on Michigan products assures that your money circulates within Michigan instead of leaving the state.
The following Michigan businesses sell Michigan-made products, packaged for gift giving by mail order. These are featured, not as an endorsement by Michigan State University Extension, but to show the scope and variety of gifts that are available. Additionally, typing "Michigan gift baskets" into your search engine will display dozens of pages of sellers eager for your business.
If you shop at MiFarmMarket.com while hungry, you might be tempted to order one of everything they offer. Michigan-made jams and jellies, fudge, cookies, maple syrup, cheesecakes are just some of the products they sell. Customers can shop by price, category or design their own assortment.
Earthy Delights is a Michigan company selling wild-harvested, traditional and artisanal foods. In addition to a large assortment of dried mushrooms and fruits, they feature sauces, salsas, jams, syrups and honey, to name just a few. They feature a "create a gift basket" service. Purchase 15 items of your own choosing and they will create a gift basket to order.
If you desire to give a gift that lasts all year long, consider gifting a subscription of Michigan foods. A monthly subscription, from mittencrate.com contains "a carefully curated selection of delicious food, crafted in small batches by independent food producers from around the great state of Michigan." An additional benefit is that for each crate that is delivered, Mitten Crate, in partnership with Gleaners Community Food Bank, provides three meals for people in need.
For those inclined to create their own gift baskets, there are 33 Michigan Meijer stores that feature more than 40 Michigan-made food products in specially designated areas of the stores. Meijer worked with the Michigan State University Product Center to assure that all the suppliers used proper protocols and supply chain procedures to assure high quality products. You can download a list of featured products and store locations here.
When you purchase Michigan-made food gifts this winter holiday season, your gift recipients will be delighted by the unique and sumptuous treats and as a bonus, people and businesses in Michigan benefit!