Quentin Tyler: Cultivating diversity in CANR
Quentin Tyler, Ph.D., CANR associate dean and director for diversity, equity and inclusion, details his passion for helping the community and improving the lives of the next generation.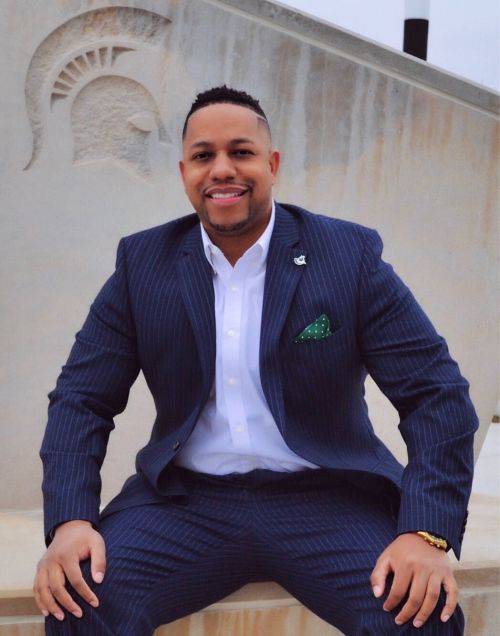 In honor of Black History Month, CANR is featuring African-American members of its community. Quentin R. Tyler, Ph.D. is the associate dean and director of the Office of Diversity, Equity and Inclusion in the Michigan State University College of Agriculture and Natural Resources (CANR). He joined CANR in early 2018, and works to foster and create an environment where staff, faculty and students of different races, cultures, genders, sexual orientation, socioeconomic status, etc. feel welcomed and have equal opportunities for success.
CANR: What inspired you to take action to make a difference in the communities you belong to?
Quentin Tyler: There are constant reminders about the need for education, positive engagement with youth and young adults, and the support for those that make up our respective communities. I have had several mentors throughout my life who continue to be stewards of engagement, and support and inspire me. Lionel Williamson, Ph.D., one of my former professors in the University of Kentucky College of Agriculture, is one of these people. He was the first African-American professor I had in my discipline. Williamson made it his priority that I not only excelled in class, but that I understood the greater impact of my work. He would provide consistent feedback on ways to improve as a student and scholar, and actually hired me as a student to directly work with his Cooperative Extension Program. and encouraged me to attend graduate school, also at Kentucky. He specialized in outreach in rural communities and was a model not only in the classroom, but throughout the state of Kentucky and the entire U.S. He could deliver a message that resonated with people from all backgrounds with ways to improve their respective communities through combining education with practical experience. Growing up, I was involved in several outreach programs, had great mentors, and resources were provided that aided in my personal development and growth. I want to continue to provide similar efforts and resources for the next generation.
CANR: What do you do outside CANR that honors your African American communities?
QT: I started a scholarship in my hometown of Hopkinsville, KY. for youth to attend college, because finances are always a barrier to higher education. I've also established a scholarship at the University of Kentucky. Additionally, I mentor students, speak at events in the local community and serve on numerous boards of community-based organizations, and provide insight and direction. I believe it's important for youth to have positive relationships with mentors, insight into possible careers, and a perspective that is outside of their respective communities.
CANR: What are some fun facts about you?
QT: At heart, my hometown is the most important part of me. I'm from the same town as Ted Poston, who was known as the "dean of black journalists" and nominated for Pulitzer Prize in 1949, and Peter Postell, one of the first black millionaires. Postell was known as the wealthiest black in the South during the early 1900s. Additionally, my hometown of 28,000 had visits from Booker T. Washington and was home of the grandparents of Muhammed Ali.