CANR Student Mission: Change the World, podcast
In this episode, Kraig Ehm chats with Rosalyn Brumette about her visit to Japan to the International Food Summit in Tokyo, Japan
May 2, 2016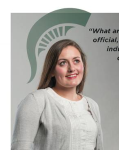 ---
In this episode, Kraig Ehm chats with Rosalyn Brumette about her visit to Japan to the International Food Summit in Tokyo, Japan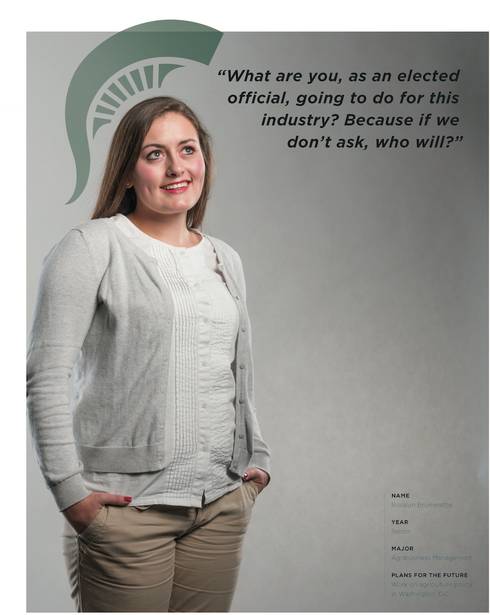 In the Field, CANR Student Mission: Change the World - Transcript
Kraig Ehm: Welcome to In the Field. A podcast originating from the College of Agriculture and Natural Resources at Michigan State University. I'm Kraig Ehm. In this episode of In the Field, I'm talking with Rosalyn Brumette, a student from the college of Agriculture and Natural Resources at Michigan State University. Rosalyn, thanks for joining me.

Rosalyn Brumette: Thanks for having me. I'm glad to be here.

Ehm: Now, you represented MSU by participating in the 15th International Student Summit on Food, Agriculture, and the Environment in Tokyo, Japan. How were you selected?

Brumette: Well, it's actually a very secretive process. I received a very innocent email and it was vaguely titled Invitation to Attend. And so I actually deleted it at first. It came from a reputable source, so I thought, "Okay, maybe I should actually read this." So I did and it was just an offer, so someone had recommended me and I don't know who it was, exactly, but I am so glad that they did.

Ehm: Excellent. Now you were repping, not just Sparty, but the entire United States. Is that true?

Brumette: Yes. Yes, it is true.

Ehm: So that was a big responsibility on your shoulders.

Brumette: Definitely. You know, going in there, we thought, "Okay. We're only representing Michigan State." Myself and another student, a Community and Sustainability major, Allison Stawara and I, we thought, "Okay. It's not a big deal. We're just going to Japan to meet with other people and we're representing Michigan State." And then we get there and they kept referring to us as the United States. The United States. Okay. It made us very nervous.

Ehm: Now, talk a little bit about your passion, about consumer reconnection to the food supply, and upholding agriculture's environmental integrity. What exactly does that mean?

Brumette: My passion is reconnecting the consumers with the food supply. Americans, we have the luxury of not having to know where our food comes from or having to produce our food, so we can just go to the grocery store and get whatever food we want. Our demand is limitless and our wants are limitless. So with that, we don't necessarily understand the impacts that our purchasing power has, especially on the environment. So what our paper really addressed was if we reconnect consumers to the food supply, how will that impact environmental triggers. So if somebody buys more local, in-season food, will it mitigate environmental issues that are stemming from agriculture like water use and transportation energy use?

Ehm: What has helped create your interest in thinking globally and acting locally?

Brumette: Well, that's actually my new motto thanks to the conference. When we were in discussions with our smaller group, our facilitators were trying to bring us all together because we were such a diverse group of individuals. We actually were paired with a couple countries that were developing countries, so looking at the issues that our country was facing compared to their country was difficult. We were just having a hard time. So she said, "Overall, let's try to look at what we're doing locally and how it's affecting us globally." And that just, it really struck with me. And it stuck. And it's something that resonates now within what I do.

Ehm: So there was a different between acting locally here and then acting locally within the other members of your group because their local is so much different than our local.

Brumette: Oh, definitely. So the differences between our countries that we were interacting with is the United States is a developed country and we have a lot of money to spend, so we have great purchasing power from our consumers, whereas other countries don't really have that because they're developing and there's a lot of infrastructure issues, so their local is very different from our local, and so what we're trying to do, it was looking at our paper topic of addressing local consumer disconnect. That's much different from the issues that they're looking at, whereas in the Ukraine, they're looking at wholesale markets for food, and infrastructure issues, and food safety issues with the other countries.

Ehm: Now, how have you shared your passion with others on the MSU campus?

Brumette: I'm involved in the National Agrimarketing Association along with the Sigma Alpha Professional Agriculture Sorority. And so our philanthropy events include Ag in the Classroom and we've also incorporated Collegiate Farm Bureau, which is on campus, and other student organizations about reaching out to just the other students that are on campus about spreading the word about agriculture and what we do because they're not connected with it.

Ehm: So you've taken your experience here at MSU and the other places that you've volunteered, you put together a paper, you submitted it, you were selected and now you're on the trip. What was the trip like?

Brumette: It was amazing. It was an unparalleled experience. I've been to quite a few conferences, but it's unlike anything that I've ever done before because it was on an international level.

Ehm: Now, you worked with different groups while you were there. So you were collaborating across cultures. Was it challenging? Was it rewarding? And if so, how and why?
Brumette: I would definitely say both. The challenges that we faced were the language barriers, so the conference was held all in English, thankfully, or else the United States and Canada would be at a loss. So everybody was speaking in English. In Japan, they don't speak English as much, so we had a translator with us the whole entire time. Another challenges was preconceived notions that other people came in with or even ourselves. We definitely heard a lot of opinions. They were voiced very freely, I think, about the United States and Allison and I had to grin and bear it. We had to take a lot of the comments that they had. Overall, it was more rewarding than it was challenging.The collaborations that we had with these individuals from across the world are something that we can take away and are very rewarding. Remembering back to our discussions that we had with one another, it still gives me chills because we can learn so much from each other and to think that a bunch of youth from around the world met in Japan, were all so passionate about agriculture and the environment and we were discussing issues that we currently face and that we're going to face in the future and looking how we can mitigate those. It's noteworthy, I think.

Ehm: Rapid fire question time. I'm going to ask you three questions and I would appreciate an answer, and don't just answer it with the answer, but kind of give a background as to why. So the first question is Tokyo, Japan, what's your impression and why?

Brumette: I like Tokyo a lot. It was a very clean and highly efficient city. Everybody operates at such a well-functioning level that it was amazing. I would stand there and just gape at what was going on because everything was so quick. Another thing is it's very small scale, so it's not Americanized, I would say.

Ehm: Favorite food on the trip and why?

Brumette: That's really difficult. The food in Japan is amazing. I would say traditional ramen, or sushi. We actually went to a sushi bar that had conveyor belt sushi and it was a great experience. It was a lot of fun.

Ehm: Okay. Best memory from the trip and why?

Brumette: That's also very difficult because so many of the interactions that we had are noteworthy. The last few days we did a lot of sight seeing, so we got to see the Tokyo Sky Tree. I would say that my favorite memory is being woken up by my translator every morning because we were always late because of the time difference. So she would come in and suddenly knock on our door and everything and then Allison and I would jump up and her name was Hikaru, and Hikaru would try to rush us around and get us to go, but she was so kind about it and she didn't want to make us upset, but it was very funny be she wanted us to be very punctual and as Americans with a huge time change, as it was with 12 hours, it was difficult.

Ehm: What was one thing that stood out most to you, or what was the one thing you learned at the summit that will stay with you for life?

Brumette: I think this really goes back to the thinking locally and acting globally. Overall, the experience is something that I will never forget. Interacting with those students for ten days. We went to a traditional Japanese spa that was in the mountains and it was gorgeous. It was phenomenal, but I think it was really our discussions that we had with one another and looking back at that, we were all able to learn something from one another and take that away and take it back with us to the universities where we came from and try to make a change overall. And realize that what we do on a small scale level really does have a larger impact. Sometimes the small decisions that we make really exacerbate global issues, so trying to change that.

Ehm: What puts a smile on your face when volunteering your time to promote US agriculture, food, and the environment?

Brumette: I always like to see the surprise on people's faces when I can tell them that miles of wool are stuffed inside a baseball, or that I can say there's horse hooves, or beef hooves, or beef fat in glue. I can relate agriculture to everything and I think that they're surprised whenever I tell them about ways that farmers are really advanced in technology and farmers are stewards of the land, and so this land is the land that they want to pass down to future generations, to their children, and to other farmers. So they have to take good care of it. So they're adopting new environmental practices, conservation practices that will promote the environmental health of that land for many years to come and I don't think consumers realize that farmers are continuously making decisions based on weather issues and also on the future of this practice.

Ehm: This might also give a lesson to making sure you check your email for messages.

Brumette: Definitely.

Ehm: I would like to thank Rosalyn Brummette for joining me today. Be sure to listen next time for another episode of In the Field.
Related Series