Raise your hand if you or someone you know is a Michigan 4-H alum!
Show your 4-H alumni pride and help Michigan 4-H win a cash prize to support statewide programming.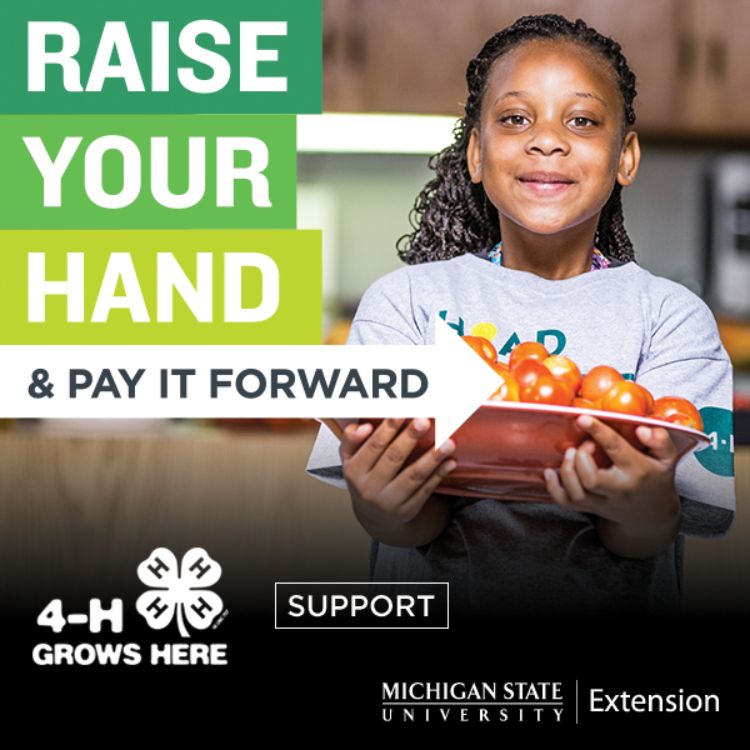 An important part of Michigan State University's College of Agriculture and Natural Resources is Michigan State University Extension and their youth development program, Michigan 4-H. This key program provides kids with the opportunity to learn by doing, grow from failure and develop the skills they need to handle whatever life throws their way. No one knows this better than 4-H friends and alumni like myself who have experienced these programs firsthand. With deep-seeded roots in our university and state, I have no doubt there are many 4-H alums like myself throughout MSU and the state.
Today, I'd like to ask those alums to join me in raising their hands to pay it forward to the next generation of 4-H'ers and to help to bring the same opportunities you enjoyed to additional kids in our state. Raising your hand for 4-H is a simple process:
Visit http://www.4-H.org/RaiseYourHand to register as a 4-H alum and show your 4-H alumni pride.
Each alumni hand raised (registered) between now and June 30 counts as one vote for their 4-H club state (the state in which they participated in 4-H). The states with the most alumni hands raised will receive a $20,000, $10,000 or $5,000 award.
Tweet, post and share your #4HGrown experiences and tag fellow 4-H alumni asking them to raise their hands as well.
The opportunity to support Michigan 4-H is not limited only to past 4-H'ers: 4-H parents, volunteers and other supporters can also raise their hand for 4-H to show their 4-H pride!
In addition to helping our state win a cash prize to support 4-H programming, by completing the registration you will become part of the National and Michigan 4-H alumni communities. As a member of the alumni network, you will receive information about the state of Michigan 4-H, stories about current 4-H'ers, invitations to special 4-H alumni activities and events, and ways you can support your local 4-H program.
Thank you for your help in empowering kids across Michigan by providing them with 4-H hands-on learning that teaches them responsibility, compassion, respect and the value of hard work. Together we can grow the next generation of true leaders.