Record keeping: Now where did I put that information?
Keeping records is important when raising market animals.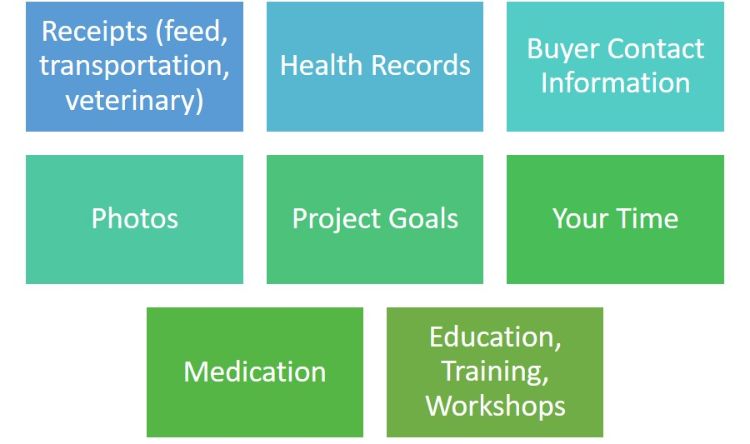 Let's talk about records and market animal projects. Michigan State University Extension's Youth Business Guide to Success – Make the Most of Your 4-H Market Animal Project curriculum teaches about keeping records. Record keeping really matters. 4-H members involved in a market animal project are entrepreneurs, or businesspeople. Record keeping is one of the responsibilities every business must maintain. Record keeping is also an important skill needed in many areas of life, including applying for a job or scholarship, paying bills and filing taxes.
Keeping records has many benefits when raising an animal, such as tracking how much money was spent on feed, knowing when the last medication was given, determining the financial break-even point, and keeping track of potential buyers' contact information and communications.
Over time, records can show whether a given exercise or feeding strategy worked. Maintaining records provides a 4-H member the documentation and opportunity to apply for recognition and scholarships. For 4-H members who breed animals, documents recording the genetics of a breeding pair are valuable. Records help a member understand and see what happened with the project, start to finish, and can help with writing goals of a future animal project.
Here are some examples of records that should be kept for 4-H market animal projects:
Receipts for costs, such as the animal itself, feed, supplies, housing, transportation and veterinary needs.
Amount of feed
Animal growth
Animal identification
Medication
Past and potential buyer contact information
Education received or workshops attended
Break-even point
Project goals
Photographs
Recognition received
Time spent working with the animal
Here are a couple of scenarios to help think about the types and importance of keeping records for a market animal project:
A person wants to start to raise breeding stock and sell calves to 4-H members. What records will the person need to be able to do this? How will the person know if they have made a profit?
Or…
A person wants to apply for a 4-H college scholarship through the rabbit project. What records would be needed to participate in this process?
Record keeping is important in all areas of raising a market animal since it is a business. Every successful business keeps records. Record keeping skills are important and applicable in many areas of life outside of 4-H and the market animal project. Visit MSU Extension's Youth Business Guide to Success – Make the Most of Your 4-H Market Animal Project for additional resources including videos by Michigan 4-H members. In particular, the small animal, swine, and sheep and goats videos provide record keeping tips.
Michigan State University Extension and Michigan 4-H Youth Development helps to prepare young people for successful futures. For more information or resources on career exploration, workforce preparation, financial education, or youth entrepreneurship, email us at 4-HCareerPrep@anr.msu.edu.