Reflections on cover crop use in Michigan
Tools, species, and other developments offer more alternatives to fit cover crops into your rotation.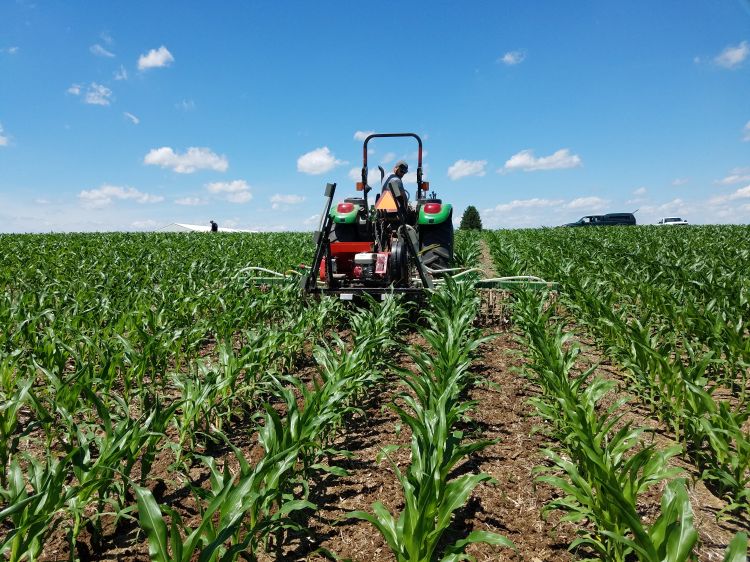 My job with Michigan State University Extension is to promote sustainable agricultural practices including cover crops and soil heath. Given that bias, I find myself reflecting on the state of cover crop use in Michigan. Specifically, according to the National Agricultural Statistics Service (NASS), if cover crop acres increased 54% between 2012 and 2017, then why are cover crops only used on 8.5% of Michigan's agricultural land?
Cover crop use varies considerably by county with the highest at over 27% in the Lower Peninsula. I'm encouraged when I compare cover crop acres to annual row crop acres and find it's greater than 14%. Yet, with the many benefits cover crops bring to soil health, productivity, and environmental stewardship, what is missing from the cover crop message? I am not here to preach cover crops (many know I am capable of that); instead, I'll provide food for thought and reflect on some aspects of cover crops that farmers may want to consider.
I believe farmers are very good at maximizing production in a "normal" year when moisture and heat come in the right amounts and at the right time. Farmers are adept at properly timed field operations of weed/disease management and fertility; just add water and heat and your production goals can be met. I also believe that in a "normal" year, there will be little that cover crops can contribute to improve the productivity of this system. Multiple years of cover crops can improve the "normal" system over time on a 3-to-5 year scale; however, year-to-year differences will be hard to see. Cover crops will shine in an "abnormal" year. Fields with cover crops take water better and allow earlier entry in wet springs and retain water better through dry periods, improving the resiliency and productivity of the system. Cover crops are insurance for "abnormal" years. Like crop insurance, you don't need it every year, but the year(s) you do, you're glad you made the investment. The spring of 2019 is a testament to an "abnormal" year. What's coming next year, or the year after? It may be time to invest in cover crop "insurance."
Many say cover crops are nothing new and past generations used them. While this may be true, previous generations of farmers didn't have the same tools or species available today to help fit cover crops into their rotations. There have been numerous advancements in cover crop seeding methods. Planting after harvest is still the most prevalent, but planting green is increasing in popularity. Methods and equipment to interseed early, mid, and late-season into standing crops are being developed and have become more available. Earlier seeding improves establishment and growth while moving the seeding operation to less busy times of the year. Cover crop seeding has been integrated with vertical tillage equipment, on high-boys, and harvest equipment. These developments and others offer more alternatives to fit cover crops into your rotation. Many more species are readily available from seed dealers and agri-businesses. Choices range from grasses, legumes, and small grains, to brassicas and non-legume broadleaves. In addition to building soil, each species brings unique benefits including erosion control, compaction reduction, weed fighting, nitrogen sourcing, nitrogen scavenging, and forage/grazing opportunities. It may be time to consider new cover crop timing and species opportunities.
Cover crops are a long-term investment in your farming system. Like buying a new planter, the true payback for that investment comes over a period of time. Unlike the new planter where there is plenty of year one gratification (ease of operation, less breakdowns, less skips, higher yields, and pride), the gratification from cover crops is back-end loaded. The first few years will most likely yield little tangible feedback. Any major change to a farming system or in life where the benefits are down the road can be hard to start and stick with. The longer you wait, the harder it is, and there's more to overcome. Losing weight, eating right, and yes, cover crops, are lifestyle changes that take energy, commitment and resolve to see through to the prize. It may be time to commit to the cover crop lifestyle.
As you reflect on your farming system, consider these concepts and your potential to start, continue, or expand your use of cover crops. As you weigh the pros and cons of making the cover crop lifestyle change, the Michigan State University cover crop and soil health team is available to assist you.
To contact an MSU Extension cover crop team member or to learn more about cover crop education and research at MSU, visit online at canr.msu.edu/cover_crops/.
Baas is an MSU Extension sustainable agriculture educator. He can be contacted at baasdean@msu.edu or 269-467-5646.
Key Points:
Cover crops are a long-term investment in your farming system
Think of cover crops as a type of crop insurance
Interseed cover crops during growing season or post harvest
"This story was originally featured in the September 8, 2020 online version of Michigan Farmer."