Register now for facilitative leadership to learn how to lead effective projects, come to a consensus
This intensive three-day training let's you learn and practice facilitation techniques in a group setting. Class size is limited to only 24 participants.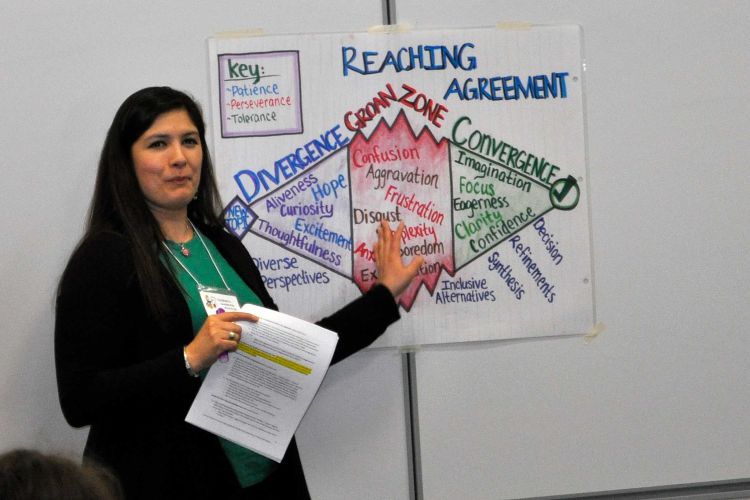 The Facilitative Leadership workshop's overall goal is to provide a thorough overview and understanding of facilitative leadership and the competencies needed to enhance group work.
By the end of the workshop, participants will:
Understand the role of a presenter/trainer, learning facilitator and facilitative leader.
Increase personal skills in leading discussion and balancing participation.
Understand the role of verbal skills and nonverbal techniques to help keep a group on track while maximizing participation.
Effectively use a variety of tools for helping groups:

Generate ideas and options for action.
Explore and evaluate ideas and options.
Achieve consensus.
Plan actions and events.

Articulate outcome-based and action-oriented objectives for group processes.
Design a process that combines tools to help a group reach its goals.
This three-day class focuses on creating an inclusive culture of collaborative learning in teams, communities and organizations. It is for both new and experienced leaders, managers, facilitators and graduate students who would like to develop or improve their facilitative leadership skills. It takes place at the beautiful Kettunen Center, a comfortable retreat and conference center in Tustin, Michigan.
The next introductory Facilitative Leadership workshop will be held Sept. 10 beginning at 9:30 a.m. on day one and ends by 3 p.m. on day three. There are evening sessions on both the first and second days.
Class size is limited to 24 participants. This allows time for every participant to practice facilitating and receive coaching and feedback in small groups. Due to the focused nature of the workshop, participants are asked to participate fully in the three days without phone calls, meetings and other interruptions that might diminish the learning experience for all. You will apply what you've learned in practice facilitation sessions, in a safe and supportive environment.
The cost of this all inclusive retreat experience, provides two nights lodging, day one breakfast through day three lunch, and all materials for $665. To register please visit: https://events.anr.msu.edu/FacilitativeLeadership2019/
There is typically a waiting list for this session, so please indicate as soon as you become aware if you are no longer able to attend, so that we may fill your seat. If you cancel and we can fill your seat, you will receive a full refund. Otherwise, you will be charged 50% of your registration cost if you cancel four weeks or less before the session. Payment is due prior to attendance.