Report invasive species quickly and easily and look good doing it!
Upload sightings of invasive plants and animals to the Midwest Invasive Species Information Network (MISIN).
Want to use technology to help track the movement of invasive plants and animals? Now you can! Citizens across Michigan and the Midwest are encouraged to report their sightings of invasive plants and animals – both terrestrial and aquatic – using the MISIN website or the MISIN smartphone app. Users can upload GPS coordinates and photos and become better informed while there.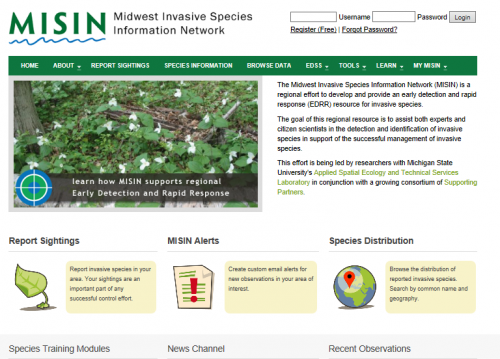 Photo: Screenshot of the MISIN homepage
With the onset of summer, Michiganders headed to the beautiful waterways and byways of our great state can be prepared to recognize and report invasive plants and animals that threaten our natural ecosystems. It's not only important to know which invaders are already in Michigan, it's important to be on the watch for those headed this way. By tracking sightings of invasive species across thirteen Midwestern states, MISIN provides an up-to-the-minute picture of what's happening on the front lines of the battle against invasive species.
In addition to maps on demand, and a smartphone app, MISIN offers user-friendly species identification training modules, in-depth species information, a news channel and custom email alerts for sightings in your neighborhood or geographic location of interest.
A recent Michigan State University Extension article announced a new "Michigan Boater's Guide to Selected Invasive Aquatic Plants." This publication quickly connects boaters to the MISIN website via QR (Quick Response) code for each plant.
The Midwest Invasive Species Information Network (MISIN) is a regional data aggregation effort to develop and provide an early detection and rapid response (EDRR) resource for invasive species in the Midwest region of the United States. This effort is led by researchers with Michigan State University's Applied Spatial Ecology and Technical Services Laboratory in conjunction with a growing consortium of supporting partners.