Research and education opportunities increase along the St. Marys River
Lake Superior State University Center for Freshwater Research and Education breaks ground on a new facility, hires education and outreach specialist.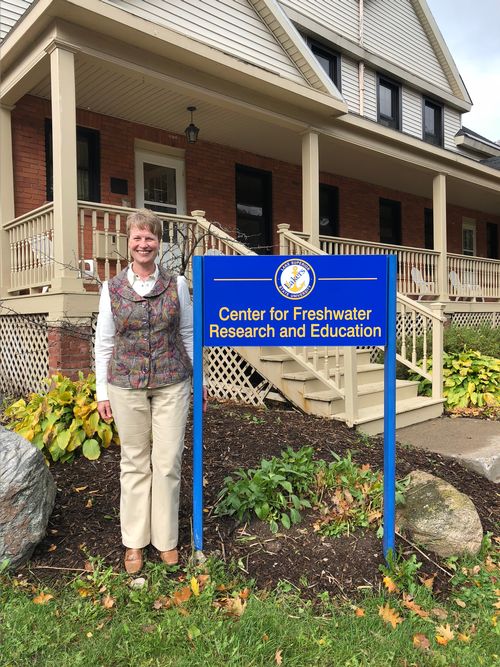 The St. Marys river lies at the heart of the Great Lakes connecting Lake Superior to Lake Huron. This incredible river moves an average of 73,000 cubic feet per second of water discharging into Lake Huron. The river stretches 70 miles and falls 22 feet over that stretch, however 20 feet of the drop occurs at the rapids and human-made locks at the north end of the river near the twin cities of Sault Ste. Marie, MIch., and Sault Ste. Marie, Ontario. It is here at the head of the river where many a generation of native American and European settlers have long relied on the river.
Traditionally a site of indigenous communities who gathered there to harvest fish, it eventually became an epicenter for the French and later British fur trade in the 1600s and 1700s. Today, much of the portion of the river near Sault Ste. Marie has been changed and now includes hydropower plants and locks to allow the passage of freight vessels carrying a huge amount of economically important trade across the Great Lakes. The river also retains some of the original rapids habitat and is still a critically important ecosystem for fish, birds, insects, and many more creatures of the Great Lakes.
Despite the fact this area has been long utilized by humans, there is still a lot to be learned about the St. Marys River and the Great Lakes to which it is connected. From fish spawning habitat, to recreational fishing use, to how to deal with emerging contaminants and invasive species, there are many questions still to be answered about this and the greater Great Lakes region. Thankfully there is now increased capacity in Sault Ste. Marie, Mich., to solve these and many more mysteries.
In July 2018, Lake Superior State University (LSSU) broke ground on a new $13.2 million research facility which will house the newly formed Center for Freshwater Research and Education (CFRE). This facility will help continue and expand the work LSSU's Aquatic Research Lab has performed for nearly 40 years. The university already raises Atlantic salmon and does a variety of research in freshwater systems from invasive species to river restoration projects. The new building will expand that research capacity by providing space to house new equipment and laboratories where experiments and assessments can be done. One interesting feature of the new building will be a room which will house recirculating tanks that allow for controlled and replicable experiments that simulate actual fresh water ecosystems.
Not only will the new CFRE building increase research capacity, it also will provide outreach and education opportunities for both area residents and out-of-town visitors. A large visitors center will include several interactive and educational displays about the ecology and history of the Great Lakes and the St. Marys River. The center has hired an experienced educator, Beth Christiansen, to serve as outreach and education specialist. Christiansen started in Oct. 2018, and is already working to develop Great Lakes-based educational programing for local schools, LSSU's charter schools, and outreach events for the community and tourists. Christiansen also will be working with Michigan Sea Grant Extension educator Elliot Nelson. As part of a unique partnership LSSU has agreed to house Nelson's position at the new CFRE building to help further Great Lakes education and outreach efforts in the eastern Upper Peninsula.
Ultimately the new CFRE building and staff will be a valuable asset to the community of Sault Ste. Marie, and enhance freshwater research and stewardship across the Great Lakes region.
Michigan Sea Grant helps to foster economic growth and protect Michigan's coastal, Great Lakes resources through education, research and outreach. A collaborative effort of the University of Michigan and Michigan State University and its MSU Extension, Michigan Sea Grant is part of the NOAA-National Sea Grant network of 33 university-based programs.