Resource management for your school garden part 2
Finding and using resources beyond grants to grow your school garden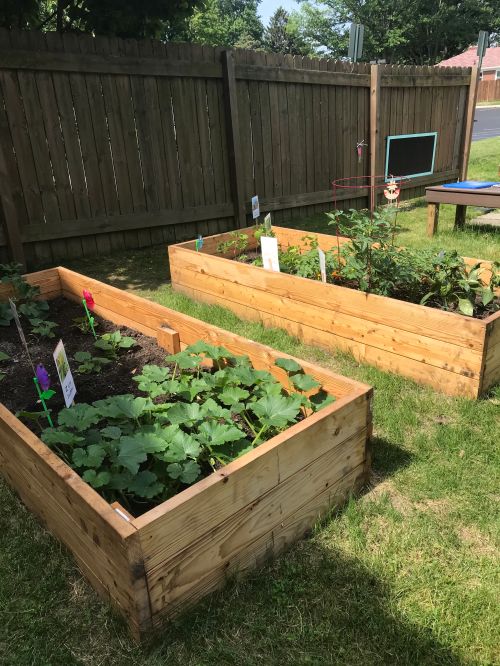 Part one of this article focused on the considerations and differences in granting opportunities for your school garden. However, there are many opportunities beyond grants that can provide both funding and direct resources to your program. Part two of this article will list some of these options, as well as things to consider when seeking non-grant funding.
There are many sources funding outside of grants, and it may be helpful to be aware of the differences between opportunities.
Corporate Funding: Corporations may be willing to sponsor donations or events for your garden. These funds differ from private foundation grants, as they are given with a less formal structure and a less formal application, if any. For most businesses, this operates like a business deal that can be mutually beneficial for both you and the company or business. They can provide your garden with materials or funds, which will in turn bring them positive PR and business from the community. The article, How to Make your Nonprofit Attractive to Corporate Sponsorships, may be helpful when seeking this type of funding.
Planned gifts of bequests: There are gifts or donations that are part of one's estate to be donated after their passing. While these may be slightly less viable for a garden program, it may be possible to get land or resources in this fashion. It is also possible to advertise for this funding. The article "How a Nonprofit Can Start and Market a Planned Giving Program" may be a helpful read if you think this is an option for your program.
Individual Giving: This type of funding is sourced individuals through fundraising or donations. This is the largest source of private-sector funding for nonprofits and is likely the most accessible funding for your garden programs.
While this fundraising can be accomplished in many ways such as memberships, events, and requests, the most likely method for your school garden is fundraising events. You may be able to host events at your garden to raise money, or even reach out to local restaurants or businesses to see if they will partner with your program for a fundraiser. These events are not only a great way to raise money, but can also help build your garden community!
Crowd sourcing through sites such as Crowdrise or GoFundMe are also viable options for your gardens, as they allow people less closely-associated with your garden, such as friends of school families, to donate to your program. This fundraising can be shared and promoted through social media is an especially good options for programs with an already-established social media presence.
While all of these sources can provide direct funding or sponsorships, they may also be able to provide direct materials or resources. Resource donations are also very good options for school garden programs. If successful, these can provide you with what you need, without managing a grant or donation application. This can also save time by avoiding the time needed to write a good grant proposal.
On this front, local businesses are often eager to help out with community projects, so it may be helpful to start locally. Like with corporate donations, donations from local businesses can be mutually beneficial for both you and the business.
In seeking resource donations, it's also a good idea to reach out to parents, families, and coworkers at your school. Some of them may own or be employed by a business that has the capacity to donate materials to your program. Their investment in the school and community will likely make them more willing to donate or become involved in your program.
Furthermore, you might instead ask discount on materials being purchased for your garden. While some business may not have the capacity to fully donate materials, they may be able to offer you materials at cost to a cause they support. Asking for a discount can also be used as a follow-up to asking for a donation. If they cannot donate, consider asking if they could provide a discount.
Asking for a discount or donations may be difficult for you or others on your program team, but these donations can be extremely accessible and helpful to your program. Articles like "How to Ask for Donation" may help you gain confidence and information when approaching the subject, and, like all things, practice makes perfect!
Being direct and comprisable in asking for donations is helpful to keep in mind and will help your organization present as honest and admirable. It may also be helpful to build a connection, or use a previous connection before asking for a donation. Doing research on the company is one way to make these connections, as well as a way to see if your goals line-up with the goals of this company. Furthermore, being prepared for rejection can also help reduce the anxiety around making these requests. Asking instead for a discount, or leaving them with contact information in case their situation changes may not only increase the chance you will benefit from that company, but can also allow you to maintain professionalism associated with your program. Lastly, thanking donors and showing appreciation is always good to keep in mind with donations. Thank you letters, email updates, and photo and story sharing are all great ways to thank donors.
With all of the available grant and non-grant funding, hopefully your school garden program is able to grow and thrive and the "how" doesn't seem so daunting. Good luck and happy growing!
This article was published by Michigan State University Extension and the staff in the Community Food Systems Workgroup who support Farm to School activities including school gardens. For more information, visit http://www.msue.msu.edu. To have a digest of information delivered straight to your email inbox, see http://www.msue.msu.edu/newsletters. To contact an expert in your area, visit http://expert.msue.msu.edu, or call 888-MSUE4MI (888-678-3464).