Rockford 4-H'ers raise money for nationwide disaster victims
Two Michigan 4-H'ers create an ongoing fundraising initiative for those impacted nationwide by disasters.
As another disaster strikes the nation,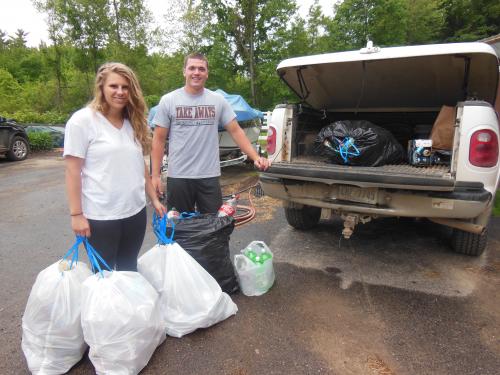 two 4-H'ers model the 4-H pledge by lending their hands to larger service for not just their community and state but nationwide.
Currently raising money for Oklahoma tornado victims, 17-year-old Grace DeGelder and 19‑year‑old Dylan Rodriguez also locally collected pop cans and donations that went to 45 families who fell victim to Hurricane Sandy.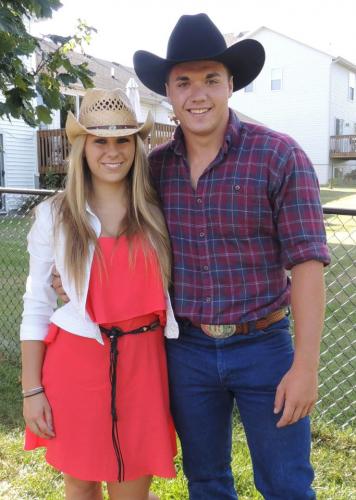 "We saw people on TV and saw the devastation happening," DeGelder said. "We watched someone getting interviewed on TV say that they had supplies for Thanksgiving but nothing to give their kids for Christmas. We wanted to help make sure that those children had a Christmas."
"We thought there had to be a way to help, so we decided to raise funds for awareness of the struggling victims," Rodriguez added.
DeGelder and her mother shared the disaster relief fundraising idea with their local Huntington Bank. Supportive of the idea, Huntington Bank set up a nationwide account for the youth-developed campaign, Never Ending GRACE (Giving Relief and Care Everywhere). When each event's fundraising efforts end, 100 percent of the collected money is transferred to an organization in the affected community for distribution to families.
"We wanted to call it Never Ending GRACE because we didn't want this to be a one-time 4-H project – we want to be there to help whenever a tragedy occurs, we want to help more than just once," DeGelder said.
She and Rodriguez have gone door-to-door in local communities not just raising funds but spreading awareness of Never Ending GRACE. Community shops and businesses have supported the 4-H'ers by making donations and helping advertise their cause. The two have also created a large email list based on Grace's mother's contacts, and DeGelder has given presentations about Never Ending GRACE to her teachers and classmates.
"We have a tight-knit community. People are saying, 'Wow, if they are so young making a difference, maybe I can do that, too,'" she said.
"It's important to reach out and be there for others, to be involved in your community, to think about others and help others in your community to reach out nationwide to those who need help," Rodriguez said.
"In 4-H you learn a lot of leadership skills. As I've become older, I've understood more what the 4-H pledge means," DeGelder said. "I've learned about business management by working with United Way."
Never Ending GRACE is based on the 4-H pledge: I pledge my head to clearer thinking, my heart to greater loyalty, my hands to larger service, and my health to better living, for my club, my community, my country, and my world. The effort by DeGelder and Rodriguez is part of the 4-H Revolution of Responsibility, a movement for positive change in every community in America.
After the fundraising efforts for Hurricane Sandy closed, Never Ending GRACE fundraised for families suffering from the Sandy Hook tragedy, when a gunman fatally shot 20 children and six staff members in December at a Connecticut elementary school.
Never Ending GRACE wrapped up fundraising for Sandy Hook families Memorial Day weekend and is now beginning efforts for the tornado victims in Oklahoma, where communities, including schools and a hospital, were destroyed May 20 by an EF-5 tornado.
"There has to be someone out there who is willing to reach out to those in need," Rodriguez said. "Grace and I realized that so many people can simply turn off the TV and go back to their lives while so many others are struggling and impacted. I know if this were to happen to me, if my life were shaken, that I would hope there was someone out there who cared."
Rodriguez and DeGelder will visit communities going door-to-door collecting pop cans and donations, along with continuing their email efforts for the Oklahoma victims. If you would like to make a secure, online donation to Never Ending GRACE for the Oklahoma victims, visit www.neverendingGRACE.org. You can also donate through any Huntington Bank nationwide by requesting that your funds go to the Never Ending GRACE account, or you can send a check donation made out to "Never Ending GRACE" and mail it to the United Way, 7195 Nugent Ave., Rockford, MI 49341.
When the Oklahoma fundraising efforts close, Never Ending GRACE will move on to fundraising for their next cause.
DeGelder will begin her senior year at Rockford High School this fall. Rodriguez attends Grand Rapids Community College. Both 4-H'ers intend to attend Michigan State University to study animal science through the College of Agriculture and Natural Resources.