SAWBO celebrates viewer milestone of 38 million in West Africa with broadcast partner
Scientific Animations Without Borders, co-led by MSU faculty members Julia Bello-Bravo and Barry Pittendrigh, is a research and outreach program connecting global experts for on-the-ground local impact.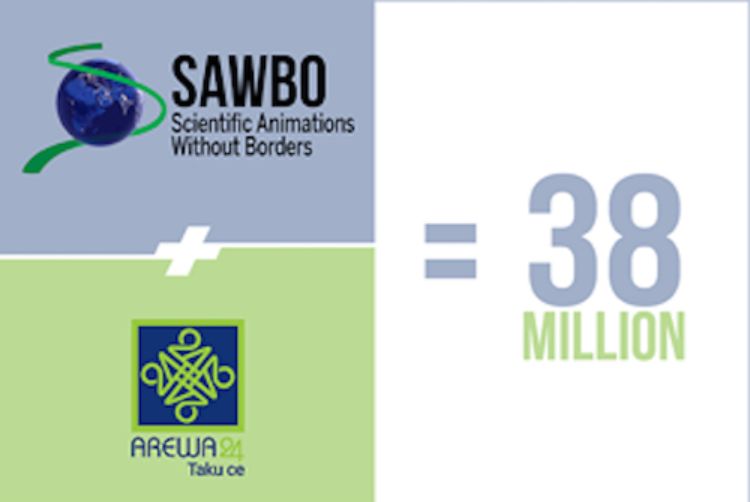 Scientific Animations Without Borders (SAWBO) animations are now reaching 38 million viewers across Nigeria and West Africa.
"Wow, what else can I say? It's just incredible that SAWBO videos have been exposed to such a large number of individuals," said Julia Bello-Bravo, assistant professor in the MSU Department of Food Science and Human Nutrition, and co-creator of the program.
"SAWBO started as a tool to share agricultural, healthcare and nutrition-based knowledge for hard-to-reach global communities. In the developing world, farming communities are often remote, formal education is limited at best and a diversity of languages are spoken. Traditional communication methods are difficult to apply and can be cost-prohibitive in these areas. But today, the way SAWBO is sharing and teaching, now millions globally, well it's humbling to have started and be a part of something that touches so many."
The airing began in 2015 when the station, AREWA24, included SAWBO animations in its programming lineup.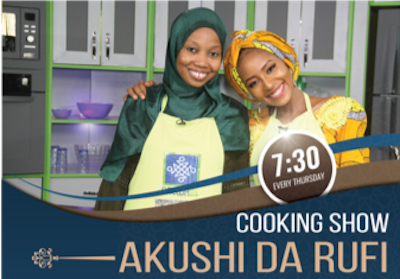 "We believe in the SAWBO mission, it's that simple," said Jacob Arback, CEO of Network AREWA24 Limited. "Their educational video content in local Hausa resonates with our viewers. The videos work very well running in and amidst our entertainment and lifestyle programming."
AREWA24 and its production arm, AREWA24 Productions, were launched in 2014 to fill a glaring void of authentic, locally-produced and high-quality Hausa language entertainment and lifestyle programming that reflects northern Nigerian life, culture, music, film, art, cooking and sports.
The animations are in Hausa, the first or second language of over 80 million people throughout Nigeria and West Africa. The language belongs to the West Chadic branch of the Afro-Asiatic language family. Until AREWA24 began programming and broadcasting in the language, there were no other entertainment and lifestyle channels from the region.
"We saw an opportunity to bring this culture to life on the screen. We recruited local talent and developed an awesome team that focused on creating authentic, high-quality and entertaining programs for local communities," said Arback. "We are always exploring new content options for our viewers. SAWBO's animations provide short, two- to three-minute segments, that disseminate public service information that is important for our viewers. It's a nice addition to our lineup."
Both the SAWBO creators and Arback see a future of continued collaboration.
"SAWBO animations are co-created and vetted with experts, but are focused on everyday problems for the general population. Finding mass distribution outlets is one of our central goals towards distributing such broad educational content. We create, others scale. This is a logical relationship for SAWBO," said Barry Pittendrigh, who created SAWBO with Bello-Bravo, and is also an MSU Foundation Professor.
Arback agrees.
"Our goal is to provide our viewers with a complete viewing experience," he said. "The knowledge and information sharing that SAWBO content provide can result in real impact in our communities."
To date, the station has aired SAWBO animations on a wide range of topics, including prevention and early detection videos on cholera, malaria, infant clubfoot and breast cancer. Other "how to" videos include a charcoal water filtration technique, prevention of post-harvest losses through proper stacking of grain bags and removal of poison from cassava.
Research has shown that SAWBO videos have a lasting impact. A study recently published in the journal Information Technology for Development, of which Bello-Bravo was the lead author, looked at the adoption and retention rates of a post-harvest bean storage method that was demonstrated through a SAWBO animation to farmers in the Gurue district of Mozambique. Two years later, the researchers found that 97 percent recalled the eight steps demonstrated in the storage process and that 89 percent had adopted the technique. The technique was also shared throughout the community, providing an even larger impact.
"Knowing that people learn, in great depth, from the animations was exciting, however, seeing that it led to behavior change and high rates of adoption of the technique presented in the animation was incredible," said Bello-Bravo.
Today, AREWA24 reaches 38 million Hausa speakers in Nigeria and West Africa through its Eutelsat satellite free-to-air broadcast, on the StarTimes payTV bouquet (channel#138) the two Multichoice payTV platforms, DStv (channel #261) and GOtv (channel #101), and on the Canal+ payTV service (channel #285) in Niger, Chad and Cameroun. AREWA24 benefits from active audience engagement across its digital platforms at AREWA24.com, facebook.com/AREWA24, Instagram.com/AREWA24channel, and twitter.com/AREWA24channel. The company recently launched its global subscription-video-on-demand service in October 2019 with the aim of providing the best local entertainment television programming and films to Hausa speakers everywhere.
To learn more, visit SAWBO and AREWA24.
Related Article