School nutrition staff tour Prairie Farms dairy operations
The Nov. 5-8, 2015 School Nutrition Association of Michigan Conference in Battle Creek featured a dairy tour coordinated by UDIM.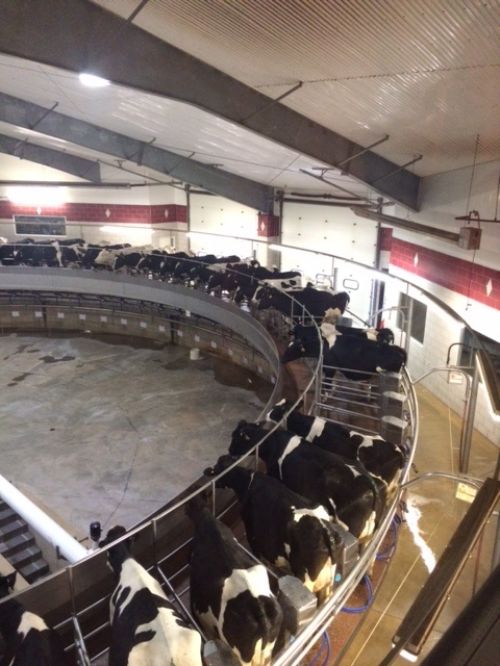 School nutrition staff from across the state had the chance to connect with the largest sector of Michigan agriculture on Friday, Nov. 6, 2015 courtesy of the United Dairy Industry of Michigan. Just under fifty people loaded a charter bus from the McCalmly Plaza Hotel – the host location of this year's School Nutrition Association of Michigan annual conference – and traveled to the Prairie Farms® processing and packaging facility in Battle Creek.
When we arrived, we were greeted by Tom Davis, Prairie Farms General Manager, as well as several food service specialists, sales managers and quality control staff of the company. Davis explained that Prairie Farms is a cooperative owned by 700 farmers. The company was created in the 1930's in southern Illinois and its first dairy product was butter. Prairie Farms is cited by many as one of the most successful cooperatives in the nation. The Battle Creek facility processes milk from eleven area dairy farms and also purchases milk through Michigan Milk Producers when they need more milk to meet buyer demand. Purchasing from area farms is a company value stated Davis. Michigan sugar is used as a sweetener in several of their products.
This Battle Creek facility pasteurizes, homogenizes and packages approximately six million pounds of milk per week. Prairie Farms milk is sold in gallons, half gallons, pints and school milk cartons. Davis believes almost half of Michigan's schools receive Prairie Farms milk, including Detroit Public Schools.
The group then traveled to one of the local Prairie Farms dairies, the Hickory Gables Dairy Farm in Hickory Corners, Michigan owned and operated by the de Jong family. Mr. de Jong boarded the bus and we were one our way traveling through the dairy barns on the charter bus. We viewed the maternity ward barn where a cow was about to give birth. de Jong said they have about nine calves born each day on their 2,000 head farm. The family started with only 150 head fifteen years ago and went from three employees to 20 today.
One of the most unique features of Hickory Gables Dairy is the "merry-go-round" style-milking stall system. Cows enter a milking stall on a large circular moving platform in a spotless and very quiet milking parlor. The cows travel in a circle while they are being hooked up to the milking machine. de Jong says this is the most calming method of milking that he has seen. It takes about eight minutes for a cow to travel around the circle to be milked. Once the milk stops flowing, the nozzles automatically detach from the cow. After milking, they return to their bedding and feeding area, which has been cleaned and restocked with feed and water while the cows were being milked.
It was noted that milk does not see the light of day until a carton of milk is opened. It travels from the cow to the tanker truck through the bottling line without being exposed. It is also remarkable that de Jong's milk can go from the cow to the school in less than 48 hours.
Michigan State University Extension is a partner in the Cultivate Michigan campaign to help schools and hospitals purchase Michigan foods for their foodservice programs. Members of Cultivate Michigan track their local food purchases through an online reporting system so they can see their progress. Michigan milk was one of the four-featured foods of the Cultivate Michigan campaign in 2015. For more information on how to purchase Michigan milk for your foodservice program, please contact one of these specialists or visit the Cultivate Michigan website.