Scout for stripe rust and other wheat leaf diseases now
Some leaf diseases in wheat developed early this season and bear watching, particularly stripe rust.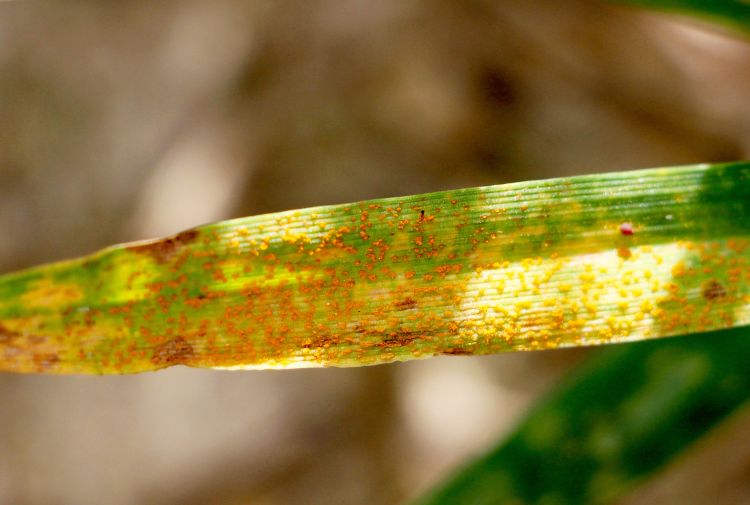 Much of what successful wheat growers do during May is protect the crop during its early reproductive stages from crop pests. One of the largest threats to productivity is foliar diseases. Although genetic resistance usually does the heavy work, particular diseases readily break through this defense where conditions are favorable and resistance is not particularly strong.
In Michigan, the most common early-season foliar diseases include powdery mildew and Septoria leaf spot (see photos below). These diseases has been evident as early as last fall in some fields, but weather conditions have allowed only modest development to date. In early June, other foliar diseases may appear, including Stagonospora leaf blotch and leaf rust.
This 2016 season, a relatively new rust disease called stripe rust is of special interest. This is because the pathogen can be particularly aggressive with the potential of robbing at least a third of the crop in severe cases. It was found at multiple locations in Michigan during the first few days in May – a month earlier than in past years – giving it extra time to develop and disseminate spores. About one-third of Michigan varieties have limited resistance against this disease.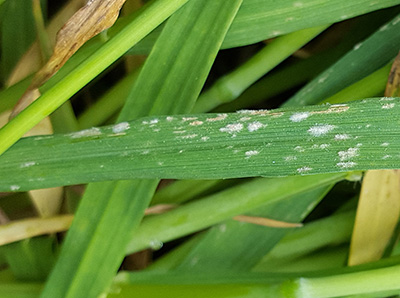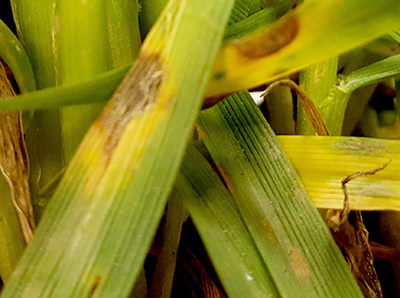 Of the soft white varieties tested in the 2015 Michigan State Wheat Performance Trials, Ambassador, Aubrey, 9242W, Linebacker and AC Mountain were especially susceptible to stripe rust, and Ava, P25W43 and Jupiter were moderately susceptible. Among soft red varieties, the most susceptible ones included Shirley, Red Ruby, Sienna, Emmit, DF 55R and DF 45R. The moderately susceptible red varieties included Hopewell, Red Dragon and DF 75. However, this is not an exhaustive list, so growers would do well to check with their seed company if the disease is found. Additionally, even moderately resistant varieties should be monitored closely in case the resistance is overwhelmed by stripe rust.
Growers should be prepared to employ a fungicide where stripe rust is found on susceptible varieties. A list of recommended fungicides can be found in Fungicide Efficacy for Control of Wheat Diseases, developed by Michigan State University Extension. In this table, readers should note how late in the crop's development a fungicide is allowed to be used. Where the disease is found just prior to a scheduled application of Caramba or Prosaro at flowering, no further fungicide product or application is necessary.
Fungicide efficacy for control of wheat diseases
The multi-state North Central Regional Committee on Management of Small Grain Diseases (NCERA-184) has developed the following information on fungicide efficacy for control of certain foliar diseases of wheat in the U.S. (revised March 30, 2016). Efficacy ratings for each fungicide listed were determined by field testing over multiple years and locations. Efficacy is determined by direct comparisons among products in field tests. The products are used in a manner consistent with label instructions. This table includes most widely marketed products. It is not intended to be a list of all labeled fungicide products.
Efficacy of fungicides for wheat disease control based on appropriate application timing

Fungicide(s)

Powdery mildew

Stagonospora leaf/glume blotch

Septoria leaf blotch

Tan spot

Stripe rust

Leaf rust

Stem rust

Head scab

Harvest restriction

Class

Active ingredient

Product

Rate/A (fl. oz)

Strobilurin

Picoxystrobin 22.5%

Aproach SC

6.0-12

G1

VG

VG2

VG

E3

VG

VG

NL

Feekes 10.5

Fluoxastrobin 40.3%

Evito 480 SC

2.0-4.0

G

--

--

VG

--

VG

--

NL

Feekes 10.5 and 40 days

Pyraclostrobin 23.6%

Headline SC

6.0-9.0

G

VG2

VG2

E

E3

E

G

NL

Feekes 10.5

Triazole

Metconazole 8.6%

Caramba 0.75 SL

10.0-17.0

VG

VG

--

VG

E

E

E

G

30 days

Propiconazole 41.8%

Tilt 3.6 EC4

4.0

VG

VG

VG

VG

VG

VG

VG

P

Feekes 10.5

Prothioconazole 41%

Proline 480 SC

5.0-5.7

--

VG

VG

VG

VG

VG

VG

G

30 days

Tebuconazole 38.7%

Folicur 3.6 F4

4.0

NL

NL

NL

NL

E

E

E

F

30 days

Prothioconazole19%
Tebuconazole 19%

Prosaro 421 SC

6.5-8.2

G

VG

VG

VG

E

E

E

G

30 days

Mixed modes of action5

Tebuconazole 22.6%
Trifloxystrobin 22.6%

Absolute Maxx SC
5.0
G
VG
VG
VG
VG
E
VG
NL
35 days

Fluoxastrobin 14.8%
Flutriafol 19.3%

Fortix
4.0-6.0
--
--
VG
VG
E
VG
--
NL
Feekes 10.5 and 40 days

Benzovindiflupyr 10.3%
Propiconazole 11.7%
Azoxystrobin 13.5%

Trivapro A EC + Trivapro B SE

4.0 + 10.5
VG
VG
VG
VG
E
E
VG
NL
--

Metconazole 7.4%
Pyraclostrobin 12%
TwinLine 1.75 EC
7.0-9.0
G
VG
VG
E
E
E
VG
NL
Feekes 10.5

Fluxapyroxad 14.3%
Pyraclostrobin 28.6%

Priaxor

4.0-8.0

G

VG

VG

E

VG

VG

G

NL

Feekes 10.5

Propiconazole 11.7%
Azoxystrobin 13.5%

Quilt Xcel 2.2 SE4

10.5-14.0

VG

VG

VG

VG

E

E

VG

NL

Feekes 10.5

Prothioconazole 10.8%
Trifloxystrobin 32.3%

Stratego YLD

4.0

G

VG

VG

VG

VG

VG

VG

NL

Feekes 10.5 and 35 days

Cyproconazole 7.17%
Picoxystrobin 17.94%

Aproach Prima SC

3.4-6.8

VG

VG

VG

VG

E

VG

--

NR

45 days
1Efficacy categories: NL=Not Labeled; NR=Not Recommended; P=Poor; F=Fair; G=Good; VG=Very Good; E=Excellent; -- = Insufficient data to make statement about efficacy of this product.
2 Product efficacy may be reduced in areas with fungal populations that are resistant to strobilurin fungicides.
3Efficacy may be significantly reduced if solo strobilurin products are applied after stripe rust infection has occurred.
4Multiple generic products containing the same active ingredients also may be labeled in some states. Products including tebuconazole include: Embrace, Monsoon, Muscle 3.6 F, Onset, Orius 3.6 F, Tebucon 3.6 F, Tebustar 3.6 F, Tebuzol 3.6 F, Tegrol, and Toledo. Products containing propiconazole include: Bumper 41.8 EC, Fitness, Propiconazole E-AG, and PropiMax 3.6 EC. Products containing propiconazole + azoxystrobin include: Aframe Plus, Avaris 2XS.
5Products with mixed modes of action generally combine triazole and strobilurin active ingredients. Priaxor is an exception to this general statement and combines carboxamide and strobilurin active ingredients.
For more information, contact Martin Nagelkirk at nagelkir@msu.edu or Martin Chilvers at chilvers@msu.edu.