Second national conference on protecting pollinators in urban landscapes
The 2017 Protecting Pollinators in Ornamental Landscapes Conference, Oct. 9-11 in Traverse City, Michigan, features 23 nationally and internationally known speakers.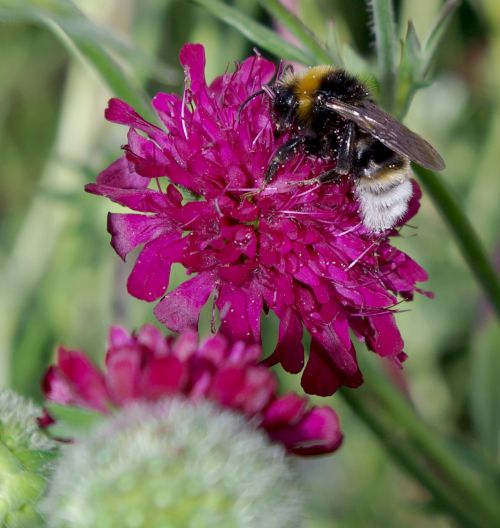 Michigan State University Extension and North Carolina State University will host the second national Protecting Pollinators in Urban Landscapes Conference in Traverse City, Michigan, at the Park Place Hotel on Oct. 9-11, 2017. The conference, designed for academic professionals, educators and ornamental and green industry professionals, explore methods to preserve and protect pollinators.
Twenty-three national, international and local speakers will explore the function of and threats to pollinators, the effects of pesticides and current efforts to protect pollinators across the nation. Supporting pollinators in urban landscapes will be discussed at this upcoming national conference, which includes opportunities for optional tours exploring northern Michigan's native ecosystems and pollinator habitat.
Conference agenda
The 23 speakers will present in the following five sessions:
Function of Pollinators in Ornamental Landscapes
Pesticides and Pollinators
Pollinator Health and Habitat in Urban Landscapes
Boots on the ground – Efforts, Challenges and Opportunities for Protecting Pollinators
Educating the Public
The conference begins with an opening keynote at 7 p.m. Monday, Oct. 9, and sessions will conclude at noon Wednesday, Oct. 11. The optional tours will occur during the afternoon of Oct. 11.
Opening Keynote
Bees: Importance & Diversity – Laurence Packer, York University
Function of Pollinators in Ornamental Landscapes
The Human Dimensions of Urban Pollinator Conservation – Damon Hall, Saint Louis University
The role of Lepidopterans in the Urban Landscape – Duke Elsner, Michigan State University Extension
Just a Small Town Bee: how increased urbanization drives compositional changes in native bee communities through unique effects on specific functional groups - Paul Glaum, University of Michigan
Pesticides and Pollinators
Bee-Friendly Pest Management for Urban Lawns and Landscapes – Dan Potter, University of Kentucky
A Nationwide Analysis of Pollen Collected by Honey Bee (Apis mellifera) in Urban and Suburban Environments – Pierre Lau, Texas A&M University
Urban Wild and Domesticated Pollinators, What Do They Face? – Audrey Muratet, Natureparif, France
Pollinator Health and Habitat in Urban Landscapes
A Growing Conservation Focus in Shrinking Cities: How Vacant Land Ecology Structures Bee Communities – Mary Gardiner, The Ohio State University
Functional and Phylogenetic Filtering of Urban Wild Bee Diversity – Scott MacIvor, University of Toronto Scarborough
Too Hot Downtown? The Effect of Urban Warming on Bee Communities – Elsa Youngsteadt, North Carolina State University
Habitat for Bees: The Conservation Value of Residential Yards – Susannah Lerman, U.S. Forest Service
Best Management Practices in Ornamental Landscapes
Insects in Urban Landscapes IPM: Impacts & Benefits - Joe Chamberlin
Pesticide Regulation & Stewardship for Pollinator Protection - Caydee Savinelli & Frank Wong
Practical Implications for Current & Future Research Activities - Cristi Palmer
The Critical Need for Industry-wide BMP Adoption - Jill Calabro
Development of Regional Landscapes - Dave Smitley
Boots on the ground – Efforts, Challenges and Opportunties for Protecting Pollinators
Back Forty to the Backyard: 15 years of pollinator conservation – Mace Vaughan, Xerces Society
Zoo's Best Plants for Pollinator Programs – Steve Foltz, Cincinnati Zoo and Botanical Gardens
A Monarch's View of the City: Developing a Conservation Design for Monarchs in Urban Areas – Abigail Derby Lewis, Chicago Field Museum of Natural History
Educating the Public
Understanding Urban Bees at Local to Continental Scales – Gretchen LeBuhn, San Francisco State University
Smart Gardening for Pollinators: A State-wide Campaign with Far-reaching Impact – Rebecca Finneran, Michigan State University Extension
Perspectives on Education, Outreach, and Advocacy for Plants and Pollinators – Casey Sclar, American Public Gardens Association
For the full detailed agenda, check out the conference flier.
Poster session
Sharing information and methods that inspire action between colleagues is pivotal for the event. A key part of the agenda is a poster session in which attendees can share their research, outreach and collaborative achievements. Posters will demonstrate conservation, education, extension/outreach, regulatory perspectives or research about protecting pollinators. The intention to submit a poster (done via registering for the conference) needs to be submitted for review by Sept. 1 and the authors will be notified of their acceptance by Sept. 15. The poster itself does not need to be completed by this deadline.
Optional tours
Nestled along the Great Lakes shoreline in a unique and sometimes fragile ecosystem, the conference will offer a choice of two optional tours. Participants will explore natural features and pollinator habitat and learn more about how the climate naturally encourages outstanding wineries.
The cost for either tour is $75. Space is limited to the first 29 registrants for each of the tours.
Registration
If you register for the conference before Sept. 1, the cost is $220. After Sept. 1, the cost is $300. Registration for students is $180. Registration for the conference closes Oct. 1 and is limited to the first 170 participants. Go to Protecting Pollinators in Urban Landscapes Conference to register online, or visit Eco IPM's Protecting Pollinator Conference page for more information on the conference.
Conference facility, lodging and airport accommodations
The conference will be held at the Park Place Hotel, 300 E State St. Traverse City, MI 49684. Conference attendees will need to reserve their lodging separately from the conference registration and are encouraged to do so as soon as possible because space is limited. To make room reservations, call the Park Place Hotel at 231-946-5000 and reference the Pollinators Conference to receive the conference group room rate of $139.95 per night. The Pollinator Conference room block rate ends Sept. 9.
The closest airport is the Cherry Capital International Airport and the Park Place Hotel offers a complimentary airport shuttle to hotel guests. To arrange a shuttle pick-up to and from the airport, contact the hotel at 231-946-5000.
Register for Protecting Pollinators in Urban Landscapes Conference today!