Select a seeding method that gives you the best chance for success when establishing a cover crop
MSU Extension releases new videos on different seeding methods for establishing cover crops, and information on how to calibrate planting equipment for uniform planting rates.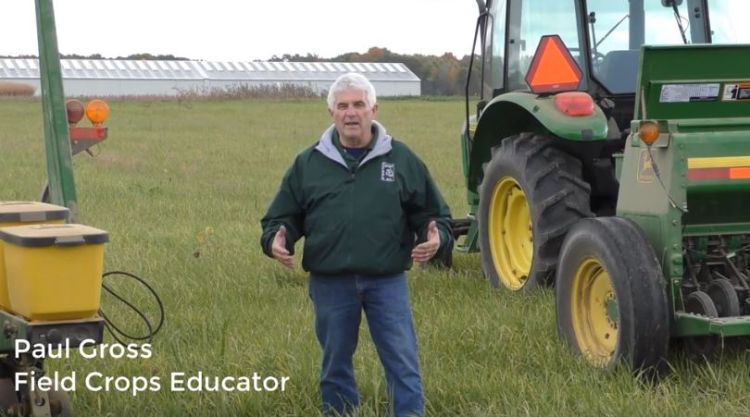 Farmers can choose from a number of methods for seeding cover crops. Just like selecting the best species or mixture, selecting the seeding method that is best suited for your operation is one of the keys for successful cover crop establishment. When selecting a seeding method, consider your establishment window and answer the following questions:
Will it be seeded after harvest in crop residue?
Will it be seeded in tilled soil or inter-seeded into a growing crop?
Are there any potential problems such as soil moisture, heavy residue or unfavorable soil conditions?
These are all factors to consider for successful establishment of a cover crop.
The most common seeding method is drill seeding. This is the most often used reliable method because of seed placement and good seed to soil contact. A second method involves using a row crop planter. Row crop planters usually result in the best cover crop establishment due to the good seed soil contact, depth control and consistent seed spacing. Other methods include broadcast with or without shallow tillage, slurry manure seeding and frost seeding.
Each establishment method has advantages and disadvantages. Select the best method that fits your system and equipment that is readily available.
The Michigan State University Extension cover crop team is releasing several videos to help farmers incorporate cover crops into their cropping systems. The videos provide overview of different topics and suggested recommendations for successful establishment. Below are videos on "Seeding Equipment for Cover Crops" and "Calibrating a Drill for Cover Crop Planting."
If you would like to learn more about cover crops, how they can benefit your farm, or to find a cover crop educator, visit the Michigan State University Extension, MSU Extension Cover Crops website.