Shadowing a FoodCorps service member
Students learn about mindful eating and global food systems.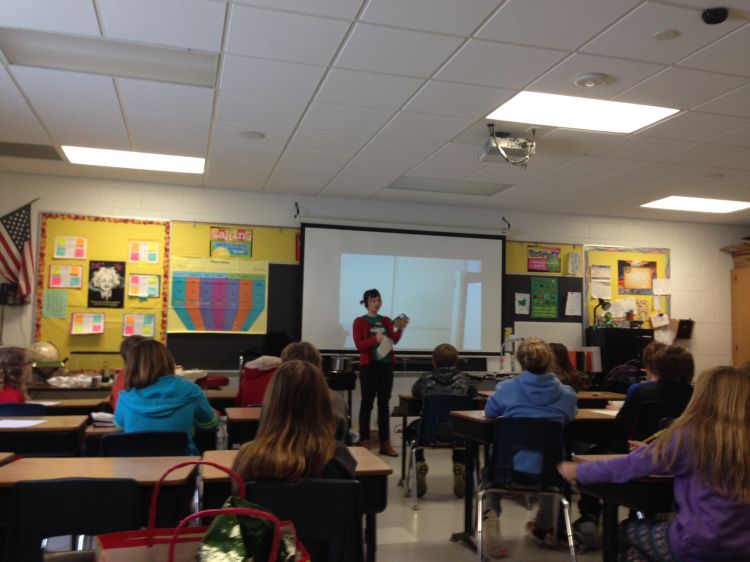 On Tuesday, Dec. 13, 2016, I tagged along with Julia Paige, a FoodCorps service member, serving with Michigan State University Extension of Grand Traverse County. Julia conducts classroom lessons and cafeteria taste tests in two elementary schools.
I observed Julia teach two lessons at Platte River Elementary school in Honor. The first lesson was in a 6th grade classroom. This U.S. Department of Agriculture Team Nutrition lesson set out to increase students' general understanding of nutrition, and to build excitement around trying new food varieties. It also exposed students to seasonal offerings, and discussion to better understand their food's journey prior to reaching their lunchbox. Sixth graders explored concepts of the global food systems by researching unfamiliar fruits and vegetables around the world from China's lychee fruit to artichokes of southern California and many more in between.
Students investigated nutritional content, common uses and traditional recipes surrounding some of their favorite foods. They also had the chance to research origins and cultural ties, which built on previous lessons on the concept of "food miles" and how modern technologies allow us to enjoy global fruits and vegetables that would otherwise be inaccessible. After reflecting in smaller groups, students shared their findings with the class, and expressed an understanding that foods native to their geographic area are common staples on their plate and that they contribute to local culture, including seasonal celebrations.
Later in the day, kindergarteners heard the tale of Lola, a picky eater whose brother convinces her to try and enjoy foods she dislikes. Following the story, students were encouraged to taste-test and examine new varieties of food. As in the story, mashed potatoes are imaginatively proclaimed as 'cloud fluff' and pears become 'golden droplets,' igniting kids' senses and allowing them to think more creatively about food. They went on to describe their treats using all five senses, and unanimously agreed that they would try them again if offered in the school cafeteria.
As a dietetic intern, I see the value FoodCorps service brings to schools. Service members engage schools to cultivate relationships with students, teachers and administrators, in search of ways to incorporate concepts of nutrition and healthy living into daily life. Reinforcing messages in the classroom, on the playground, and in the cafeteria establish a culture of wellness in schools that aim to improve overall health of Michigan's schools and communities.
Stephanie recently completed a Master of Public Health degree at the University of Michigan where she focused on local food systems and community nutrition. As part of her dietetic internship to become a Registered Dietitian Nutritionist, Stephanie is currently completing a rotation with Traverse City Area Public Schools Food & Nutrition Service.