"Share a Coke" – more than just a name
Health implications of increased sugary beverage marketing exposure among youth.
Andrew, Brittany and Carrie. Chances are good that you or your children have seen their names this summer as part of the widely recognized Coke logo. Coca Cola's "Share a Coke" campaign was launched in over 50 countries and ran throughout the U.S. from June to August. According to marketing reports, the campaign aimed to put a "modern and youthful twist" on the over 100 year old company by employing techniques to target teens and millennials, the 80 million youth born between 1980 and 1995. In addition to names, the campaign urged consumers to pick up a 1.25 or 2 Liter bottle to share with their "Family" or "Friends" – group names also found printed on packaging. Company ad executives describe how the campaign speaks to one's desire to be expressive and social, "For teens and Millennials, personalization is not a fad, it's a way of life. It's about self-expression, individual storytelling and staying connected with friends." "Share a Coke" taps into all of those passions. Besides using 250 of the most popular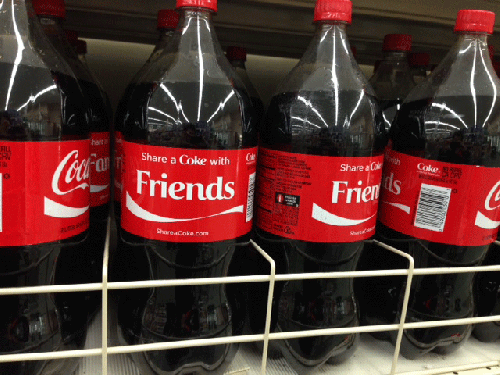 names among young people to replace the Coke logo, marketing techniques also included the following:
A gallery of online photos of people posing, or "selfies," with their personalized Coke and encouragement to use #shareacoke to post on social media
"Share a Coke" Tour, a cross-country summer tour with events that allow consumers to personalize mini cans
A reward system to popular stores and restaurants such as Domino's, T.J Maxx and Amazon
Children and adolescents are exposed to a tremendous amount of advertisement messages designed to encourage food and beverage consumption. Research indicates that the most marketed foods and beverages are often of lower nutritional value and tend to be from food groups Americans are already eating too much of.
It is not news to most that regular consumption of sugar-sweetened beverages, such as soda, sports and fruit drinks, can be detrimental to overall health and may contribute to the already higher rates of overweight and obesity among youth. One 20 ounce bottle of soda contains approximately 16 teaspoons of sugar, or about 1/4 cup. According to research from the National Center for Health Statistics, on the average day, half the people in the U.S. drink sugary beverages, with teens and young adults consuming the most compared to other age groups. Sugar sweetened beverages are also consumed more frequently and marketed among demographics who face higher rates of chronic disease – African-Americans, Mexican-Americans and low-income individuals.
The epidemic of childhood obesity presents an opportunity to use health promoting strategies that counter junk food marketing and encourage healthy food and beverage patterns among youth.
A number of resources exist that support multi-sector action:
Food Marketing Facts, Yale Rudd Center
A two-page document that highlights action of interest among parents and caregivers
The Weight of the Nation, collaborative effort between HBO and the Institute of Medicine
The Weight of the Nation campaigns features a four-part documentary that examines the severity of the obesity epidemic and its effects on our health care system. The films aired on HBO in May 2012 and can be viewed online. The feature found

online

is specific to marketing food to children.