Sharing success through salad
Traverse Heights Elementary school students celebrate the end of the school year with garden vegetables.
Nothing says "party" like a big bowl full of radishes, right? Traverse Heights Elementary school students had a unique kind of party with FoodCorps as an end of the year celebration.
Students harvested salad mix, spinach, lettuce and radishes from the Traverse Heights Elementary school garden. They used what they harvested to make a large salad to enjoy together while singing songs like "Dirt Made My Lunch" and reminiscing about the school year.
The biweekly lessons that students spent learning with FoodCorps about food systems, food waste, trying new foods and growing foods culminated with this end of the year salad party. First and second grade students at Traverse Heights were involved in growing these vegetables during the entire process from preparing the beds, planting, weeding, watering and finally harvest. In the moment the students took a bite of a radish they had grown, and everything they learned during the year had come full circle. Students were surprisingly open to biting into spicy radishes and tasting bitter arugula, which supports a common claim that kids are more likely to try something new if they have a part in growing it.
After the salad party, the remainder of the vegetables that were ready to pick were taken from the garden, washed and put on Traverse Heights cafeteria salad bar. The classes that had participated in growing the vegetables served radishes and greens to their peers in other classes, encouraging them to try and showing off what they had produced. The radishes were small (probably due to a cold spring!), but nevertheless, the students were very proud of what they had grown and excited to share it with others.
The entire school, students and staff included, were able to see the product of all the hard work that was put into the garden, from weeding in the cold April rain, to learning measurements and how to evenly space garden rows.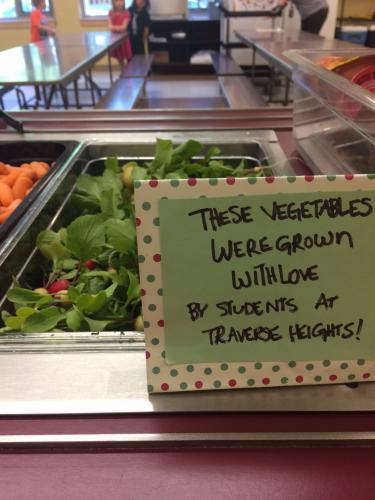 If a school in your life has a garden, check to see if the school food service director is open to serving garden produce on the salad bar. There are often misconceptions that prevent school produce to ever making it to students' mouths. If you have a supportive administration like Traverse Heights does, it is a wonderful way to nurture a school-wide culture of health.
For more information on bringing produce from your school garden to the cafeteria, consider this resource from Michigan State University Center for Regional Food Systems - Michigan Farm to School Garden to Cafeteria Guide.
Julia Paige is currently a FoodCorps service member with Michigan State University Extension Grand Traverse County, serving two elementary schools in Northwest Michigan.