Sign up for Senior Market FRESH
Income eligible seniors over age 60 may be eligible for free coupons for fresh fruits and vegetables.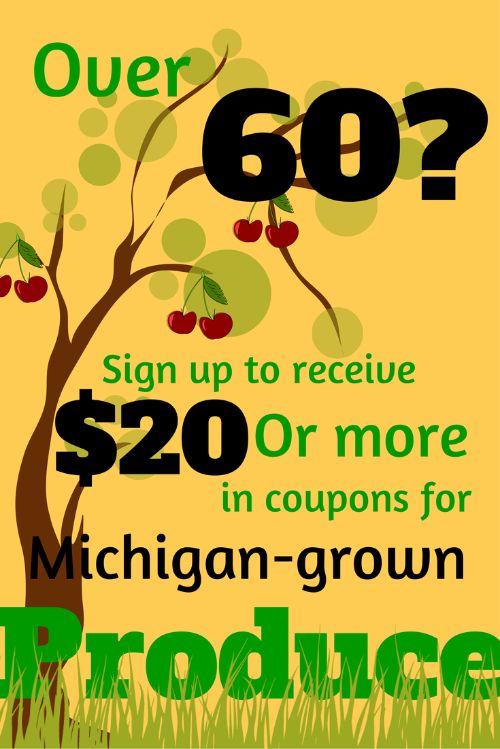 The Senior Farmers Market Nutrition Program, known as Senior Market FRESH/Project FRESH in Michigan, provides senior adults who qualify with unprocessed, fresh Michigan-grown products from registered Farmers markets and roadside stands throughout Michigan. Vegetables and fruits offer important vitamins and minerals to keep us healthy. Most of these foods have little fat. They also have no cholesterol. Fruits and vegetables are also a good source of fiber, and eating more fiber may help with digestion and constipation, as well as helping to lower cholesterol and blood sugar. Senior Market FRESH gives seniors the chance to learn about good nutrition and provides them with access to free, fresh fruits and vegetables.
Qualified adults, over age 60, can receive $20 or more in coupons to purchase Michigan-grown produce at registered Farmers markets. Eligible items that can be purchased with the coupons include any Michigan grown fruit or vegetables such as strawberries, lettuce, cabbage, blueberries, cucumbers, peppers, carrots, squash, tomatoes, watermelon, apples, potatoes, onions, beans, etc., as well as honey and some herbs.

The Senior Market FRESH program is free for both the seniors and the participating farm market. The program allows seniors to benefit from eating more fresh fruits and vegetables in their diets during the summer months and helps boost Michigan's local economy. The coupons can only be used at Farm markets and not at grocery stores or supermarkets.
Senior Project FRESH/Market FRESH originates from U.S. Department of Agriculture funding. It is part of the Senior Farmers Market Nutrition Program and these federal dollars come out of the federal Farm Bill. In Michigan it is managed by the Office of Service's to the Aging.
To qualify, the following criteria must be met:
To find out if you live in a Michigan county that participates in the Senior Market FRESH program, contact the lead agency in your county. In many counties additional funds are secured to reach more seniors with coupons for fresh fruits and vegetables. In many counties Michigan State University Extension staff is involved in the Senior Market FRESH program.
MSU Extension recommends that all seniors who might qualify for this free program participate to help give your body the best nutrition you can during the summer months, which can help guide you with a healthy lifestyle the entire year.