Six area attractions offer free admission in May to members
Six local institutions will offer free admission during May to each other's members.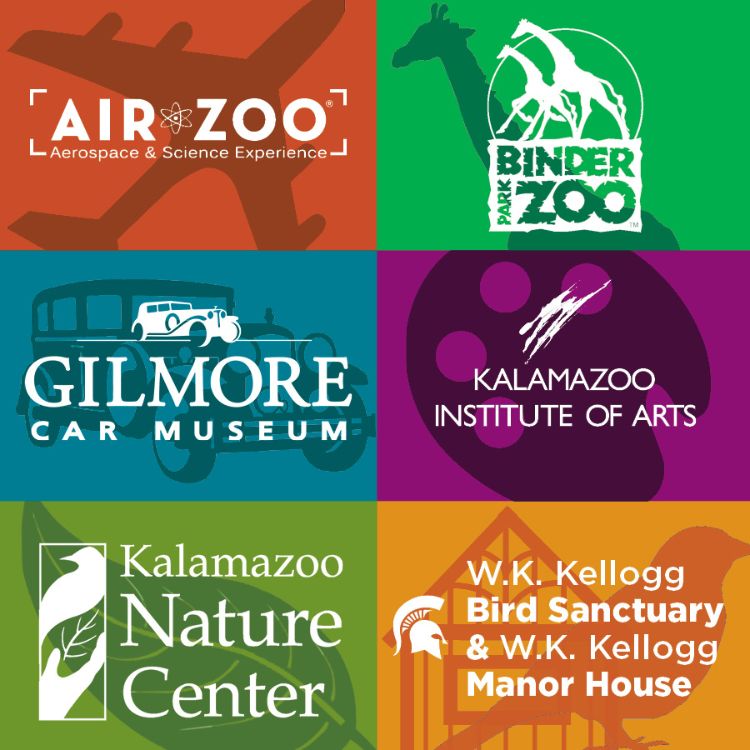 "By partnering in the Cultural Exchange," says Sarah Carroll, KBS Community Relations Coordinator, "we all feel that we can make each organization more accessible to a broader segment of our community."
The Air Zoo, Binder Park Zoo, Gilmore Car Museum, Kalamazoo Nature Center and the Kalamazoo Institute of Arts are once again partnering for a fifth year as part of the Southwest Michigan Cultural Membership Exchange.
New this year, the Kellogg Biological Station (KBS) Bird Sanctuary and Manor House will also be joining the Membership Exchange.
Guests presenting a membership card from any of the organizations will enjoy free admission to all of them May 1 – 31. Participating families who visit all six attractions will be entered to win a set of annual memberships to each organization.
Activities throughout the month of May at participating organizations include:
The Air Zoo is a Smithsonian-affiliated aerospace & science museum with more than 100 rare air & space craft, interactive exhibits, indoor amusement park rides, a state-or-the-art theater, full-motion flight simulators, science-based classes & camps and much more! Rain or shine, the Air Zoo's huge indoor facilities are open 363 days a year! Learn more at AirZoo.org.
Binder Park Zoo is a unique wildlife experience. Set on 433 acres, the park-like setting is home to nearly 500 domestic and exotic animals including Mexican gray wolves, kangaroos, lemurs, bears, snow leopard and red panda. Attractions include the Miller Children's Zoo, the Binda Conservation Carousel and the Z.O. & O. train. Travel by Wilderness Tram to Wild Africa and safari through Zuri National Park to observe zebra, antelope, waterbuck, gazelle and ostrich roam the 18-acre savanna and hand-feed the giraffe at Twiga Overlook. See cheetahs, African lions, painted dogs and meet "Al" the Aldabra giant tortoise. Open daily April 12-October 7. For visitor information, special events and education programs, visit binderparkzoo.org.
Gilmore Car Museum is North America's largest auto museum featuring nearly 400 automobiles displayed in dozens of historic barns and replica auto dealerships on a 90-acre historic campus. Current special exhibits include A.J. Foyt: A Legendary Exhibit - featuring all four of Foyt's Indy-winning cars - and Born to Perform: The Era of the Muscle Car displaying two dozen of everyone's favorite high performance muscle machines from the 1960s and '70s. The museum is open seven days a week year-round. Learn more at gilmorecarmuseum.org.
Kalamazoo Institute of Arts is open six days with monthly free events like Art Hop, Teen Night and Art Detectives, plus May exhibitions including the West Michigan Area Show, High School Area Show, Vibrant Bounty: Chinese Folk Art from the Shaanxi Region and My Hero! Contemporary Art and Superhero Action. The Kirk Newman Art School will in May feature a Saturday photography class that will travel to the Kalamazoo Nature Center, Kellogg Bird Sanctuary and Gilmore Car Museum. Learn more at kiarts.org.
Kalamazoo Nature Center May is a great month to explore 1,100 acres of varied habitat with 14 nature trails to choose from. May is the perfect time to see the many varieties of spring wildflowers along KNC trails, along with the return of the songbirds from their winter migration. Weekly programs and activities include Saturday Creature Features, spring wildflower walks and birding hikes, with a family program every Sunday at 2 p.m. Kids will love visiting the farmyard animals at the Historic DeLano Farms (weekends only) in May. The artwork of Colleen O'Rourke will be featured in the Glen Vista Gallery. Full calendar at naturecenter.org.
KBS Bird Sanctuary is a unique wildlife center offering over 3 miles of trails, including a lakeside trail where guests can see waterfowl, raptors and game birds up close. May at the Sanctuary is bursting with birds making their spring migration. Join the Birds & Coffee Bird Walk at 9 a.m. on May 9th to see which birds are making their arrival. At the KBS Manor House, tour the historic Manor House, W.K. Kellogg's former summer home overlooking beautiful Gull Lake and Estate that includes seven historical buildings. For more information visit birdsanctuary.kbs.msu.edu and conference.kbs.msu.edu.
Representatives of the program believe that this area of Michigan is fortunate to have some of the best cultural organizations of their kind in the country and each of these organizations is committed to providing the highest quality service to the public.
As a cohesive group, the Cultural Exchange Program is thrilled to offer such a unique and diverse program to the Southwest Michigan community. It's easy to join any of the organizations online and the value of admission for a family of four to visit all six organizations is over $200.
For more information, the organizations' websites are listed in the descriptions above.
The W.K. Kellogg Bird Sanctuary and W.K. Kellogg Manor House are part of the W.K. Kellogg Biological Station. Celebrate with us our legacy of conservation as we mark 90 years since W.K. Kellogg donated the lands that now make up KBS to Michigan State University. Our commitment to research, education and outreach stands on the foundation of W.K. Kellogg's vision for cutting-edge science and learning.
As MSU's largest off-campus educational complex, we've put our land-grant values into practice as we've provided the public with examples of science's crucial role in sustaining natural and managed communities for nearly a hundred years. As we look forward, our students and faculty are working to understand and solve real-world environmental problems for a better tomorrow. To learn more about KBS, visit us online at kbs.msu.edu.