Seven Michigan Master Gardeners awarded Gold Badges
Ogemaw and Iosco County MSU Extension Master Gardeners earned special recognition for volunteering 10,063 hours of garden education to local communities.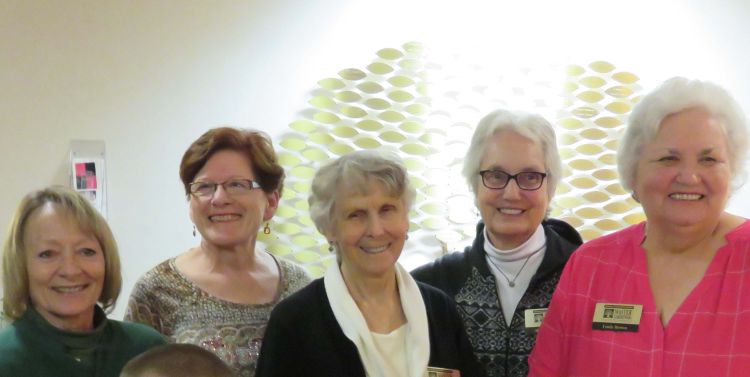 Michigan is home to many Michigan State University Extension Master Gardeners who volunteer their time to develop and assist with horticultural projects, educate the public about science-based horticulture, and keep themselves current on new horticultural findings. Amongst these volunteers, a select few have achieved a remarkable level of service—over 1,000 hours. Seven Master Gardeners from Ogemaw and Iosco counties were recently recognized at two special events in November 2016 for their outstanding contribution of a total of 10,063 hours of volunteer service.
Lillian White: 16 years and 1,879 hours of community service
Linda Brown: 9 years and 1,224 hours of community service
Sharon Czaika: 11 years and 1,318 hours of community service
Marie Doyle: 14 years and 1,028 hours of community service
Florence Heine: 11 years and 1,281 hours of community service
Louise Shoksnyder: 22 years and 1,950 hours of community service
Karen Otwell: 18 years and 1,383 hours of community service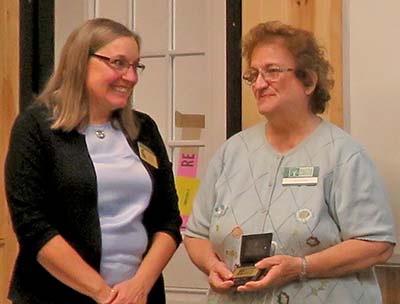 The above members volunteered their time on numerous projects throughout Ogemaw and Iosco counties, including the Heirloom Herb Garden at the Ogemaw County Fairgrounds, the Heritage Garden at the Iosco County Fairgrounds and gardens at the Iosco County Medical Care Facility, to name a few. Furthermore, these Master Gardeners have spent many hours educating the public about gardening, particularly in areas of their expertise such as Smart Gardening, herb gardening and herbal uses, and native plant species.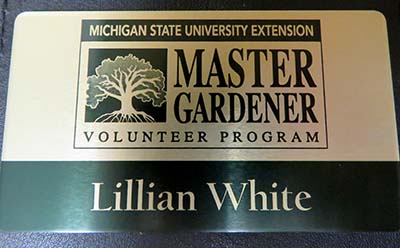 As a result of their dedication, MSU Extension recently acknowledged their service at the Sunrise Side Master Gardeners Association and the Ogemaw Master Gardeners and Friends Association. At those celebrations, recipients were recognized for countless years of service, and each one received a Gold Member Badge.
As MSU Extension's Master Gardener coordinator Mary Wilson noted at those special celebrations, "These Gold Badge Extension Master Gardeners have name tags that look just like an MSU Extension employee's name badge because we really do view and value them as a part of our MSU Extension team."
MSU Extension's Master Gardener Program is open to anyone interested in learning more about gardening and who has a passion for volunteering and sharing gardening knowledge within their communities. To become a Master Gardener and gain certification, you must first complete a 14-week educational course followed by 40 volunteer hours of gardening education service in a community setting.
If you would like to learn more about the Michigan Master Gardener program, visit the Michigan Master Gardener Program website. Statewide classes typically begin in January, March or August. Master Gardener Program online registration is open at least two months in advance. A Master Gardener training is currently being planned for the northeast Michigan area for August 2017. If you are interested, contact the Iosco County MSU Extension office for more information.