Smart soils using the MSU Home Lawn and Garden Soil Test Mailer
Fall is an excellent time to tune up your garden or lawn for the coming year by taking a soil test.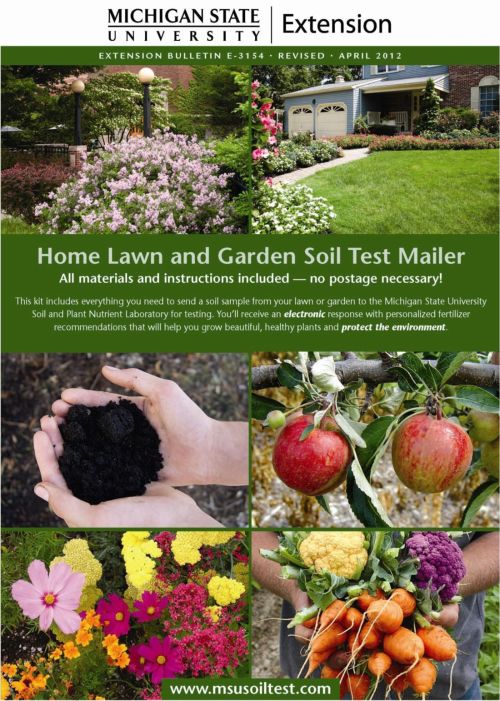 Testing your soil is an important tool to evaluate nutrient imbalances and to make necessary corrections for the coming year. A soil test provides a basis for intelligent application of fertilizers and lime. If needed, soil pH can be adjusted to the optimum range for plant growth. A soil test is an important tool for protecting the environment and for cost savings to avoid over applying nutrients one may not need.
The Michigan State University Extension Home Lawn and Garden Soil Test Mailer is designed for lawns, vegetable gardens, trees, shrubs, flowers and tree or small fruit. The test provides a custom fertilizer program to meet plant needs and safeguard the environment. Cost of the mailer is $25 (includes shipping and handling). The mailer may be obtained through your local MSU Extension county office or through the MSU Extension Bookstore.
The MSU Home Lawn and Garden Soil Test provides information on the soil type, pH level, organic matter level, phosphorus, potassium, calcium, magnesium, recommendations for nitrogen and recommendations for lime if needed. Most plants require a target pH of 6.5, which is slightly acidic, although there are exceptions for crops requiring a different pH such as rhododendrons, blueberries, azaleas or asparagus.
When taking a soil sample, first determine which lawn or garden area you would like to test. Do not combine these soils. A spade or garden trowel should be used to collect 10 random soil samples from the area and place them in a clean pail. Each sample should be a slice of soil as deep as the plant roots go. This would be 3-4 inches deep for lawns or 7 inches deep for gardens and all other plants. Remove plant debris, roots and thatch from the sample. Then combine the 10 random samples in the pail, mix thoroughly and remove approximately 1-2 cups of mixed soil. If soil is wet, spread it on paper and allow it to air dry overnight before filling the sample bag. Do not use artificial heat as it will skew test results. Fill the re-closable plastic bag included in the soil test mailer with your dry soil and seal. Then place the bag inside the white, postage-paid envelope and mail it to the lab.
Turnaround time usually takes about two weeks. Lab analysis takes three to five working days from the time the samples are received.
For more information on consumer vegetable production, contact Hal Hudson at hudsonh@anr.msu.edu or 989-672-3870.
For more information on a wide variety of smart gardening articles, or to find out about smart gardening classes and events, visit www.migarden.msu.edu.