Turfgrass Management - Golf Course
The certificate program in Turfgrass Management with a Golf Course emphasis prepares students for a rewarding career in the golf industry. Students in this program will be learning at Michigan State University, a university with an international reputation in turfgrass research and education.
The program consists of both on-campus learning and hand-on experiences through a professional internship.
With over 14,000 golf courses in the United States, there is a high demand for trained personnel to manage and service public and private golf courses. This program offers a solid background in plant science along with the specific expertise and skills needed for a career in golf course supervision and management.
Request information about the Turfgrass Management - golf course program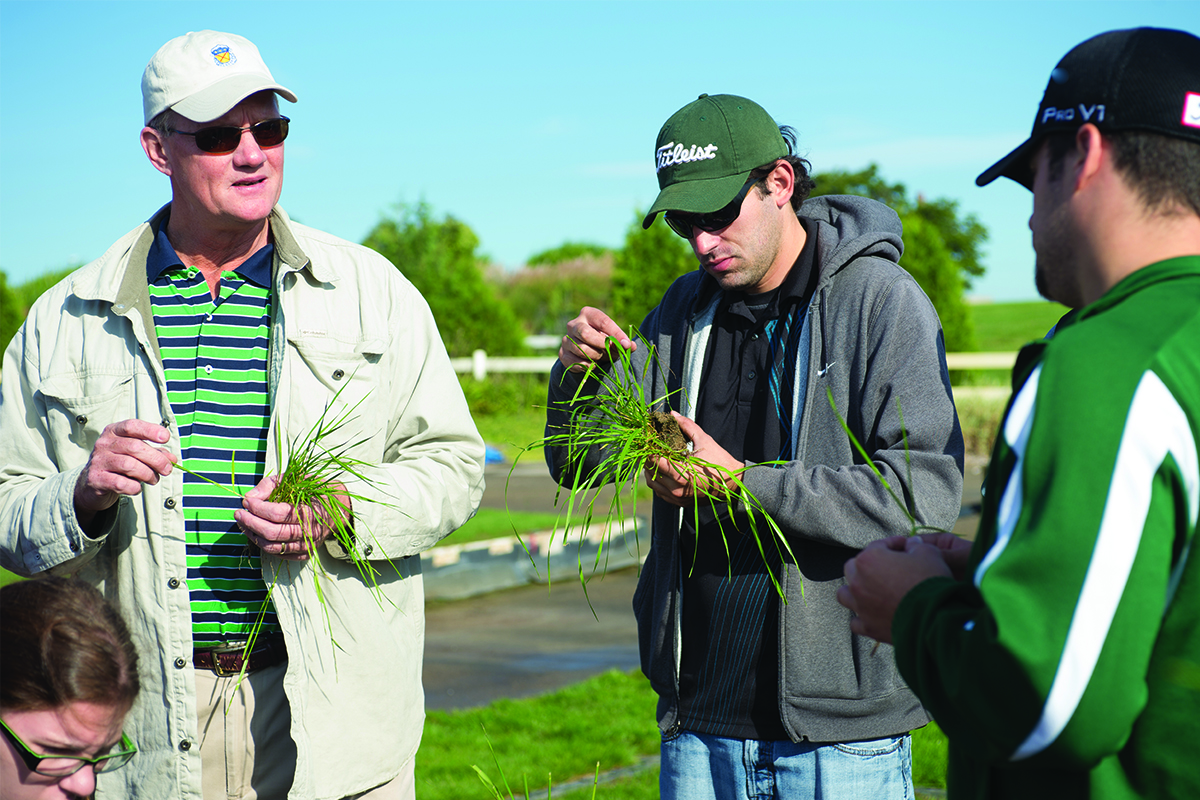 Areas of study include:
Soil and landscape science
Turfgrass management
Turfgrass irrigation
Pest management
Pesticide and fertilizer application
Golf course design and construction
Landscape management
Students can also get involved in a variety of clubs and organizations, including the MSU Turfgrass Club and MSU Agronomy Club, that help students grow personally and professionally.
---
Career Opportunities
Following graduation, students earn an MSU IAT certificate preparing them for the job market. If interested, students can also transfer into Michigan State University to earn a bachelor degree in crop and soil sciences or another related major.
Michigan has over 800 public and private golf courses that are seeking skilled employees to meet the challenges in today's golf industry. Graduates find careers in the turfgrass and golf course industries and operations based on their interests.
Some career paths include:
Senior crew member
Assistant superintendent or superintendent
Professional groundskeeper
Golf course manager
Turf specialist
Licensed irrigator
Sales and marketing professional
---
---
Academics
The Turfgrass Management - Golf Course certificate program is based in East Lansing on the campus of Michigan State University.
Program requirements:
54 credits
4 semesters of classroom instruction
1 semester off-campus internship (primarily during the summer from April to August)
Learn more about the MSU requirements and courses in Turfgrass Management - Golf Course certificate program.
Some learning facilities include:
Plant and Soil Sciences Building
MSU Agronomy Farm
---
Internships
IAT coordinators help students find and secure organizations to mentor them as part of their required certificate program internship. Not only does this provide immediate on-the-job experience, but internships also help with networking and industry connections.
Some internship locations include:
Baltimore Country Club
National Golf Links of America
Oakland Hills Country Club
Olympia Fields Country Club
Point O'Woods Country Club
Sand Hills Golf Club
Valhalla Golf Club
---
Request information about the Turfgrass Management - golf course program