Smoothies: A healthy alternative
Looking for energy in the afternoon to keep you moving? Avoid energy drinks and consider making a healthy, delicious smoothie to keep your energy up.
In general, energy drinks contain caffeine; the world's most commonly used psychoactive substance. Psychoactive substances affect the mind and mental processes.
Michigan State University Extension says that an alternative to energy drinks, which are high in sugar and caffeine – is a fruit or vegetable smoothie. Smoothies can be made many different ways and can use lots of different ingredients to get the essential nutrients needed for a healthy living. To learn more about the facts and myths about energy drinks view the video on YouTube.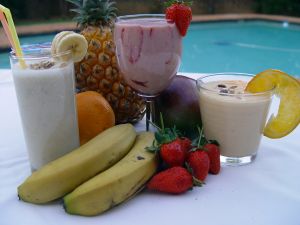 According to the 2010 American Dietary Guidelines for Americans, adults should focus on balancing calories with physical activity, and consume more healthy foods like vegetables, fruits, whole grains, fat-free and low-fat dairy products and sea food, and to consume less sodium, saturated and trans-fats, added sugars, and refined grains.
To make a smoothie, it is important to have an electric blender with a lid that can mix all the ingredients together. Some battery operated hand blenders may work as well.
Some common smoothie ingredients include:
Milk
Fruit juice (apple, orange, cranberry)
Yogurt (any variety)
Fruit (frozen or fresh)
Vegetables (spinach, carrots, kale)
Peanut butter
Honey
Ice
Sherbet (any variety)
The fun thing about making smoothies is that you can mix and match different ingredients to your needs. This is a great activity to do with kids, letting them pick what they want to put in their smoothie and then enjoying the creation together.
Smoothies don't only provide a boost in energy, they also provide important vitamins and minerals that we need to have strong bones and healthy bodies. The next time you are looking for a quick energy boost, think smoothies.
To learn more about healthy eating, contact your local MSU Extension Office.