Snorkeling scientists at Great Lakes and Natural Resources Camp
Youth are learning about aquatic ecosystems and maritime heritage at the Great Lakes and Natural Resources Camp.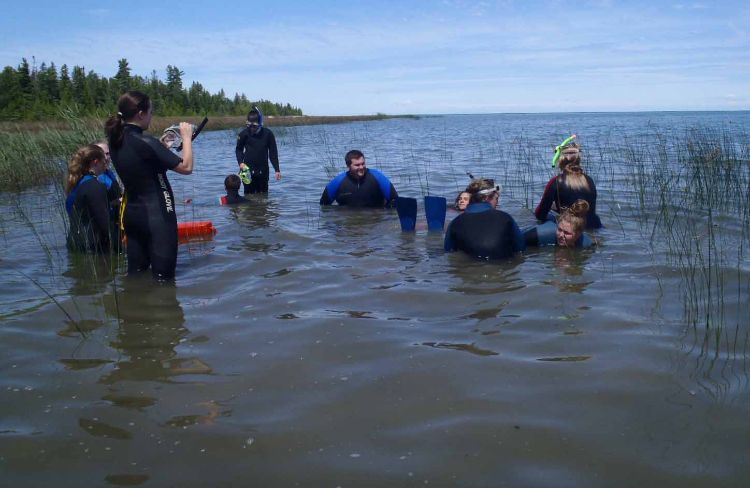 The Michigan State University Extension Great Lakes and Natural Resources Camp recently took place in Presque Isle, Michigan, where youth learned about the Great Lakes through a unique lens. They experienced Lake Esau and Lake Huron through the lens of their mask while snorkeling.
The Great Lakes and Natural Resources Camp is held the beginning of August each year and is located between Lake Esau and Lake Huron, giving campers an opportunity to explore both inland and Great Lakes ecosystems. This year, while some campers were snorkeling, they made observations about a sunken boat in Lake Esau. Later, campers used waterproof paper and plastic clipboards to sketch underwater part of the bottom of the lake. Campers experienced firsthand some of the challenges marine archeologists face when trying to record information about shipwrecks while underwater.
Campers also had the opportunity to go snorkeling in Lake Huron. After suiting up in wetsuits, campers made the short trek to Lake Huron and talked with Travis Wahl, an AmeriCorps member serving with the Thunder Bay National Marine Sanctuary in Alpena, Michigan. Wahl provided campers with some of the history of shipwrecks in the Great Lakes and the role of the Marine Sanctuary in preserving shipwrecks and educating visitors about our Great Lakes Maritime Heritage.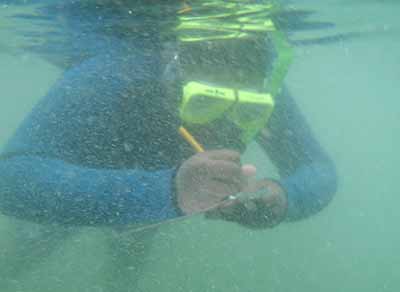 After providing information about the Marine Sanctuary, Wahl talked to the campers about the Albany, a shipwreck in Lake Huron just a short walk from the Great Lakes and Natural Resources Camp. Wahl also provided the snorkelers with some "do's and don'ts" when snorkeling near a shipwreck. Campers learned the importance of doing their part to help preserve shipwrecks for future generations while experiencing the thrill of exploring a shipwreck up close. Campers saw the variety of organisms that make a shipwreck their home and observed some differences between the Lake Esau and Lake Huron ecosystems.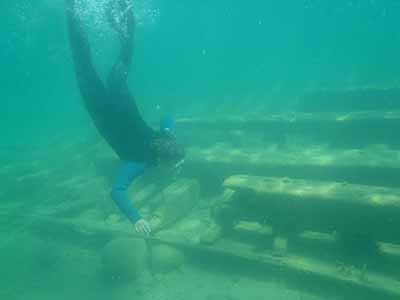 You can help youth learn more about snorkeling and shipwrecks by visiting the Thunder Bay National Marine Sanctuary website. To learn more about engaging youth in an exploration of Great Lake aquatic ecosystems, check out the Great Lakes Literacy Principles website. To discover more ways to increase science literacy with youth in your life, please explore the MSU Extension Science and Technology website. For more information about 4-H learning opportunities and other 4-H programs, contact your county MSU Extension office.