Southeast Michigan vegetable update – May 10, 2017
After a rainy weekend and freezing temperatures earlier this week, most plantings have come out OK and more planting is underway.
Weather
Cold and wet weather last week had many growers tackling indoor projects, but with more sun and warming temperatures, people are getting into well-drained fields as they dry out. Michigan State University Enviroweather stations at Commerce and Hudson reported a couple hours of freezing temperatures in the early morning of May 8 and 9, while the Deerfield station reported temperatures hovered just above freezing both nights.
The table below presents rainfall (in inches) for the MSU Enviroweather stations in southeast Michigan, as well as degree-days (starting March 1) calculated using the Baskerville-Emin Method. Soil temperature range (top 2 inches) over the last seven days is also included when available. For a refresher on degree-days and how to get this information in your area, see "Accessing growing degree days with Enviroweather" by MSU Extension.
Rainfall and degree-day (DD) totals as of May 10

Station

DD base 50

5-year DD average base 50

Rainfall since April 1 (inches)

Soil temperature range

169 (+8)*

195.1

4.39 (+.94)

47.4-63.1

232 (+13)

NA

5.46

46.7-77.3

171 (+13)

230.3

4.53 (+2.09)

49.3-56.2
Crops
Processing tomato transplants in the field took some damage with the weather, but look like they can recover. For transplants still in the greenhouse, we are entering the part of spring where there is an uptick in diseases in the greenhouse. As the days get warmer while nights are cool, periods of extended leaf wetness can lead to the development of botrytis, powdery mildew and bacterial diseases.
If greenhouses are equipped with a heat source, heating just a small amount (1-2 degrees) at dusk can moderate temperatures enough to reduce leaf wetness. Monitoring relative humidity can aid in decision-making, and keeping relative humidity below 85 percent will help prevent condensation from occurring on leaves when temperature changes occur. Vent greenhouses as outdoor temperatures allow.
Hoophouse tomatoes are still green and putting on size. There have been some issues with catfacing, which occurs when there is cold weather (below mid 50s) during tomato flowering. There is nothing that can be done at this point, and catfaced fruit will likely be unmarketable.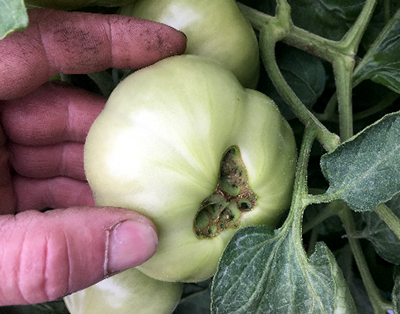 Sweet corn planting has slowed down with the rain and freezing nights, but will resume this week. Sweet corn that has emerged saw some frost damage, which gives the leaves a brown, soaked appearance. As long as the growing point is still alive (signaled by a greenish white color), the plant should recover. If the corn has not yet emerged, the growing point of the plant is still under the soil and should be protected. Undamaged seedlings are pretty yellow, as cold weather reduces nitrogen uptake.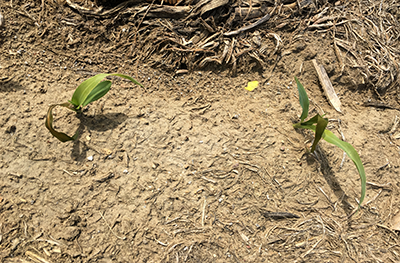 Black cutworm eggs should begin to hatch in roughly a week. Using Enviroweather with a start date of April 26, we will have accumulated the degree-days necessary to hatch in Deerfield and Hudson next Tuesday or Wednesday, and eggs will begin hatching in Commerce on Thursday. Significant damage from this pest won't be seen until 300 degree-days from April 26; I will update as this approaches.
| | | | |
| --- | --- | --- | --- |
| Pest | County | Trap catch (5/3-5/10) | Intensive capture? |
| Black cutworm | Lenawee | 21 | 5/2–5/4 |
| True armyworm | Monroe | 4 | No |

Peas have emerged.
Potato plants have emerged. I've seen what looks like a little bit of frost damage, but more shoots should emerge from the seed piece.
Contact me any time with questions at 517-264-5309 or schuhmar@msu.edu. I make updates regularly on Twitter at @SoutheastMIVeg.
Meetings
It is never too early to make accommodations to attend Great Lakes Fruit and Vegetable EXPO, Dec. 5-7, 2017, in Grand Rapids, Michigan. The combination of grower-focused, research-backed presentations and an amazing exhibit hall make it a can't-miss event.