Southwest Michigan field crops update - September 15, 2022
Corn and soybean harvest estimates range from below-average to slightly above-average as crops near physiological maturity. Rainfall over the past month has been well below normal for most areas throughout the region.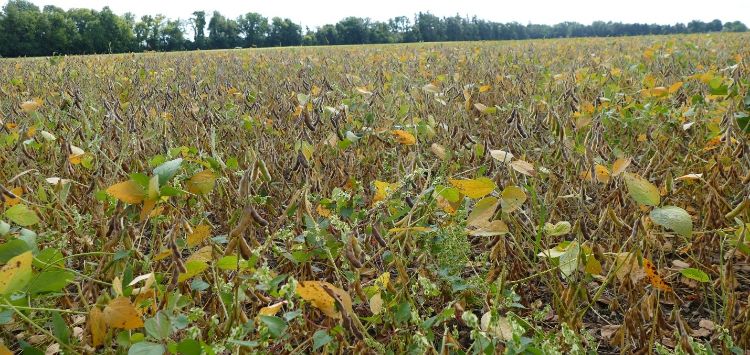 Weather
Temperatures were normal or 1-2 degrees below normal in the extreme southwest corner of the state with only 95 growing degree days (GDD, base 50 for corn and soybean) this past week. The forecasted reference evapotranspiration (FRET) rate is roughly 1.0-1.1 inch for the week ending Sept. 21 as temperatures warm up again. The forecast predicts the addition of another 140 GDD50 in the coming week. Both the 6-10 day and 8-14 day outlooks call for above-normal temperatures during the last week of September.
Precipitation was low once again in most parts of the region this past week with most areas receiving less than half an inch from the weather system last weekend. Rainfall has been 1-2 inches below normal over the past two weeks with most areas reporting 50-75% less rainfall than normal. The medium-range outlooks call for a slight chance of below-normal precipitation during the last week of September.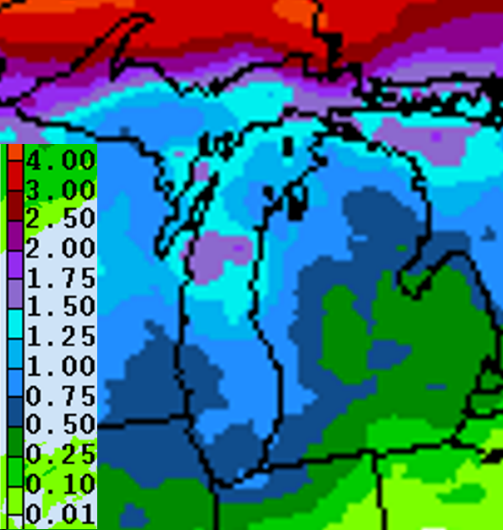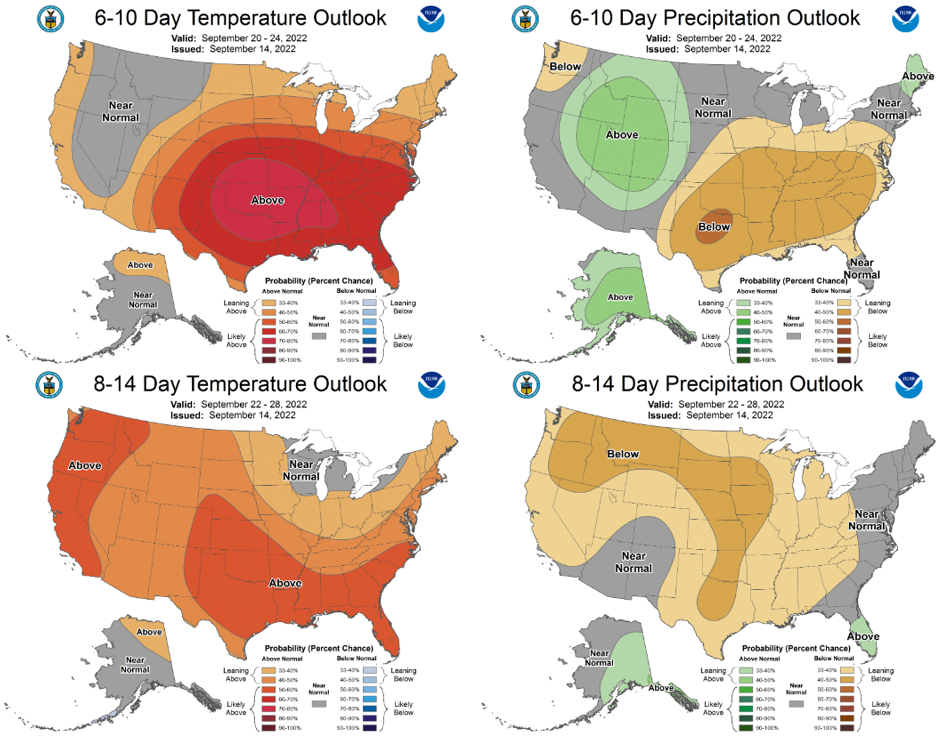 Crops and pests
Corn and soybean in many fields are now entering the final reproductive stages as we get closer to physiological maturity. Seed corn as well as potato harvest is well underway in the region. Commercial corn in early planted and earlier relative maturity groups have reached full dent already with the milk line having moved all the way to the tip of the kernels. Corn requires an additional about 250 GDD50 beyond the dent stage to reach physiological maturity, also known as black layer, when you will be able to scrape the kernel tips off and see the black layer. Given the current mid-range forecasts, we should expect to accumulate that many GDD50 by the end of the month. Moisture level in corn at black layer is typically 25-40% with the average being around 30%. Under the right conditions—high temperature, high wind, low humidity—corn can lose 0.75-1.0% moisture per day.
Soybean in earlier maturity group fields has reached beginning maturity (R7, one normal pod on the main stem has reached its mature pod color). Soybean that has reached full maturity (R8, 95% of the pods have reached their full mature color) will be around 35% moisture, and according to Purdue University soybean agronomist Shaun Casteel, it will only take five to 10 days to dry down to about 15% moisture after that.
Irrigation
This week reference evapotranspiration is about 1 inch. The crop water use coefficient (Kc) for corn falls to 0.6 from full dent onward and soybean Kc falls from 1.0 at beginning maturity to 0.2. Recommend 0.5-inch applications, pray for rain, and be happy if rain met the need. To learn more about basic checkbook irrigation scheduling and crop water use by growth stage, view the Soil Water Balance Worksheet resource.
With the low rainfall in some areas from late August into September, this is a good time to:
Water up your cover crop.
Flow test well and measure draw down and recovery.
Prepare annual reporting significant volume water withdrawals.
Good yield monitoring for irrigation decision and irrigation trouble shooting.
As you head into harvest season and beyond, consider these recommendations for irrigation planning.
Find a water supply 5 gpm per irrigated acre.
Investigate cropping options, land rent options, contract feed production, contract crops.
Investigate future surface water withdrawal site, pump, measure, water test.
Think about your future goal for the farm.
Contact MSU and Purdue Extension irrigation educator Lyndon Kelley at Kelleyl@msu.edu or 269-535-0343 for help with irrigation questions.
Field Crops Virtual Breakfast
Checking for weed resistance was the topic of this week's MSU Extension Field Crops Virtual Breakfast with MSU weed diagnostician Erin Hill. Hill explained that there are reasons other than herbicide resistance for why they don't die when sprayed including issues with application equipment or rates used, weeds being too mature, environmental stress, and others.
Hill described a pilot program being conducted by Eric Patterson and his grad student Juliano Sulzback on evaluating a molecular test for weed resistance in several key weed species including common and giant ragweed, Palmer amaranth, waterhemp, and horseweed (marestail). The initial findings are promising, although they are also learning key steps in the protocol to streamline the process in order to offer it to the general public. This molecular screening would greatly reduce the time needed to check for resistance via the standard bioassay process used currently.
Hill shared about several tips and new findings during her presentation including the following:
ALS-resistant johnsongrass was identified (accidentally) in St. Joseph County this year.
When submitting samples, be sure any plants you send are females with seeds.
Make sure the seeds are mature before collecting and sending—they typically turn from green to brown or black.
Check out the Tips for Collecting Weed Seeds article for more details on how to collect and submit samples.
Visit the Michigan State University Plant & Pest Diagnostics website for more information.
If you were not able to join the session, the recordings will be closed-captioned and available at the Field Crops Virtual Breakfast webpage and the MSU Extension Field Crops Team social media platforms: Facebook, Spotify, YouTube, Apple Podcasts and Twitter.