Southwest Michigan fruit update – June 27, 2023
Tart cherry harvest should begin this week, as well as raspberries and blueberries.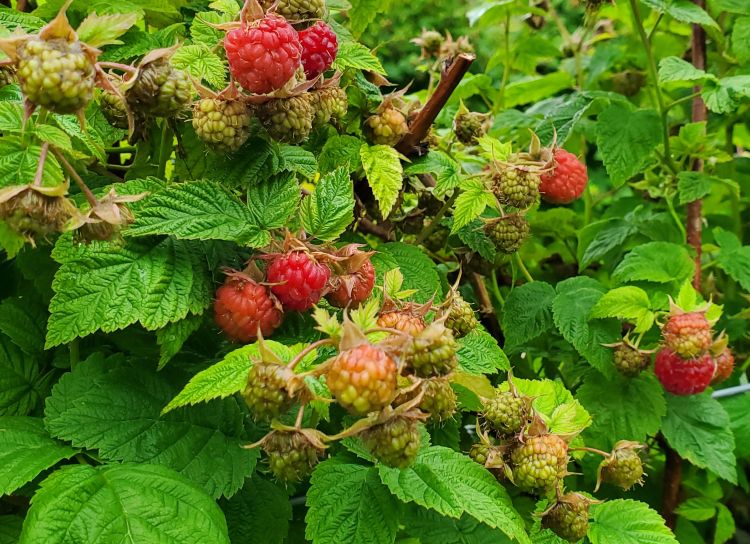 Weather
Warm, dry weather dominated last week. High temperatures were in the mid- to upper 80s much of the week. Nighttime lows were in the low 60s. A series of rain systems finally passed through the region on Sunday and Monday, June 25 and 26, bringing some much-needed moisture. Much of southwest Michigan saw about two-thirds of an inch of rain. This was enough to wet the top few inches of soil, but much more is needed to end the current drought.
Soils continue to be very dry. The U.S. Drought Monitor is indicating the entire southwest Michigan region is in a moderate drought condition. Even with the rain the last couple days, expect this drought to continue. In these conditions, small and young fruit crops are seeing stress and leaves are wilting. For larger trees with deeper roots, stress is less visible but nutrient uptake by the roots near the surface is still compromised. If this drought continues, expect small fruit and/or additional fruit drop.
With the seasonal weather, we collected an average number of growing degree days (GDD) last week, 205 GDD base 42 and 150 GDD base 50, respectively. We are very close to the long-term seasonal average.
Southwest Michigan GDD summary from March 1 – June 26, 2023

Station

GDD 42 F

GDD 45 F

GDD 50 F

Benton Harbor (SWMREC)

1514

1279

941

Lawton (Lawton)

1522

1288

949

Fennville (TNRC)

1357

1134

817

Average for the SW region

1463

1233

904

Average last week

1259

1050

755
High temperatures dropped into the upper 60s for Monday and Tuesday. Warmer conditions will return for Wednesday. Thursday will be the warmest day of the week, with highs close to 90. Chances of rain also return on Thursday with scattered thunderstorms possible Thursday through the weekend. Total rainfall is expected to be around a half-inch with higher amounts near the Michigan-Indiana border and south.
Tree fruit
Light rains again this past week are helping with dry soils, but the total for June is half of normal for much of the area. More reports of discolored foliage and weak trees due to the past weeks of drought are coming in. Trap catches of obliquebanded leafroller at the Trevor Nichols Research Center were high for the third week, with a working biofix of June 12. Protection against larvae is recommended approximately 350-450 GDD base 42 F from this biofix date, or approximately June 25 for central Berrien County. Recent trap catches of San Jose scale males at the Trevor Nichols Research Center have been near zero—the next generation flight of males should start soon.
Peach harvest of Rich May and PF1 will be starting soon in the southern part of the region. The flight of the second generation of oriental fruit moth (biofix of the second generation) is estimated to have started last week, with the appropriate sprays needed about now for the central Berrien County region. Protection of trunks and limbs against peach borers is needed now. Cover sprays for peach scab run from petal fall to third cover and from shuck split to pit hardening for rusty spot (powdery mildew) for susceptible varieties. Nectarine susceptibility to rusty spot extends longer than peaches.
Cherry Montmorency fruit harvests in Berrien County will be starting around the first of July. Sweet cherry harvest is finishing up. Some cracking due to the rain has been reported. The current rains have been cherry leaf spot infection periods. Cherry fruit flies were detected in low numbers in traps at the Trevor Nichols Research Center in Fennville two weeks ago. Spotted wing Drosophila trap catches typically jump in late June or early July. Cool weather favors population growth of the various cherry fruit flies, especially spotted wing Drosophila. Obliquebanded leafroller larvae may need treatment over the next week to keep them out of cherry foliage and cherry harvest tanks. Fungicide treatment for brown rot is important, especially with recent rains.
Apple fruit hand thinning is finishing up. Mummies hanging in the tree and dead wood can serve as inoculum sources for diseases such black rot and bitter rot. Calcium sprays for bitter pit suppression and summer NAA treatment for encouraging return bloom are underway for many area orchards. The Enviroweather model for sooty blotch and flyspeck diseases predicts sufficient leaf wetting events have occurred in the northern, wetter part of the southwest region to consider including fungicides for sooty blotch and flyspeck in the spray program. Insects of concern are leafrollers, oriental fruit moth and codling moth. Fruit entries by first generation codling moth are becoming easier to see. Codling moth larvae may feed on the apple core whereas oriental fruit moth generally stay out of the core.
Pear fruit hand thinning is finishing up.
Small fruit
Grapes. Vinifera bloom is finishing, Juice grapes and early hybrid fruit are continuing to increase in size. Some juice grapes are nearing berry touch at advanced sites.
Rose chafer populations remain high. This beetle emerges from the ground this time of year. Last week's rain event likely softened the soil enough for them to emerge at once.
Tumid gallmaker reports continue to come in. This is a fly that causes red splotching and galls on leaves, shoots and developing clusters. They are primarily a pest of hybrid wine grapes but have been seen on Concord grapes in the past as well.
The biofix for the second generation of grape berry moth should be next week. Predictions are for between July 4 and 6 depending on location and when wild grape bloom was recorded at your location. Michigan State University Extension recommends biofix as good timing for application of an insecticide with ovicidal activity to manage grape berry moth populations. These include insect growth regulators like Intrepid and diamides like Altacor and Verdepryn. Other products that have larvicidal activity should be applied 100 GDD base 47 later. This time of year, that is typically around a week after biofix.
Juice and early hybrid grape bloom ended around three weeks ago. This is when developing fruit start becoming resistant to many of the spring diseases. We start focusing on foliar infections of downy mildew and powdery mildew. Treatments for black rot should end soon. Protections against cluster rots like botrytis bunch rot should continue until bunch closure.
For vinifera grapes, fruit infections from all the major diseases should be managed for at least the next three to four weeks until the fruit become resistant. This is especially true around rain events like the last few days and the predicted rains later this week.
Blueberry. Most varieties are beginning to color from southern Berrien County up through Van Buren County. Early varieties are showing around 20% blue fruit with some late season varieties just beginning to show a little color. Growers have begun thinking about berry rot sprays to control anthracnose and alternaria. Cranberry and cherry fruitworms are flying and laying eggs. Additional cover sprays to manage these moths in high infestation sites may be necessary in the next week or two. Blueberry maggot was caught at an unsprayed site at the Southwest Michigan Research and Extension Center last week. Spotted wing Drosophila is expected to be delayed this year due to the hot, dry weather.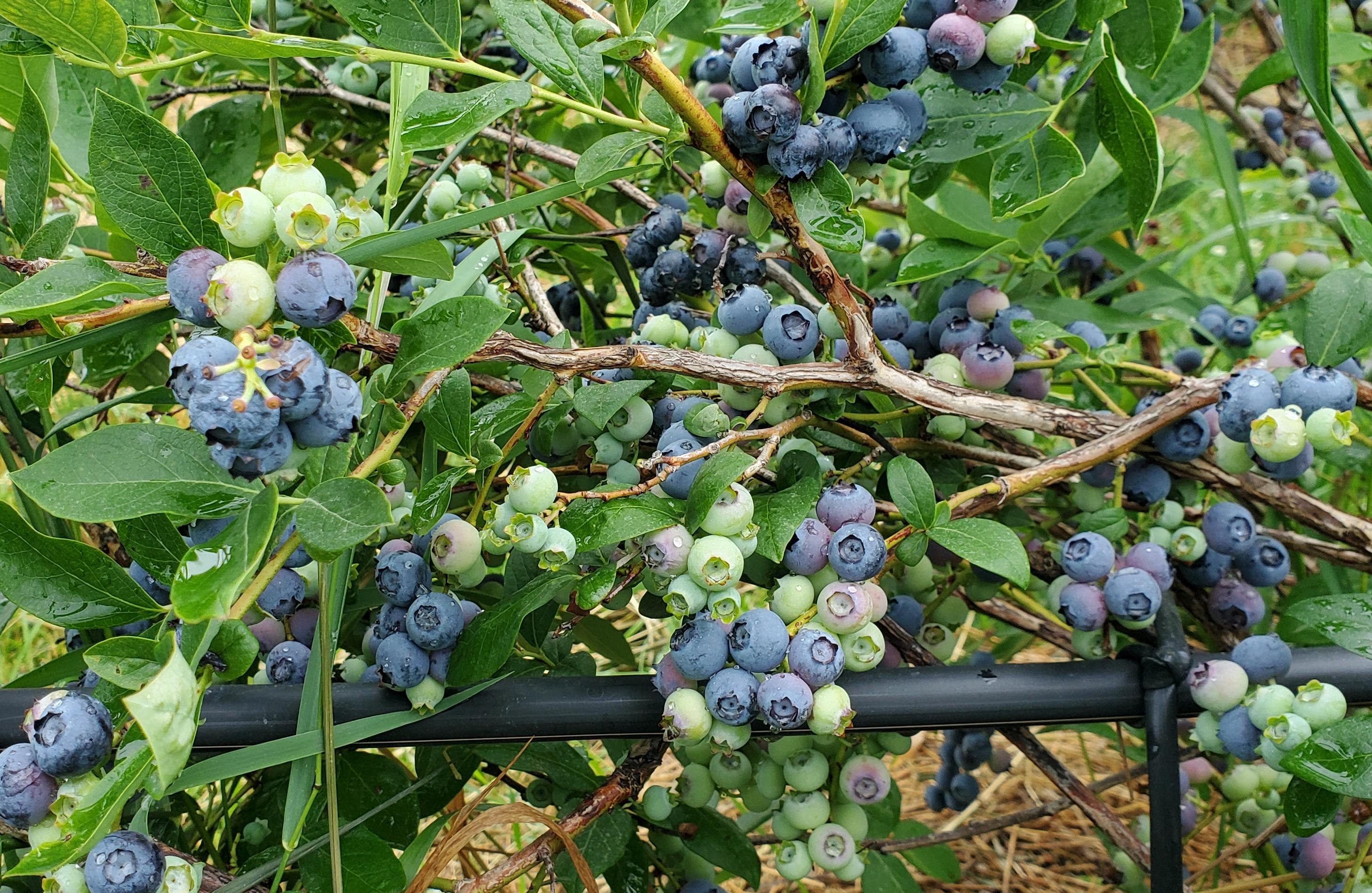 Strawberry harvest is wrapping up in northern Van Buren County. Some U-pick growers in Berrien County are continuing to harvest. Maintain fungicide coverage to protect the leaves and help prevent fruit rots as fruit continues to ripen, especially with the heat. Those who are done with harvest are beginning to renovate.
Brambles fruit are showing color. Harvest should begin this week.
Announcements
The Southwest Michigan Viticulture Field Day is scheduled for July 26. This event is in its 34th year. Education will begin at 9 a.m. and will include a variety of field-based topics including cold hardy variety management, autonomous technologies, pest management and soil health. Lunch and a steak dinner will be provided as will some tasting of local Michigan wines. Register for the Southwest Michigan Viticulture Field Day.
If you'd like more blueberry information in your inbox, sign up for Blueberry Bites! New this year, Blueberry Bites is a blueberry-focused, bite-sized, weekly update from the blueberry team at MSU.
This work is supported by the Crop Protection and Pest Management Program [grant no 2021-70006-35450] from the USDA National Institute of Food and Agriculture. Any opinions, findings, conclusions, or recommendations expressed in this publication are those of the author(s) and do not necessarily reflect the view of the U.S. Department of Agriculture.