Southwest Michigan field crop update — July 27, 2017
Crop development in corn and soybean looks good throughout the region, but a few insect pests remain a concern for this year and possibly into next year.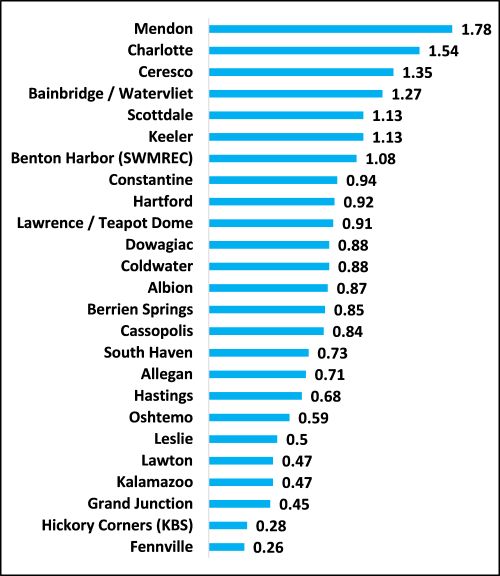 Weather
Temperatures have moderated this past week and, aside from July 24 when the highs reached only into the low- to mid-70's, have been near normal for this time of year. According to the National Weather Service's 6-10 and 8-14 day outlooks, temperatures will remain near normal into the first part of August. Michigan State University state climatologist Jeff Andresen says the weather models also predict high solar loads, e.g., sunny weather, for the next week or more.
Precipitation during the past two weeks helped to alleviate some of the soil moisture deficit we were experiencing in the region, but as is often the case, rains have been spotty (Figure 1). Rainfall totals for the season (since April 1) have also been erratic compared with the five-year average (Table 1). Looking ahead, the 6-12 day outlook predicts drier than normal conditions for the region with very little chance of rain in the coming week.
Table 1. Total precipitation (inches) since April 1, 2017, for select Enviroweather locations and the percent deviation from the five-year average.

Enviroweather site

2017

% of normal

12.60

+2

14.31

+11

12.37

-15

11.47

-25

11.95

-17

16.33

+24
Crop report
With timely rains in most parts of the region, corn and soybean crops appear healthy. Both crops are entering the reproductive stages in most fields.
According to the most recent USDA Crop Progress Report, 41 percent of Michigan corn has reached silking (R1) with 69 percent estimated to be good or excellent, and an additional 23 percent rated as fair. With growing degree-day (GDD) accumulations being slightly ahead of normal (Figure 2), silking should be completed in most fields in about two weeks (roughly 325 GDDs from silking to blister stage, or R2).
In Michigan, 66 percent of soybean fields have reached the bloom stage (R1), 29 percent have begun to set pods (R3) and 65 percent are rated good or excellent (25 percent fair).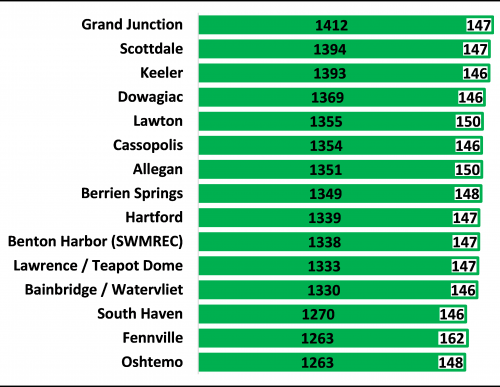 Michigan State University Extension wheat specialist Dennis Pennington says almost all wheat fields have been harvested. The problem of low, falling numbers in wheat appears to have been a concern primarily early in the harvest period (first week of July) with earlier-planted fields. However, an estimated 10-20 percent of wheat fields had "bad" or "ugly" low, falling numbers this season. Statewide, wheat yields have been disappointing and lower by 10–15 percent from last year.
Crop pests
Western bean cutworm moth captures appear to have peaked sometime during the second or third week of July with significantly reduced trap numbers reported this past week in many locations in the region (Figure 3).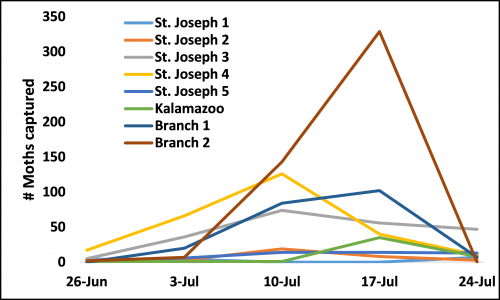 In walking fields, it is evident there was a fairly broad period when eggs were laid. We can find some new egg masses on a few plants, and the faint residues of egg masses that had already hatched are evident on leaves above the ear leaf (Figure 4). The larvae that had hatched have moved into the leaves surrounding the tassels (pre-tassel corn) and are beginning to feed.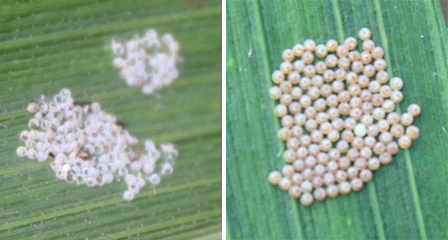 Unfortunately, we did not see signs of predation or pathogens on the egg masses that had hatched, which we did see in fields several years ago. Some fields we looked at were right at or just below the treatment threshold of 5 percent of the plants with egg masses or early instar larvae. Other fields had surpassed the threshold (9–15 percent) and an insecticide application was recommended.
The larvae will feed on the pollen packets in the plant then move down to feed on ear tips or burrow into the husks to feed on the developing kernels. There should be an opportunity to treat fields with insecticides before the larvae move into the ears if the numbers warrant an insecticide application.
Are you still in danger of yield and grain quality loss from western bean cutworm? According to MSU Extension field crops entomologist Christina DiFonzo, "Western bean cutworm larvae cannot survive on whorl stage corn that lacks a tassel (no tassel even wrapped up in upper leaves). Pre-tassel is when the tassel is wrapped up in the upper leaves, and that is the most attractive stage for western bean cutworm females to lay eggs."
Unless corn was planted very late, tassels are either "in the boot" or are emerged, and so western bean cutworm larvae emerging now have plenty of pollen (produced in the tassels) from which to feed. Scout for egg masses and recent larval hatches. We will continue to trap until the end of August.
Asiatic garden beetles appear to have been much more widespread in southwest Michigan in 2017 than we realized. There is a good possibility that much of the unexplained uneven corn plant height seen in rotated fields this year was a result of root feeding by the white grub larvae of these pests. Adults have moved out of corn fields and presumably either have or will be laying eggs in nearby soybean fields. The adults are mostly nocturnal.
When scouting soybean fields, look out for the cinnamon-colored beetles. There is no established threshold, but high levels of Asiatic garden beetle adults in soybean fields this summer may mean higher levels of white grub damage in fields next year.
We are interested in learning more about how this pest selects fields to lay eggs. One thing you may look for is leaf feeding on horseweed (marestail) plants in your soybeans. If you find high levels of Asiatic garden beetle adults in your soybean fields, please contact Bruce MacKellar at mackella@msu.edu.
Spider mites could become a problem in fields this season with the predicted dry and warm weather. Scout for and rate spider mite populations to determine whether a miticide application is warranted. The primary symptom is white or yellowish speckling (stippling) on leaves generally beginning near field edges.
DiFonzo has created a handy spider mite cheat sheet with an accompanying article that can help in selecting the right product. Things to consider include: mode of action (best not to apply pesticides with the same mode of action twice in a given season); efficacy on adults and eggs; method of spraying to assure good coverage; and level of residual activity to control the next generation and yet minimize impact on beneficial insects.