Christina DiFonzo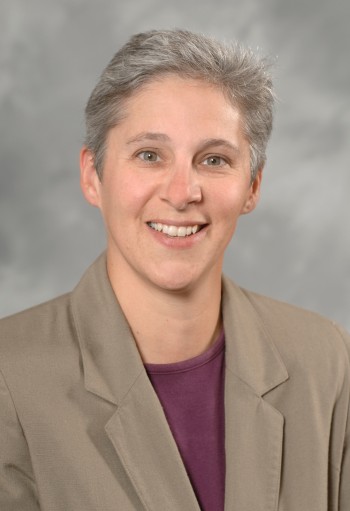 difonzo@msu.edu
Telephone: 517-353-5328

College of Natural Science
Professor
Natural Science Bldg.
288 Farm Lane Room 331
East Lansing, MI 48824
Field Crops Entomologist
Field Crops Entomology Program
Bio
I grew up in northwestern Pennsylvania and attended Mercyhurst College in Erie for my Bachelor's degree in Biology and a minor in English literature. My Masters and PhD degrees in entomology are from the University of Minnesota. Both degrees focused on the epidemiology of aphid-vectored viruses of potato in the Red River Valley of Minnesota and North Dakota; working in the Valley sparked my interest in aphids and extension work. After graduation, I spent a year as a Bard Postdoctoral Fellow at the Volcani Center, an agricultural research facility in Israel, again working on plant viruses and aphids. I was hired as the pesticide education coordinator and field crops entomologist at MSU in 1996, but transitioned to full-time field crops entomologist in 2002, after the discovery of soybean aphid in the U.S. My fondness for this pest earned me the nickname 'The Aphid Queen'.
Current assignment: Teaching 20% | Research 15% | Extension 65%
Program Description
Extension and Research
Responsible for solving problems, providing management recommendations, and conducting research on insects in all Michigan field crops. Field crops in Michigan include corn, soybean, dry beans, small grain, forage crops, and sugar beets. Extension education in the last decade focused on soybean aphid, western bean cutworm, spider mites, Bt resistance, and neonicotinoid seed treatments. Research during the same time frame included projects on European chafer grubs, biology and management of the soybean aphid in the Midwest, biology and management of western bean cutworm in Michigan dry beans, and detection of rootworm resistance to Bt corn. Additional expertise includes genetically modified field crops (especially Bt corn), aphid biology and identification, insect-vectors of plant disease, and pesticide regulation. Adjunct at the University of Guelph in Ontario Canada.
Teaching
ENT 404 - Fundamentals of Entomology, annually. This is the general entomology course taken by many students in the Colleges of Ag & Natural Resources and Natural Science.
ENT 477 - Pesticides in Management Systems, fall of even years. This course provides an overview of pesticide modes of action, registration, regulation and issues, targeted at upperclassmen and graduate students.
Tropical Agriculture in Sri Lanka, annually in early summer. This month-long study abroad examines the challenges of agricultural production in one of the most ecologically diverse places in the world, Sri Lanka. Systems covered include rice, vegetables, tea, spices, aquaculture, and livestock.
Serve on approximately 15-20 graduate student committees per year, mostly for students working in agronomy, weed science, soil science, or plant pathology.
Co-advisor (with Dr. Walt Pett) for the MSU entomology undergraduate major and minor degrees
Concentrations
Professional Experience
1996-Present - Field Crops Entomologist, Michigan State University
2002-Present - Adjunct faculty member, University of Guelph, Ontario
Selected Publications
DiFonzo, C.D., M.R. Jewett, and M.L. Nagelkirk. 2015. Does foliar feeding of soybean affect key nutrients, populations, and yield impact of soybean aphid? Crop, Forage, & Turfgrass Management 1: 1:-doi:10.2134/cftm2014.0071.
Kates, T. Michael, C, D. DiFonzo, and Dechun Wang. 2015. Soybean aphid populations on aphid resistant and susceptible soybean lines growing under potassium deficiency. Crop, Forage, & Turfgrass Management 1: 1:-doi:10.2134/cftm2014.0076.
Renkema, J.M., C.D. DiFonzo, J.L. Smith, and A.W. Schaafsma. 2015. Impact of European chafer larvae (Coleoptera: Scarabaeidae) on winter wheat and role of neonicotinoid seed treatments in their management. J. Econ. Entomol. 108(2): 566-575.
DiFonzo, C.D., M.M. Chludzinski, M.R. Jewett, and F. Springborn. 2015. Impact of western bean cutworm (Lepidoptera: Noctuidae) infestation and insecticide treatments on damage and marketable yield of Michigan dry beans. J. Econ. Entomol. 108(2): 583-591.
Hesler, L.S., M.V. Chiozza, M. O'Neal, G.C. MacIntosh, K.J. Tilmon, D. Chandrasena, N.A. Tinsley, S.R. Cianzio, A. Costamagna, E. Cullen, C.D. DiFonzo, B. Potter, D.W. Ragsdale, K. Steffey, and K.J. Koehler. 2013. Performance and prospects of Rag genes for management of soybean aphid. Entomol. Exp. Appl. 147(3): 201-216. DOI: 10.1111/eea.12073.
Chandrasena, D., C.D. DiFonzo, and D. Wang. 2012. A multi-year assessment of Japanese beetle (Popillia japonica Newman) defoliation on aphid-resistant and aphid-susceptible soybean lines. Crop Science 52:2351-2357. (Doi: 10.2135/cropsci2011.11.0620).
Michel, A.P., C.H. Krupke, T.S. Baute and C.D. DiFonzo. 2010. Ecology and management of the western bean cutworm (Lepidoptera: Noctuidae) in corn and dry beans. J. Integ. Pest Mngmt. 1(1) DOI: 10.1603/IPM10003.Sappington, T. W., K. R. Ostlie, C. DiFonzo, B. E. Hibbard, C. H. Krupke, P. Porter, S. Pueppke, E. J. Shields, J. J. Tollefson. 2010. Conducting public-sector research on commercialized transgenic seed: In search of a paradigm that works. GM Crops. 1 (2): 55-58. DOI: 10.4161/gmcr.1.2.10833).
Onstad, D.W., P.D. Mitchell, T.M. Hurley, J.G. Lundgren, R. P. Porter, C.H. Krupke, J.L. Spencer, C.D. DiFonzo, T.S. Baute, R.L. Hellmich, L.L. Buschman, W.D. Hutchison, and J.F. Tooker. 2011. Seeds of change: corn seed mixtures for resistance management and integrated pest management. J. Econ. Entomol. 104 (2): 343-352.
Chandrasena, D., C.D. DiFonzo, and A. Byrne. 2011. An aphid-dip bioassay to evaluate susceptibility of soybean aphid (Hemiptera: Aphididae) to pyrethroid, organophosphate, and neonicotinoid insecticides. J. Econ. Entomo. 104(4): 1357-1363.
DiFonzo, C.D. and H. Russell. 2010. Winter cutworm (Lepidoptera: Noctuidae): An outbreak in emails. J. Integ. Pest Mngmt. 1(1): DOI: 10.1603/IPM10005.
O'Neal, M.E., K.D. Johnson, E.W. Hodgson, D.W. Ragsdale, I. V. MacRae, B.D. Potter, C.D. DiFonzo, K. Tilmon, E. Cullen, P. Glogoza, and B.P. McCornack. 2010. Comment on "Soybean aphid population dynamics, soybean yield loss, and development of stage-specific economic injury levels" by M. A. Catangui, E. A. Beckendorf, and W. E. Riedell. Agron. J. 101:1080-1092 (2009). Agronomy J. 102: 55-56.
Recommended Links
Tags: gmos, msu extension