Southwest Michigan fruit regional report – April 12, 2016
With warmer weather, fruit tree buds are swelling. Growers should apply early-season sprays.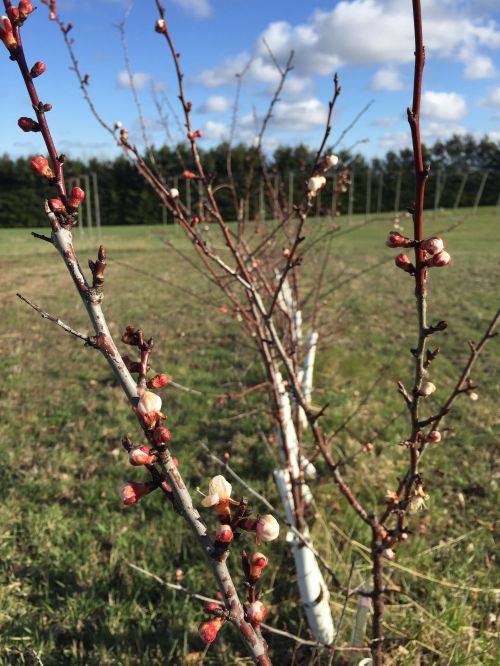 Winter 2016
The 2016 winter was mild compared with 2014 and 2015. Temperatures during the 2016 winter dropped to around zero or slightly below several times. Several significant snow events were followed by widespread melting, so the snows came and went several times. Winter dormancy was probably completed around New Year's Day, but no growth was noted in perennial plants until mid-February.
Weather
Warm periods in early and late March and early April pushed tree development in the southwest region and elsewhere in Michigan ahead of normal. The fruit crops are now at the stage where they are susceptible to injury at temperatures in the low 20s. Cool weather over the past week slowed development, with low temperatures on Tuesday, April 5, and Saturday, April 9, reaching down to the low 20s or high teens, depending on the site. Initial assessments do not indicate any widespread severe damage. Damage will be easier to assess in the coming weeks as the plants develop more. Warmer weather is forecast for later in the week.
Growing degree days from Jan. 1 to March 30 at the Southwest Michigan Research and Extension Center near Benton Harbor for the last 16 years.

Year

Base 42 F

Base 45 F

Base 50 F

2016

176

124

65

2015

41

27

13

2014

16

6

1

2013

48

29

10

2012

393

324

228

2011

51

31

14

2010

94

60

24

2009

138

97

48

2008

54

35

16

2007

195

148

92

2006

92

61

27

2005

63

46

26

2004

139

99

53

2003

125

91

50

2002

85

50

18

2001

31

15

3

2000

258

193

112
Station

GDD 42 F

GDD 45 F

GDD 50 F

Benton Harbor (SWMRC)

203

143

76

Lawton (Lawton)

212

151

82

Fennville (TNRC)

149

104

53

Average for the region

185

129

68

Accumulation last week

3

0

0
Tree fruit
Reports of significant damage to fruit crops in the eastern U.S. have given special importance to maintaining good management of the Michigan crop this year because of the prospects for higher prices. Growers have been applying oil sprays for control of San Jose scale and mites.
Apricots are at swollen bud to popcorn, depending on the variety and site. Normal apricot bloom in southwest Michigan is about April 15, but it is doubtful we will be warm enough to bloom by then. Some damage to fruit buds by last week's cold events has been reported in lower Berrien County.
Showy bloom peach and nectarine varieties such as Loring and Fantasia are at first pink and non-showy bloom types ranged from green to red calyx growth stage. Peach varieties on higher sites closer to Lake Michigan showed little fruit bud damage from the April 5 and 9 freeze events, although some growers in less favorable sites report significant fruit bud damage. Extended cool, wet conditions on March 24 favored peach leaf curl infections. Infections require over 10 hours of leaf wetness in temperatures between 46 to 53 degrees Fahrenheit and rainfall greater than 0.2 inches.
Sweet cherry fruit buds are at side green to green tip, and are showing some damage from last week's freeze events, with more advanced buds showing more damage. Freeze effects appear to be more significant in areas away from Lake Michigan that had more advanced plant development due to warmer temperatures.
Tart cherry fruit buds are at side green and were less affected than sweet cherries by low temperatures of last week. Crop potential for most sites are good to excellent. Michigan State University Extension suggests that now is the time to apply copper materials to sweet cherries before green tissue is exposed. Sweet cherries are sensitive to copper, so avoid spraying copper when green tissue is exposed. Tart cherries are very tolerant to copper. Copper applications may be helpful in reducing bacterial canker in cherries.
Japanese plum fruit buds of early developing varieties such as Vanier have been showing first white tip for over a week in sandy sites. Last week's low temperatures have caused considerable fruit bud loss, but abundant number of fruit buds seen for some varieties may still provide plenty of crop potential. European plums are at green tip to tight cluster with apparently little impact on fruit buds by last week's low temperatures, except perhaps in low sites.
Early developing apple varieties such as Zestar and Mac are at 0.25-inch green to pre-tight cluster, depending on the site. For the most part, apple fruit buds were not affected by last week's low temperatures. However, some minor fruit bud damage has been noted in the early developing varieties. Apple scab ascospores have been trapped over the past three weeks in relatively low numbers. Several scab infection periods have been recorded throughout the region, including one last week with snow. Extended rain events last week made it difficult to maintain fungicide coverage for scab control, with some growers resorting to materials such as Scala, Syllit and Inspire Super with extended back action to catch up on missed infection periods.
Pear fruit buds are at early bud swell to pre-tight cluster, depending on the site and variety. Pear psylla adults are flying.
Small fruit
Juice grape vines in the area have come out of the dormant stage, but bud swell has not gotten under way – no damage to buds from recent snow and cold is expected. Wood quality from last year's growth appears to be excellent in wine grapes due to the mild weather this winter. Many growers are finishing up pruning in both juice and wine grape vineyards at present. In short, prospects look very good for the season so far. Now is a good time for final dormant sprays to reduce disease inoculum of powdery mildew, Phomopsis, black rot and Anthracnose.
Blueberry flower buds are swollen. In early varieties, the buds are beginning to burst. Initial assessments do not indicate any damage from the winter or last week's freezes. There is still a window for the application of late dormant sprays. With warmer weather we should see the green tissue from the leaf buds and will need to apply treatments to reduce mummy berry and Phomopsis.
Strawberries have greened up and new leaves are emerging from the crown. The flower trusses are still in the ground. At this stage, very cold temperatures down to about 10 F would be required to injure the flower buds.
Bramble growth is underway. Bud development varies from green tip to unfolding leaves. Dormant pruning should be completed. In summer bearing raspberries, last year's primocanes should be headed (cut back) to the desired height and any remaining floricanes from last year should be removed. Fall bearing raspberries should be cut or mowed to the ground. There is still a little time for lime sulfur treatments for anthracnose.
Upcoming meetings
Our next Monday fruit IPM meeting in southwest Michigan is April 18 at Fruit Acres Farms, 3452 Friday Rd, Coloma, MI 49038, at 5 p.m. Two Michigan pesticide applicator recertification credits will be given for these meetings.
The Van Buren County Blueberry Pre-bloom meeting is tentatively scheduled for Tuesday, April 21, at Haven Harvesters in South Haven, Michigan. Look for more information soon at the MSU Extension website.
See also: