Southwest Michigan fruit regional report – April 7, 2015
With warmer weather, fruit tree buds are swelling. Some winter damage is apparent.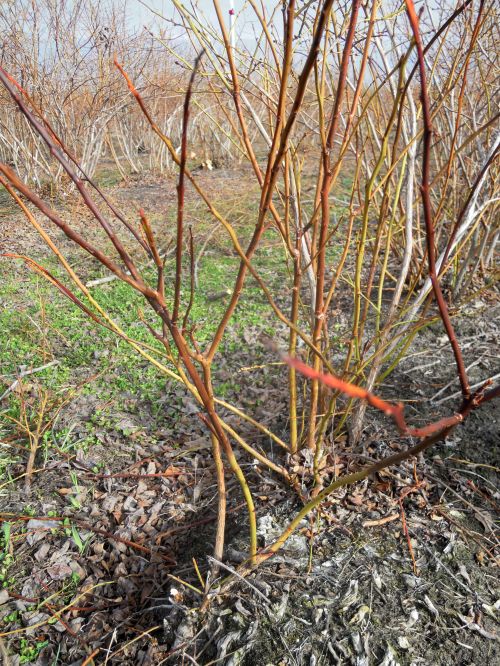 Winter
Winter 2015 was similar to 2014 with extreme cold and snow. Temperatures were below freezing for most of winter and lows were below zero several times. In southwest Michigan, the coldest winter temperatures occurred about Jan. 14 and Feb. 20, according to Michigan State University Enviro-weather.
Low temperatures into the minus teens were common in good fruit sites with good air drainage. Colder temperatures near -20 were common in cold pockets. These cold temperatures caused some winter injury.
Given the extremely cold temperatures during the winter, we expect winter injury to young trees and for the more cold tender fruits similar to 2014 (see "How cold is too cold for Michigan fruit crops?" by Michigan State University Extension). We expect this damage to be more severe in lower, colder sites and away from the moderating effects of Lake Michigan.
Winter temperatures near Teapot Dome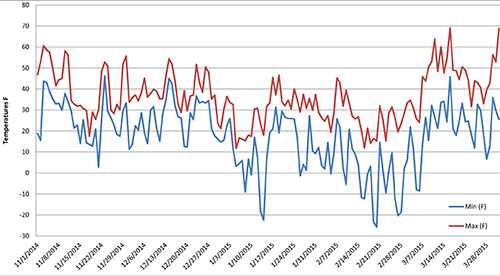 The assessment of winter damage is just beginning. High temperatures rose above freezing in March. Comparing the growing degree days (GDD) for the last 15 years at the Southwest Michigan Research and Extension Center (SWMREC) shows that 2015 is normal development in a cohort with cooler years.
Growing degree days from Jan. 1 to March 30 at SWMREC near Benton Harbor for the last 16 years
| | | | |
| --- | --- | --- | --- |
| Year | Base 42 F | Base 45 F | Base 50 F |
| 2015 | 41 | 27 | 13 |
| 2014 | 16 | 6 | 1 |
| 2013 | 48 | 29 | 10 |
| 2012 | 393 | 324 | 228 |
| 2011 | 51 | 31 | 14 |
| 2010 | 94 | 60 | 24 |
| 2009 | 138 | 97 | 48 |
| 2008 | 54 | 35 | 16 |
| 2007 | 195 | 148 | 92 |
| 2006 | 92 | 61 | 27 |
| 2005 | 63 | 46 | 26 |
| 2004 | 139 | 99 | 53 |
| 2003 | 125 | 91 | 50 |
| 2002 | 85 | 50 | 18 |
| 2001 | 31 | 15 | 3 |
| 2000 | 258 | 193 | 112 |
| Average | 114 | 83 | 46 |
Weather
Above freezing low temperatures in March began plant growth in southern Michigan. Most fruit crops have broken dormancy and are at early bud swell. Temperatures rose during the last two weeks, with temperatures rising slowly from lows well below freezing (down to single digits in some locations) to lows around freezing and highs in the 50s and 60s.
This week will be warmer with low temperatures above freezing at night and highs in the 50s and 60s. These temperatures will allow continued plant growth. Rainy weather is forecast for the week and these rains could be infection events for early season diseases. Now is the time to apply dormant treatments to protect crops from overwintering insects and diseases.
The table below shows the current GDD totals for southwest Michigan.
Southwest Michigan GDD summary from Jan. 1 to April 5, 2015 according to MSU Enviro-weather
| | | | |
| --- | --- | --- | --- |
| Station | GDD 42 F | GDD 45 F | GDD 50 F |
| Benton Harbor (SWMREC) | 81 | 56 | 29 |
| Lawton (Lawton) | 82 | 55 | 27 |
| Fennville (TNRC) | 53 | 34 | 15 |
| Average for the region | 79 | 53 | 26 |
The link at the top of the table goes to an output of GDD for all southwest Michigan Enviro-weather sites.
Tree fruit
Tree fruit growth is just beginning. Fruit in Berrien County is more advanced than Van Buren County to the north and east. At this stage of development it would require cold temperatures below 20 F to damage the tree fruit flower buds. See "Freeze damage depends on tree fruit stage of development" for more information.
Apricots are at swollen bud. Some buds have burst in Berrien County. Normal apricot bloom in southwest Michigan is about April 15, but it is doubtful we will be warm enough to bloom by then.
Peaches are at swollen bud. At this peach growth stage, rain and temperatures of April 2 may have been sufficient for a peach leaf curl infection. Rain this week can result in further peach leaf curl infections. Peaches are one of the most cold tender tree fruits and flower bud loss is expected when temperatures fall below -10 F. Most injury occurs between -13 and -16 F. Some growers report significant losses and others report they still have more than enough flowers for a good crop.
Sweet cherries and tart cherries are at swollen bud to first green and show little obvious winter injury. Later, as buds swell and burst, damage will become more apparent. Now is the time to apply copper materials to sweet cherries before green tissue is exposed. Sweet cherries are sensitive to copper, so avoid spraying copper when green tissue is exposed. Tart cherries are very tolerant to copper. Copper applications may be helpful in reducing bacterial canker in cherries.
Japanese plums are at white side. European plums are at swollen bud. Some winter injury is expected in Japanese plums, which are less cold hardy than European plums. Little if any damage is expected in European plums, which should show less injury.
Apples of the early blooming variety are at silver tip in Van Buren County. Green tip is visible in early varieties in Berrien County. This means this week's rains may be apple scab infections. See "An early-season copper application will help avoid feeling the blues about diseases" for more information. We do not expect any winter injury in apples in 2015.
Pears are at early bud swell. Pear psylla are flying.
Small fruit
Grapes have not yet begun growth. There is some winter injury to wine grapes which varies between varieties and different vineyard sites. Many initial assessments early in the winter indicated damage from the cold in January and growers have been warned to delay pruning until after they can carefully assess winter injury.
Blueberry flower buds are swollen. In early varieties, the buds are beginning to burst. Initial assessments indicate some winter injury close to Lake Michigan and more damage away from the lake in cold sites. The damage takes two forms: dark, discolored shoots damaged by extreme cold conditions, and dead flowers in the flower cluster buds.
Leaf buds do not appear swollen, but warmer weather will bring on growth, making them susceptible to mummy berry infections. The recent warm weather should have brought out mummy berry trumpets and growers should scout their fields for mummy berries to assess their risk.
Strawberries have greened up and new leaves are emerging from the crown. Over wintering mulches should be removed and raked between the rows.
Brambles are at green tip. Dormant pruning should be completed. In summer-bearing raspberries, last year's primocanes should be headed (cut back) to the desired height and any remaining floricanes from last year should be removed. Fall-bearing raspberries should be cut or mowed to the ground. Lime sulfur treatments for anthracnose can be applied.
Upcoming meetings
Our regular Monday fruit IPM meetings start April 13 at Fruit Acres Farms, 3452 Friday Rd, Coloma, MI 49038, at 5 p.m. Two Michigan pesticide applicator recertification credits will be given for these meetings.
The Paw Paw Code-A-Phone at 269-657-8217 is now active.
The Van Buren County Blueberry Pre-bloom meeting is tentatively scheduled for Thursday, April 23 at Haven Harvesters in South Haven, Michigan. Look for more information soon.
Related articles