Southwest Michigan fruit update — May 8, 2018
Plants moved quickly with last week's warm, summer-like weather. Stone fruit are blooming and apples will open later this week.
Weather
Last week was very warm with highs in the 70s and 80s. Lows were in the 50s and 60s. With the warm temperatures, crops moved very fast and stone fruit are blooming across the region. Rain on Wednesday and Thursday, May 2 and 3, dropped about an inch of rain across the region, except for Berrien and Cass counties, which received 2 to 3 inches. This was our first significant disease infection of the year.
This week will start warm. Highs near 80 will fall into the 60s with the passage of a cold front on Thursday, May 10. The coldest morning will be Friday, May 11, after the passage of the cold front. Lows are forecast around 40, but be prepared. We are nearing the end of our normal frost/freeze season, but there is still a 10 to 25 percent possibility of a hard freeze below 28 degrees Fahrenheit.
With the warmer temperatures, we are catching up with our long-term average for growing degree-days (GDD). We are about a week behind normal. The ground temperatures are in the 60s.
Southwest Michigan GDD summary from Jan. 1 – May 6, 2018

Station

GDD 42 F

GDD 45 F

GDD 50 F

Benton Harbor (SWMRC)

330

253

154

Lawton (Lawton)

345

265

162

Fennville (TNRC)

285

217

133

Average for the SW region

340

261

161
Southwest Michigan GDD summary from March 1 – May 6, 2018

Station

GDD 42 F

GDD 45 F

GDD 50 F

Benton Harbor (SWMRC)

267

211

138

Lawton (Lawton)

282

223

146

Fennville (TNRC)

232

182

119

Average for the SW region

278

220

144

Accumulation last week

159

139

106
Tree fruit
Trees moved quickly this week into bloom. Brown rot is a concern as stone fruit bloom. Use care when applying pesticides during bloom to control disease. Focus sprays for the early morning and evening to reduce bee exposure to sprays.
Apricot bloom has ended and the fruit is in the shuck. Full bloom for the southern and central parts of the southwest was Monday, April 30. The average full bloom date for apricots in southwest Michigan is April 17.
Peaches and nectarines are blooming. Conditions this year have been poor for peach leaf curl infections. Until recently, temperatures have been too cool for significant bacterial spot, which is favored by wet and warm conditions. Low levels of copper can help to suppress bacterial populations. The copper application rate should be reduced to avoid phytotoxicity. We are catching oriental fruit moth—significant catch late last week and early this week will allow biofix (May 4) to be set for the first generation. Trap catches for the Trevor Nichols Research Center in Fennville, Michigan, are available throughout the summer.
Sweet cherries are past full bloom (Friday, May 4) and bloom is ending. Tart cherries are nearing full bloom. Sprays for cherry leaf spot should be applied soon. The leaves become susceptible to infection as they unfold and the stomates become functional allowing infection through the open stomates. The bracts at the base of the flower cluster are also susceptible to infection.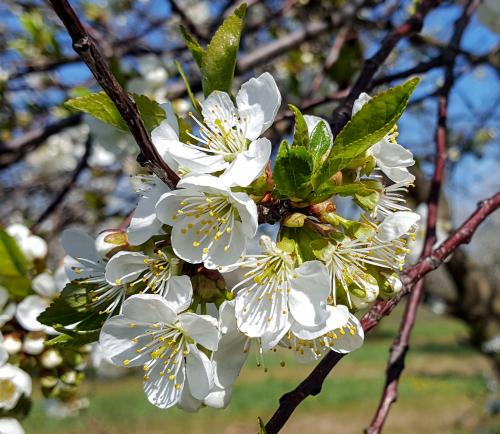 Japanese plum bloom is moving toward petal fall and European plum are at full boom or nearly so, depending on the site. Fungicide treatment for black knot should continue, and brown rot treatment may be needed in bloom.
Apples are at pink (Gala, Golden Delicious and Red Delicious) to king bloom (Zestar, Idared, Macs) for the southern end of the region. The rain in the middle of last week was an apple scab infection for many apple orchards in southwest Michigan. Growers are putting on pink sprays for rosy apple aphids. Time sprays to the morning and evening hours to reduce bee exposure. With the warm conditions going into bloom, fire blight blossom infections are a concern. Watch the fire blight model on Enviroweather to help time antibiotic sprays during bloom.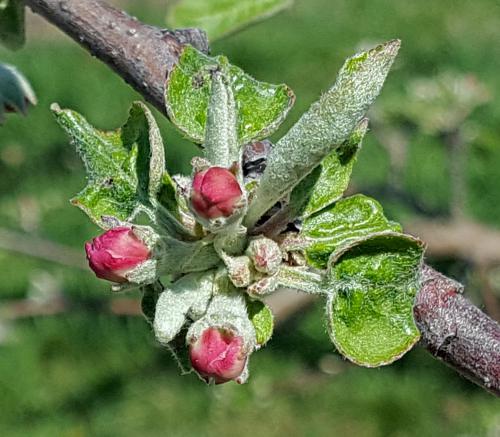 Pear bloom has begun in the southern end of the region. Fire blight, pear psylla and pear scab are the major concerns.
Small fruit
Grapes are moving fast. Concord and Niagara juice grapes are past bud burst. The shoots are about an inch long and leaves will be folding back in the next few days. Grape flea beetles are out, but the grapes should grow through the susceptible stage in southwest Michigan quickly.
Climbing cutworm risk is low as well. Later growing varieties are more at risk. These pests are a concern mainly during bud swell and when the grapes spend a long time in this phase due to cooler weather.
Vinifera and hybrid grapes buds are swelling. Vinifera buds are at early to late swell. They will open later this week. Hybrid grapes are generally at late swell to bud burst.
We are at the beginning of shoot growth as the flower clusters are first exposed. This early shoot growth (1 to 4 inches) is a critical time for grape disease control (see "Early season vineyard disease management").This is a critical time for controlling powdery mildew, phomopsis, black rot and other diseases.
Blueberries are leaving out quickly. Flower buds are at early pink bud for Bluecrop and most other varieties. Jersey, a late blooming variety, is at tight cluster. Bluetta, one of the first varieties to bloom, is at late pink bud and will bloom open later this week. Growers are moving bees into their blueberry fields. Shoots are expanding rapidly and leaves are beginning to unfold.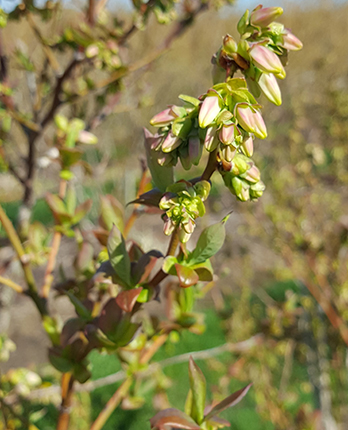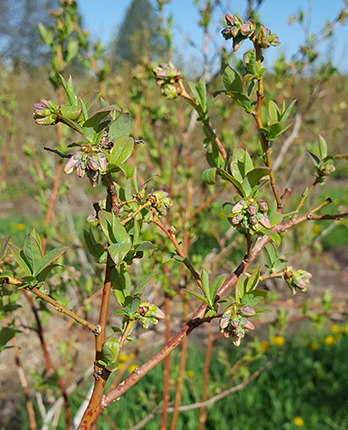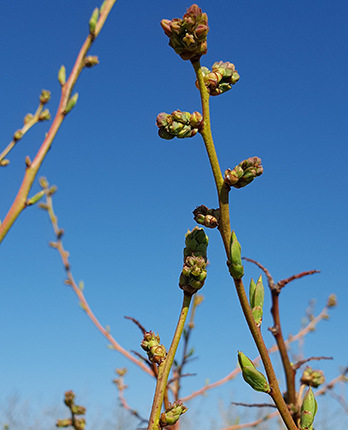 With rapid shoot expansion, we are moving away from risk for mummy shoot strikes. Last week's warm, wet weather with exposed green tissue is ideal for mummy berry shoot strike infections. Now that we are near bloom, the focus shifts to controlling the blossom blight phase of this disease. Scout mummy berry hot spots for shoot strikes this week. Windy conditions can tear this shoot strikes off as the infected shoot dries out. Sprays to protect the fruit are targeted for early and mid-bloom. The flower is most susceptible immediately after it opens. Fruitworm traps are put out to help establish biofix and treatment for these pests.
Strawberry bloom has begun. Growers are weeding and applying straw. Some growers have complained about poor growth. We think this was due to the cold soils and the overnight lows during March and April.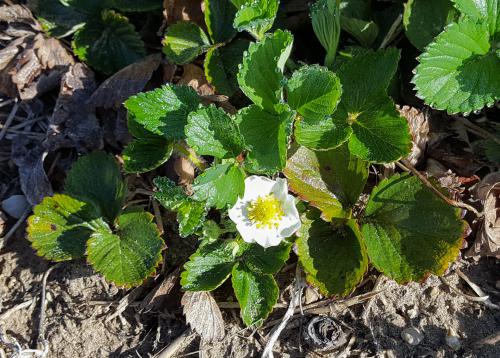 Bramble shoots are just beginning to expand. Two or three leaves are out, but flower buds are not visible. Primocanes are emerging from the soil. Most primocanes are only a couple inches tall.
Cranberries are greening up and terminal bud is beginning to expand.
Miscellaneous
The dry, windy weather has allowed growers to really get ahead of their field tasks such as planting, herbicide sprays and cleaning up their fields.
Upcoming meetings
The next Monday fruit IPM meeting is May 14, at Fruit Acres Farms, 3452 Friday Rd, Coloma, MI at 5 p.m. Two Michigan RUP applicator recertification credits are available at these meetings.
Related articles