Southwest Michigan grape scouting report for May 31, 2017
Wild grape bloom is open. Cover fruit for all fungal diseases now. Concord is in the immediate pre-bloom stage.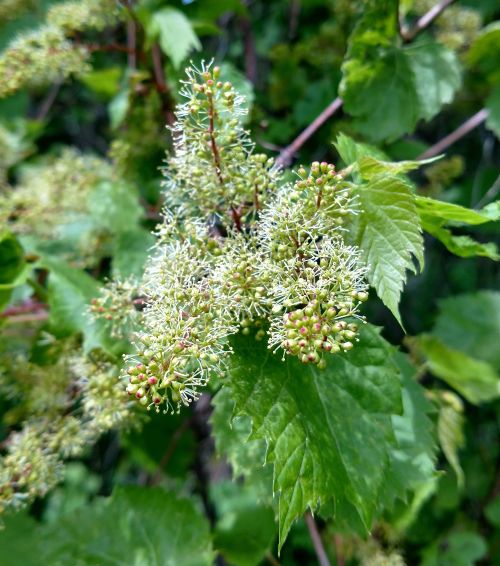 Growing degree-day (GDD) accumulations
Enviroweather station
GDD50 (May 30)
Estimated wild grape bloom
Berrien Springs
497
25-May
Benton Harbor
552
24-May
Lawton
467
27-May
Freeze damage
Crop estimates of individual vineyards are still difficult until fruit set, but development of shoot growth in the last two weeks allowed growers to better assess shoot loss from the May 8 freeze. In some vineyards, 25-75 percent of the primary shoots were killed.
We are seeing significant recovery of secondary shoots in many Concord and Niagara vineyards. Where this is happening, it will complicate crop and disease management—there will be two bloom periods and two flushes of crop, one ripening ahead of the other.
Development
In Concord and Niagara, shoot lengths are reaching 24 inches in many areas. Flower clusters are fully exposed and we are now in the pre-bloom period. Earlier-breaking hybrids are in a similar stage, while later hybrids and vinifera are reaching 9-12 inches of shoot growth where healthy.
Where a majority of the primaries have been lost and where secondary shoots do not appear to carry fruiting potential, consider a reduced fungicide schedule to cover only leaf and shoot infections. Consult your insurance provider before making this decision.
Disease
We have observed visual symptoms of black rot and phomopsis on leaves in many areas. Shoot infections of phomopsis are widespread in vulnerable varieties, likely due to frequent wet weather during early shoot growth. We are also hearing reports of downy mildew symptoms on leaves beginning to appear.
Juice grapes are currently in the immediate pre-bloom stage. That means the fruit and rachis are both vulnerable to infection by downy mildew, powdery mildew, black rot and phomopsis. Once bloom begins, sensitive varieties will also be open to latent infections of botrytis.
From now until two to four weeks after bloom, the fruit and rachises need to remain covered for all of these diseases. Take a look at Michigan State University Extension's 3-page summary of Grape Pre-Bloom, Bloom and Post-bloom Sprays. This summary includes some of the commonly-used fungicide materials and their efficacy against the common fungal diseases. Tank-mixes and pre-mixes will be needed for effective disease control during this period.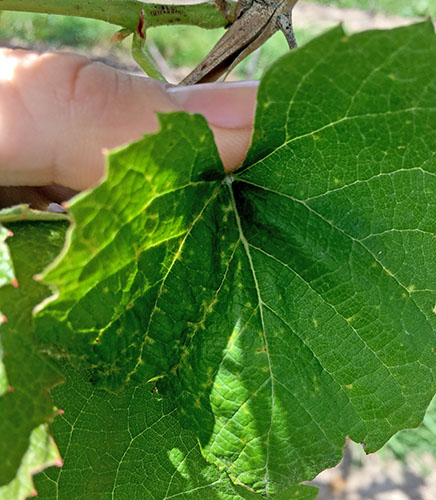 Insects
Last week, we recorded wild grape bloom beginning in the region (see table above for dates). This date is used in MSU Enviroweather's grape berry moth model to estimate ideal spray timing in late June and early July.
Grape berry moth catch has been very high in Van Buren County this year. Most vineyards do not need to get an application of insectide yet. Only in vineyards with extreme grape berry moth outbreaks in recent years will treatment be cost-effective at this time.
We have not spotted potato leafhoppers or grape leafhoppers. We saw the first rose chafer May 30. Grape tumid gallmaker wasps are now beginning to form galls in some wine grape vineyards.