Southwest Michigan Vineyard Scouting Report for Sept. 6, 2017
Harvest has started or nearing. Watch pre-harvest intervals if you need to spray.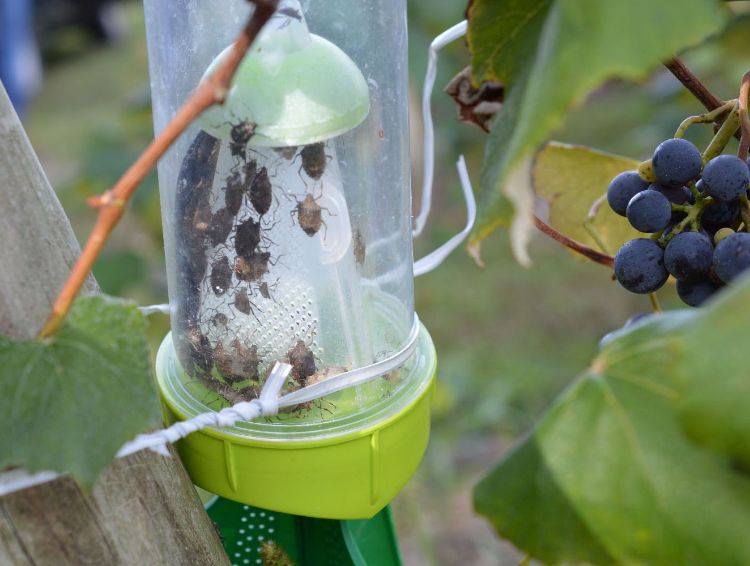 Development
Grapes have acquired full color and are accumulating sugar and digesting acids. Growers are harvesting some wine grapes. Niagara harvest is projected to begin Sept. 18.
Growing degree-day (GDD) accumulations

Enviroweather
Station

Date of wild grape bloom

GDD47 since wild grape bloom

Estimated start of grape berry moth egg-laying (2430 GDD47)

5/26

2237

week of 9/18

5/27

2234

week of 9/18

5/27

2239

week of 9/18
Mildews and fruit rots
Michigan State University Extension recommends focusing on downy mildew and powdery mildew where significant leaf area is already infected. Another spray or two of short-pre-harvest interval (PHI) materials may be needed to impede development of leaf disease, allowing grapes to ripen properly and have enough photosynthetic fuel to harden off for winter. We aren't seeing downy or powdery mildew actively increasing in most of the vineyards we scout, however.
Very little black rot, or other summer fungal infections developed this year. Sour rot and Botrytis are beginning to show now.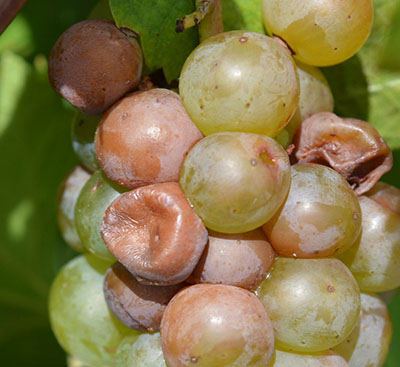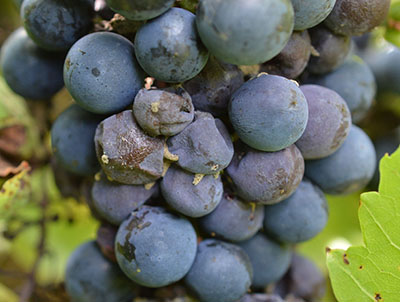 Insects
Third generation grape berry moth egg-laying has wound down. Cluster damage from developing third-generation larvae is beginning to show. A partial fourth generation is expected in most of the growing area and is likely to occur the week of Sept. 18. Egg-laying from the fourth generation seldom has a chance to develop enough to cause significant cluster webbing or fruit damage. However, if larvae get a chance to penetrate the berries, this can provide another entry point for fruit flies and late-season fruit rots.
Fruit flies and vinegar flies, including the spotted wing Drosophila (SWD), are present in greater numbers this year. We still do not believe that SWD is significantly more damaging to grapes in our region than the native fruit flies, but we recommend monitoring for them. Light brown marmorated stink bug damage is present in some vineyards. Look for this pest in the vineyard. It is the same stinkbug that hides in many houses in the fall and winter. If significant fruit flies or stinkbugs are seen, consider treatment with a short-PHI contact insecticide.